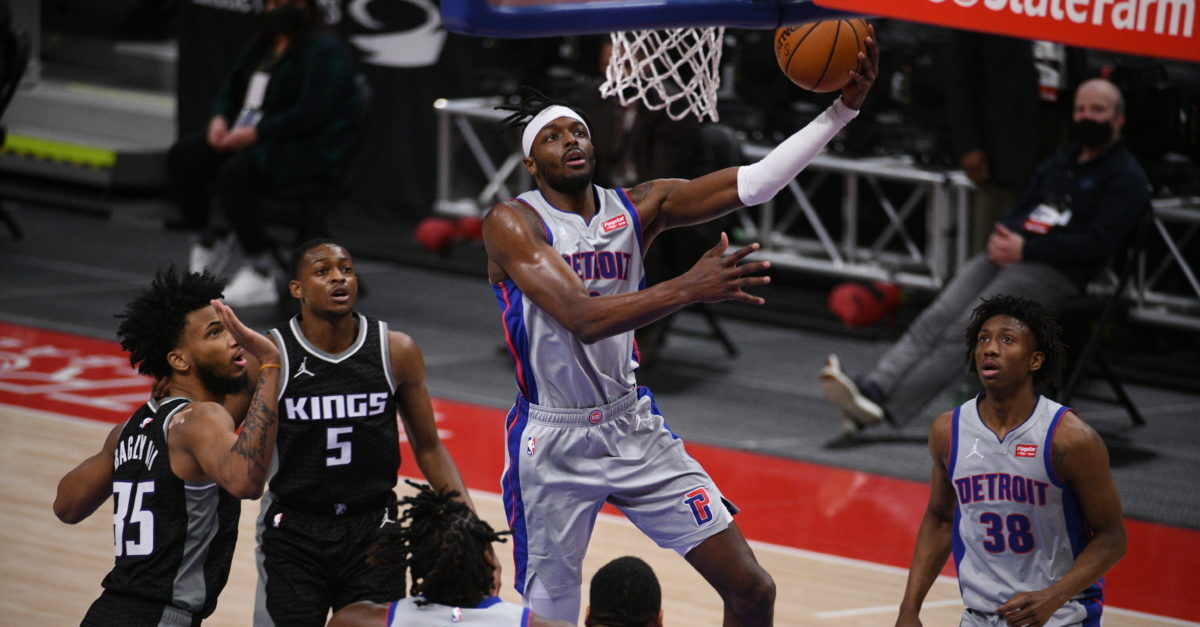 Over three weeks remain until the NBA trade deadline takes place on February 10th, but the long weekend apparently coaxed several NBA reporters to empty their notebooks of NBA rumors and leaks today. After Sam Amick shared that the Kings are fascinated by the idea of adding either Ben Simmons or Domantas Sabonis on The Athletic NBA Show, Jake Fischer of Bleacher Report reported that the Kings have also shown interest in power forward Jerami Grant, who is expected to be moved at or before the deadline by the tanking Detroit Pistons:
"As Simmons is still unlikely to be moved, Grant has attracted around a dozen suitors. With apologies to Myles Turner, "He's the grand prize of this deadline," one team strategist said.

The Lakers, Trail Blazers, Knicks, Jazz, Wizards, Celtics, Pacers, Timberwolves and Kings have all signaled interest in the 27-year-old.

The frenzy comes one year after Pistons general manager Troy Weaver swiftly declined any inquiry about Grant's availability after the forward surprisingly chose Detroit in free agency. Sources say Detroit is now asking for two first-round picks or one first-round pick plus a high-upside young player."
Grant is an interesting target for a team like the Sacramento Kings. At first glance, swapping Chimezie Metu or Marvin Bagley as the starting power forward for a player of Grant's caliber seems like an easy win, as he's putting up 20 points per game for the Pistons, but Grant may also be enjoying the classic "good player, bad team" boost that Kings fans have become all too familiar with over the years. Those 20.1 points are coming on about 16 field goal attempts, not exactly the greatest efficiency in the world for a big man. In fact, Grant ranks in just the 10th percentile in effective field goal percentage this year, as well as in the 19th percentile in paint attempts, as he sinks only 59% of his shots at the rim. And although he may be touted as a floor-spacing four, Grant has also struggled to knock down the deep ball over the last couple of years. Last season, he knocked down 35% of his three-point attempts, while he's sitting at 33% during the current campaign.
Defensively, Grant would solve some problems for Sacramento, as he's shown the ability to defend up and down from his primary position as a power forward throughout this career. Adding his versatility next to Harrison Barnes would grant Alvin Gentry a much more dependable defensive front court; however, he's an even worse rebounder than Barnes. As a career-long power forward, Grant has averaged just 4 rebounds per game, and he's snagging only 4.8 per night this season. His addition may exacerbate Sacramento's already awful defensive rebounding issues, depending on who joined him in the starting lineup and what players the Kings surrendered in the deal.
Good or bad fit aside, the potential cost for Grant may also be prohibitive for Sacramento. According to Fischer, his cost is in the range of two first round picks or a first rounder and a young player, similar to the return Aaron Gordon commanded at the deadline last year. Grant is also only signed for one additional season, so sending out multiple first rounders or Davion Mitchell and a pick would require the Kings to start competing much sooner rather than later, a tall task considering the poor results of the current roster.
A player like Jerami Grant may sound like a solid, win-now backup option if the Kings miss out on All-Stars such as Ben Simmons and Domantas Sabonis, but Grant would likely be a much better investment for a contender looking to add their final piece, a la the Denver Nuggets with Gordon last season, rather than a team like the Sacramento Kings, a team trying to stay relevant in the chase for the play-in tournament, rather than competing for anything of significance.