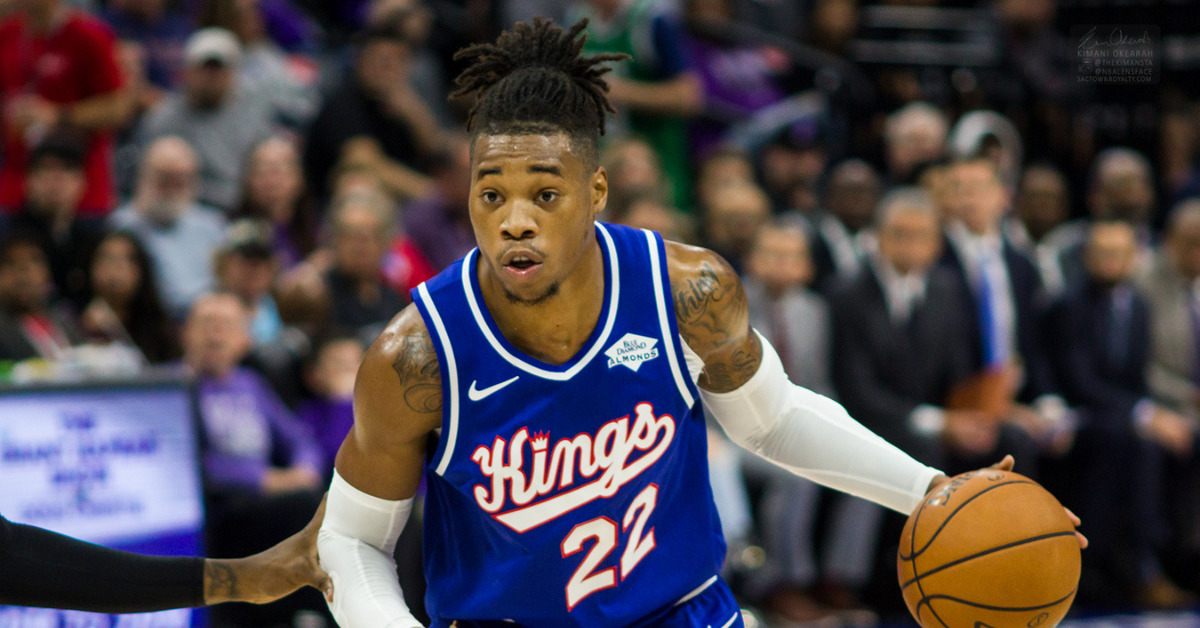 According to Michael Scotto, current NBA writer for HoopsHype and a former NBA agent, the Dallas Mavericks, along with the previously reported Toronto Raptors and Charlotte Hornets, are currently vying for the services of Sacramento Kings starting center Richaun Holmes.
Unlike Toronto and Charlotte, who feel a little odd as matches for a one-year rental of Richaun, the Dallas Mavericks are the exact sort of championship-hopeful organization that should be looking at a contributor like Holmes. He would provide an instant, massive upgrade over Willie Cauley-Stein, as Kings fans well know, as well as a completely different look than current starter Maxi Kleber.
Kleber is a floor-spacing five, who's currently knocking down 47% of his four three-point attempts per game, but his skill set doesn't run along traditional center lines, unlike Holmes. Kleber isn't a particularly strong rim protector, holding his opponents to just 0.3% below their average field goal percentage in the paint, and he's also not a force in the pick-and-roll for Luka Doncic, featuring as a targeted roller just 17% of his time on the court. Holmes, on the other hand, is enjoying his best season as a defensive anchor. On the year, he's decreasing his opponents' accuracy at the rim by a whopping 9.3%, and Richaun is also one of the most prolific rollers in the league, ranking in the 86th percentile in efficiency, while running that particular play over 32% of the time, almost double that of Kleber. Overall, Holmes is averaging 4.5 field goal attempts per game in the paint, while Kleber sits at just 0.8 attempts. Teams like the Mavericks should be looking to add different mixes of rotational players, and Holmes represents that exact opportunity.
Aside from offering an upgrade as a traditional center, Richaun's expiring salary may also be attractive to the Mavericks. With Luka Doncic set to ink a five-year rookie-scale max extension soon, and with Kristaps Porzingis already on a massive deal, the 2021 offseason is likely the last in several upcoming years for Dallas to get busy in free agency. Gaining ahold of Holmes' early bird rights, while not having to commit guaranteed long-term salary, might be the perfect sort of compromise General Manager Donnie Nelson is seeking.
From Sacramento's side of things, they should command an extremely high price to part with their starting center and one of their most important night-to-night contributors. Unfortunately for the Kings, the Mavericks handed their 2021 and 2023 first round draft picks to the New York Knicks in their acquisition of Kristaps Porzingis, and the 2023 selection has top-10 protections through 2025, limiting Dallas' ability to trade future picks. Monte McNair would instead need to pursue a couple of Dallas' young contributors, such as rookies Josh Green and Tyrell Terry, and the Mavericks may very well be willing to let those two go, as neither one is currently contributing in the rotation.
We'll keep you updated as rumors around Richaun Holmes continue to swirl. The trade deadline is 3:00 pm ET on Thursday, March 25th.