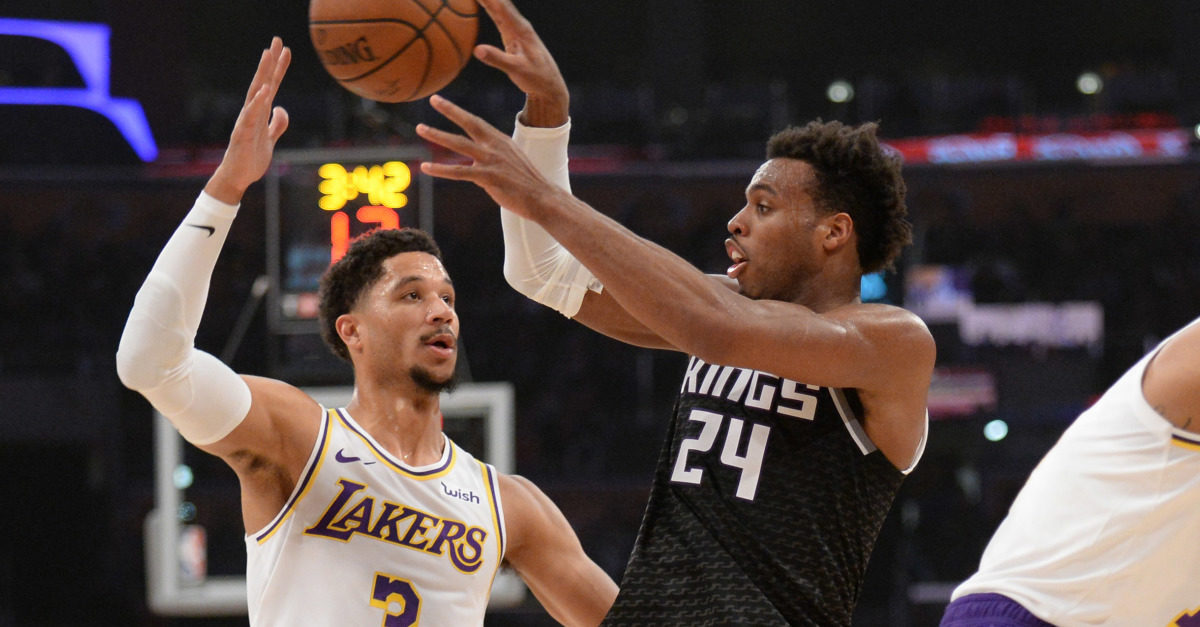 According to Jake Fischer of Bleacher Report, a reporter who has developed into one of the NBA's most reliable insiders over the last couple of years, the Sacramento Kings and the New Orleans Pelicans recently discussed a deal that would have sent Buddy Hield back to the Big Easy in exchange for a signed-and-traded Josh Hart.
New Orleans and Sacramento were said to be discussing a Buddy Hield-for-Josh Hart sign-and-trade baked into the Pelicans' draft-week deal with Memphis, although it's unclear if that dynamic remains plausible as Hart is still unsigned.
Such talks should come as no real surprise, as Buddy Hield is clearly on the outs in Sacramento. Replacing Hield with Hart would help to clear out the logjam at guard for the Kings and provide them with some much-needed wing depth. Hart is also an excellent rebounder, and not just for his position. Last season, he recorded a higher defensive rebounding rate than Richaun Holmes, Marvin Bagley, Alex Len, or Tristan Thompson. For the Pelicans, Hield would solve a myriad of problems for a team in desperate need of shooting. In 2020, New Orleans ranked 27th in three-pointers made, 26th in three-pointers attempted, and 25th in three-point percentage, an unacceptable weakness for a team sporting the wrecking ball that is Zion Williamson as their cornerstone player.
From a logistical perspective, although the Adams-Bledsoe-Valanciunas swap has already been consummated, the Pelicans and the Kings still have multiple paths of completion in front of them, although they may require a bit of patience and salary cap maneuvering from both sides. Salary-matching is the number challenge in any sign-and-trade, and this theoretical deal is no exception. Josh Hart would be subject to the Base Year Compensation rule, which would factor his incoming and outgoing salary differently for each team.
For the Kings, he would simply count as his new salary. However, for the Pelicans, Hart's exiting number would either be equal to 50% of his first-year compensation, or his previous season's salary, whichever was greater. Assuming that Sacramento offers a contract slightly higher than the standard mid-level exception, let's say $12 million annually on a three-year deal, Hart's salary would be represented as $12 million for the Kings and $6 million (half of his new deal) for the Pelicans.
A one-to-one salary swap clearly isn't feasible in that situation, as Hield's cap hold is over $23 million. The Pelicans only path toward salary-matching would be to include the recently acquired Tomas Satoransky, who was a part of the Pelicans sign-and-trade a few days ago, adding another layer of complication to the deal. Normally, teams are forced to wait two months to aggregate recently acquired players in another trade, but the league's shortened offseason has also shortened that wait time, down to 19 days. The Kings and the Pelicans could agree to the terms of the deal and then wait the subsequent timeframe to officially close the trade.
The inclusion of Satoransky would still leave the Pelicans slightly short of matching contracts, as their incoming and outgoing salaries need to fall within $5 million, plus $100,000, of one another. Satoranskey and a signed-and-traded Hart would only account for approximately $16 million, compared to a little over $23 million for Hield. The easy solution is for New Orleans to also throw in former King Wenyen Gabriel, who's owed $1.7 million next season. All of those combined salaries would still leave a small gap of a few hundred thousand dollars that would need to be accounted for, but the Kings could either slightly increase Hart's initial salary, or they could write in his new contracts as de-escalating, which would push his first-year salary to about $12.8 million, more than enough to cover any gap.
Of course, as everyone learned during the Hield-to-LA near-trade, talks are just talks until the deal is officially called into the league office. With the Kings in need of wing depth and the Pelicans lacking volume three-point shooting, such a deal makes sense for both organizations, but the logistics and timing of a Hield-Hart swap may simply be too convoluted for either team to consider.