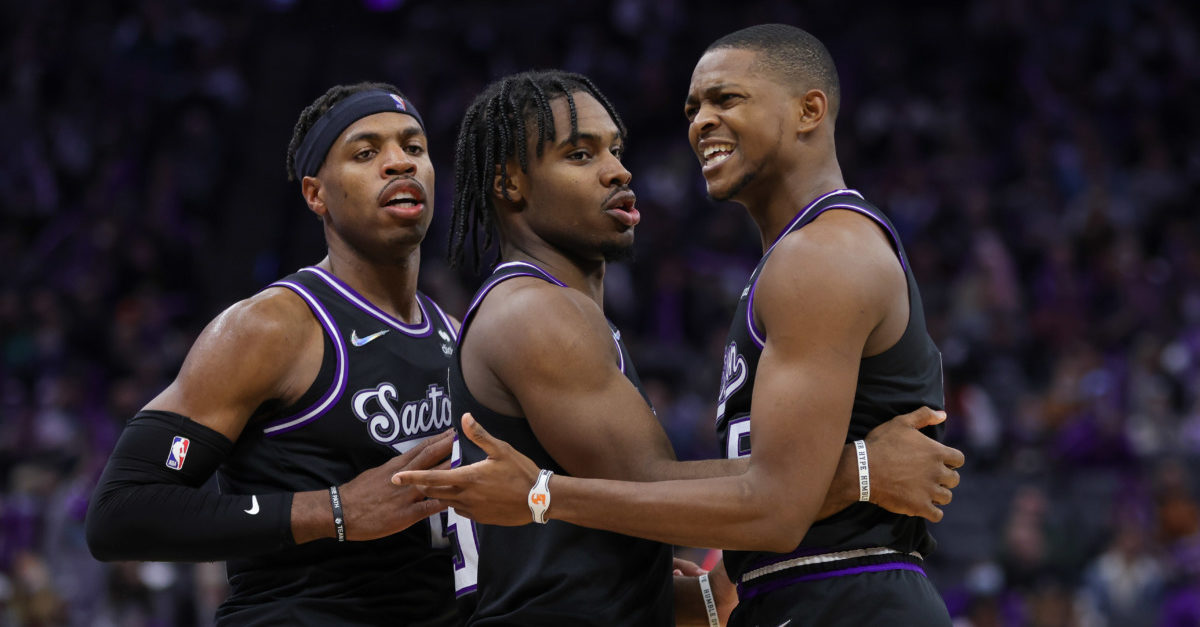 The Sacramento Kings are broken.
After Tuesday night's blowout loss to the Lebron-less Los Angeles Lakers at home, a loss that included a 40-8 Lakers run, a blown double-digit lead, chants of "let's go Lakers" throughout the arena, and mocking cries of "Airball!" as another Kings player jacked up another terrible shot, Sacramento's players seemed, well, unbothered. Despite having been embarrassed for the second consecutive game, and despite being on pace for just 29 wins this season, they milled about the court post-game, trading hugs and high-fives with their opponents and laughing among each other.
As always, they fell into form when it came time for the post-game press conferences. The players vomited out the same nonsensical bullshit that they've been trained to say since the day they joined the team, whenever that may have been. No, they won't actually get better or try harder on the defensive end of the floor, No, they won't actually make adjustments at the half. No, they won't actually learn to stop the bleeding when an opposing team makes a run. Nothing is actually going to change. And no one cares.
Too many players have gotten too used to losing without any real consequences. Paychecks still cash, fans still (sometimes) cheer, extensions are still offered, and no one gets traded or benched or held accountable in any way. That sort of team, that sort of roster, cannot be rescued. It cannot be resuscitated. It cannot be changed.
They are broken.
That may seem a harsh indictment just 22 games into the 2021 season, or it may seem like an emotional response to a rough stretch as multiple key players have missed multiple games, but this core hasn't had 22 games to prove themselves. They've had multiple seasons and multiple coaches and multiple revamps and multiple supporting characters, all to no avail.
Since trading for Harrison Barnes a few years ago, the core-minutes group of De'Aaron Fox, Buddy Hield, and Harrison Barnes has played 194 games together. In that time, they've blown leads, gotten head coaches fired, and failed to make the playoffs on their way to a record of 81 - 113, an average of 34 wins and 48 losses per season.
Shortly after Barnes' addition, the Kings signed free agent Richaun Holmes, who has likely been Sacramento's second-best player since his acquisition. The core-minutes group of De'Aaron Fox, Buddy Hield, Harrison Barnes, and Richaun Holmes has played 166 games together. In that time, they've blown leads, gotten a coach fired, and failed to make the playoffs on their way to a record of 70-96, an average of 34 wins and 48 losses per season.
Last year, the Kings lucked out and were able to draft Tyrese Haliburton 12th overall. The core-minutes group of De'Aaron Fox, Tyrese Haliburton, Buddy Hield, Harrison Barnes, and Richaun Holmes has played 94 games together. In that time, they've blown leads, gotten a coach fired, and failed to make the playoffs on their way to a record of 39-55, an average of, you guessed it, 34 wins and 48 losses per season.
They are broken.
And yet, despite all of that data in front of him, Sacramento Kings General Manager Monte McNair has done, well, nothing of significance in his time as the man in charge. After 15 months on the job, halfway through the average tenure of an NBA GM, the Kings still have the same basic core as they did when Vlade Divac resigned in failure. Aside from letting Bogdan Bogdanovic walk to the Atlanta Hawks for no compensation, McNair has stuck by the core of Fox, Hield, Barnes, and Holmes, despite having no connection to any of those players prior to his tenure. This past summer, he re-signed multiple free agents from last year's squad, despite them winning only 31 games, and he did nothing more than tinker around the edges and draft the team's third point guard.
From a non-roster point of view, McNair chose to keep Luke Walton at two different, critical junctions, despite the fact that Walton has never posted a winning season in his half-decade of head coaching in the league. Less than 20 games into the 2021 season, McNair fired Walton, named Alvin Gentry the interim coach, and acted as if that was a completely reasonable path, despite just about every intelligent mind in the basketball world begging for Walton's dismissal this past summer.
And now the Kings, in many ways, are stuck. They have a lame-duck, interim head coach who has about as much of a chance of making the playoffs and keeping his job as De'Aaron Fox does of hitting 40% of his three-point attempts this year. Their roster is bad, but not bad enough to be truly bad. Their core players aren't old, but they mostly aren't young enough to be considered for a rebuild. Their talent level is below-average, with few players on the roster who would garner significant interest in the trade market. Their leadership is non-existent and their cornerstone player has regressed severely, refuses to play defense, and is owed $158 million over the next five years.
The Kings are broken.
An easy fix isn't coming, either. The shouts to shuffle up the roster fall on mostly deaf ears for a reason. There isn't really a player out there, not even a Ben Simmons-esque talent, who could fix this team. Monte McNair has chosen to ride the fence between tanking and trying to win and spending money and reserving flexibility for far too long. The roster is too imbalanced and too poorly assembled to be rescued.
If Monte McNair ships out Buddy Hield in a trade, the roster loses the vast majority of its shooting, as the Kings sans Hield make just 30.5% of their three-point attempts. If Harrison Barnes is dealt, the team loses its only competent wing. A De'Aaron Fox exit leaves the team without a number one option on offense, assuming he ever regains that status, and his value isn't high enough to garner the return of a player who could replace him in that role. Jaylen Brown and Brandon Ingram aren't walking through that door. The players further down the list, namely Tyrese Haliburton and Davion Mitchell, haven't played well enough this year to snag the Kings anything close to an All-Star caliber contributor. Shuffling the deck would do nothing more than slap a bandaid on a massive, festering wound.
Of course, the Kings could also push all-in on this horrific season. They could fall into the trap of trying to save the season, and maybe some jobs, by shipping out Tyrese Haliburton or Davion Mitchell and multiple first rounders and hope for the best, but such a plan is the worst path moving forward. Sacramento would be stripped of most of its future assets in an effort to right the ship, but in the end, a rotten core is a rotten core, and this team is beyond rotten. They aren't winning anything.
They are broken.
The other side of the coin, and the best path moving forward, the rebuild or retool option, won't exactly be easy to execute either. While it's true that Harrison Barnes would undoubtedly garner significant interest if the Kings were to make him available, the same can't be said for many of Sacramento's contributors. Buddy Hield has been on the block since just about the moment he signed his extension, and no one has taken the plunge thus far. Richaun Holmes would receive a ton of attention, but his contract is extremely valuable and his prowess in the pick-and-roll may be worth keeping around for the development of Tyrese Haliburton and Davion Mitchell. And even if the Kings wanted to deal Holmes, they must wait until January 15th to trade him due to his contract situation this past summer, and Terence Davis is in the same boat, although it would be shocking if anyone were interested in Davis' services. Aside from Holmes, Barnes, and Hield, guys like Tristan Thompson, Alex Len, Marvin Bagley, and Maurice Harkless can be offered up, but their return in any given trade would be minuscule.
That leaves one other option: De'Aaron Fox, but his value has never been lower. The one team that may have surrendered significant assets for his services, the Philadelphia 76ers, has watched their $2 million, second-year player, Tyrese Maxey, outplay Fox on every level this season. They have no particular reason to trade for him now, nor do most other teams.
So what happens now? What does one do with a below-average, underperforming, overpaid, nonchalant, leadership-less team?
Blow it up.
The season is lost.
The Kings are broken.
The spare parts that have value, whether that be Harrison Barnes or Buddy Hield or whoever, need to be pieced out and traded away as their value dictates. De'Aaron Fox's name needs to be thrown out there and offers need to be listened to, and a trade probably needs to take place, assuming semi-significant value is offered.
At a much higher level, when this lost season finishes, and it will be lost, no matter what the front office does or does not do, Monte McNair's failed tenure thus far must be evaluated. Frankly, assuming no miracles are worked, the cleanest path forward will probably be to cut ties all around and, for the first time in Vivek Ranadive's near-decade tenure, allow a General Manager to work from a truly fresh start. Give the new GM a high draft pick, the assets garnered in the veteran trades, the right to hire his own head coach, and the opportunity to find a new, true franchise cornerstone who can lead and push and prod this team in moments of peril, not laugh as his college buddy knocks down a buzzer-beater three in his face at the end of a half.
The idea of throwing away the season just a quarter of the way through is difficult to accept, perhaps even more so for those who held high expectations heading into the year, and starting over again after 15 years of nothing but piled up losses and busted draft picks seems about as bleak as can be, but at some point, one must accept the truth. This team, this core, cannot get it done, nor will they ever get it done. The sooner that Monte McNair or Vivek Ranadive can accept that a rebuild or a retooling is nearly inevitable, the sooner they can begin the process of assembling a real roster with real, winning players. Until that harsh, depressing, frustrating, job-costing reality is accepted, the Sacramento Kings will remain nothing more than a fundamentally broken organization.