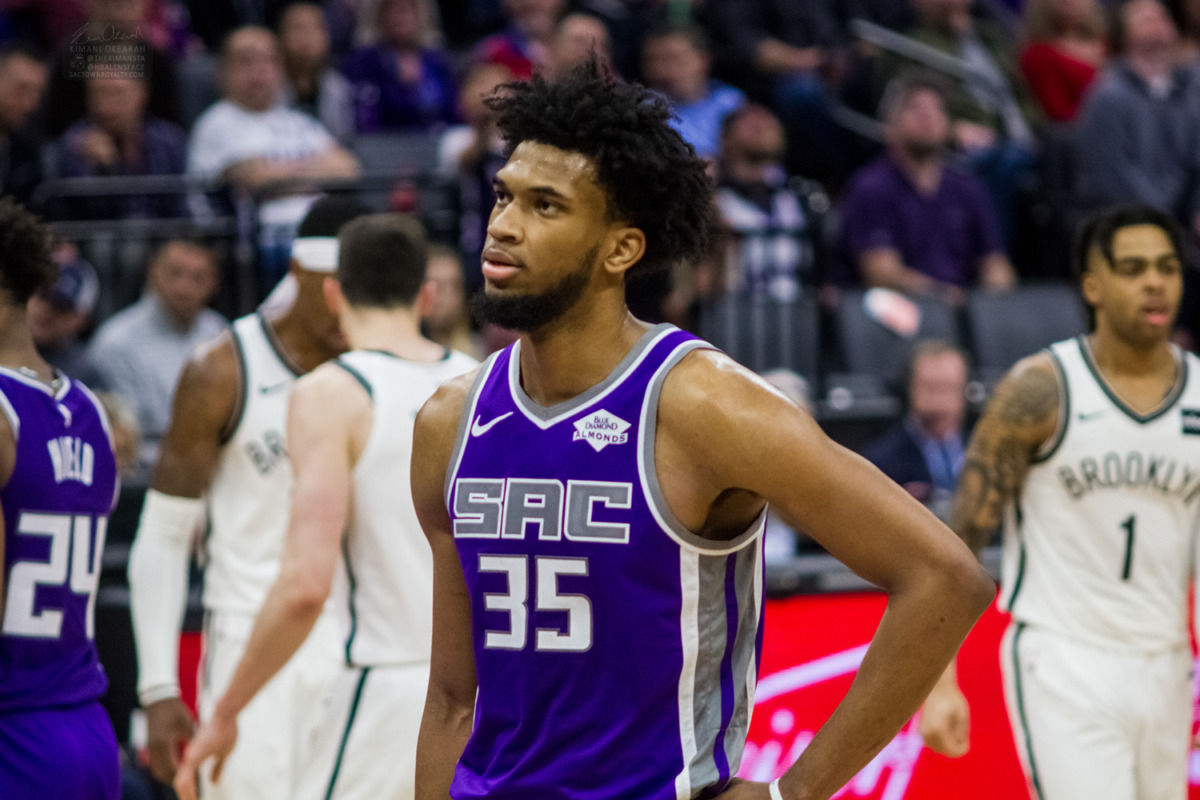 Marvin Bagley hasn't exactly enjoyed a triumphant return to the hardwood this season. He can't knock down shots from anywhere on the floor, ranking in the 0th percentile among big men in effective field goal percentage, and things only seem to get worse from there.
At the rim, Marvin places in the 10th percentile and in the midrange he sits in the 14th percentile. Hell, he's shooting 11 of 26 (42%) on layups this year.
That lack of touch around the rim and Bagley's inability to get anything to actually go through the hoop has been an understandable source of consternation among the kingdom, but his shooting percentages will also probably recover over the course of an entire season, at least to a certain extent. It's Marvin's complete lack of ability to impact any other part of the game that has served to amplify the attention paid to his missed bunnies and free throw attempts.
For some reason, a few highlight blocks in Bagley's rookie season convinced a portion of the fan base that he possessed potential as a future positive defender and above-average rim protector. But three seasons into his career he has yet to show any of that dynamic. Out of 214 qualified players, Marvin Bagley ranks 213th in defensive field goal percentage, the percent that an opponent's field goal percentage increases or decreases when guarded by a particular player. On the season, his opponents have posted a pedestrian 48.1% FG%, but when defended by Bagley, that accuracy jumps to an incredible 62%, an increase of 13.9%. For comparison's sake, Buddy Hield was considered the worst defender on the squad last year, and he posted a DFG% Differential of 5.2%. Unfortunately, the numbers somehow get worse for Marvin as he shifts closer to the basket. Of the 107 players who have defended at least three shots per game at the rim, Bagley currently places 99th, allowing his opponents to shoot a whopping 83.4% in the paint, a 15.1% jump from their average of 68.3%.
The team's overall defensive numbers are directly reflective of this awful performance. When Bagley is on the floor, the Kings post a defensive rating of 115.8, equivalent to the second-worst defensive rating in the league, and the worst mark among Kings players who have played at least 75 total minutes this season. When Marvin sits, Sacramento's entire defensive identity seems to change, as their rating plummets to 105, on par with the sixth-best defense in the NBA. The Kings aren't going to win many games if they continue to give Bagley undeserved minutes and give up an additional 10 points per 100 possessions when he's in the game.
On the opposite end of the floor, Bagley's inability to hit shots, at least up until this point in the season, has been magnified by his refusal to do anything to help his teammates get better themselves. As a big man who can theoretically play on the perimeter and in the paint (again, theoretically), Marvin should be feasting in the pick-and-roll with his athleticism, finding his teammates when he's swarmed in the post, and backing off on offense when his shot isn't falling, but none of those concepts have come to fruition. He's featured in the pick-and-roll only 11% of the time, and while part of that obviously comes down to the coaching scheme, it's also partly due to his lack of interest in running the play correctly. When coming off of the pick, he either somehow manages to run straight toward the guard and clog the area or he drifts lifelessly toward the free throw line, as evidenced by his 0.83 points per possession in that situation, ranking in the 12th percentile. Peforming well in the pick-and-roll is all about combining skill with effort, and Marvin has displayed no desire to peform in either category.
When he's not meandering around the court pretending to set screens on offense, Bagley has yet to show any growth in his black hole nature once the ball gets in his hands. Among fellow big men, he places in the 84th percentile in usage (24.2%), second on the team, yet he also ranks in the 14th percentile in assist percentage (5.3%), the lowest among rotational players, and in the 8th percentile in usage to assist ratio at 0.22, also the lowest on the Kings. Those numbers are eerily similar to his rookie season, in which he posted a usage of 22.5% (86th percentile), an assist percentage of 5.9% (14th percentile), and an assist to usage ratio of 0.26 (3rd percentile). Desipite his compete inability to knock down the easiest of shots this year, Bagley continues to refuse to give up the rock once he gets ahold of it, a disturbing lack of progress from his first season in the league.
Of course, there is one area in which Marvin has been relatively successful this season: rebounding. His 10.8% offensive reboudning rate is good enough for the 82nd percentile among big men, and his defensive rebounding doesn't fall far behind, sitting in the 71st percentile. The issue with Bagley's rebounding is that it isn't particularly valuable when framed against his other flaws, his high-usage, low-efficiency offense, and his complete lack of impact on the defensive end. Hassan Whiteside is a great rebounder and he's making the league minimum for a reason. If that's all that Marvin can contribute, he essentially can't contribute anything at all.
Marvin Bagley's shot is going to start falling at some point, but his poor shooting has also been perhaps the least concerning portion of his unbelievably bad start to the 2020-2021 season. Whether or not he's scoring, Marvin needs to start making an impact in other ways, whether that's on the defensive end of the floor, setting up his own teammates for buckets, or in helping his guards in the screening game. Until he can conquer some or all of those areas, Marvin Bagley isn't going to make much of a difference when he walks out onto the hardwood, whether or not he's knocking down shots.