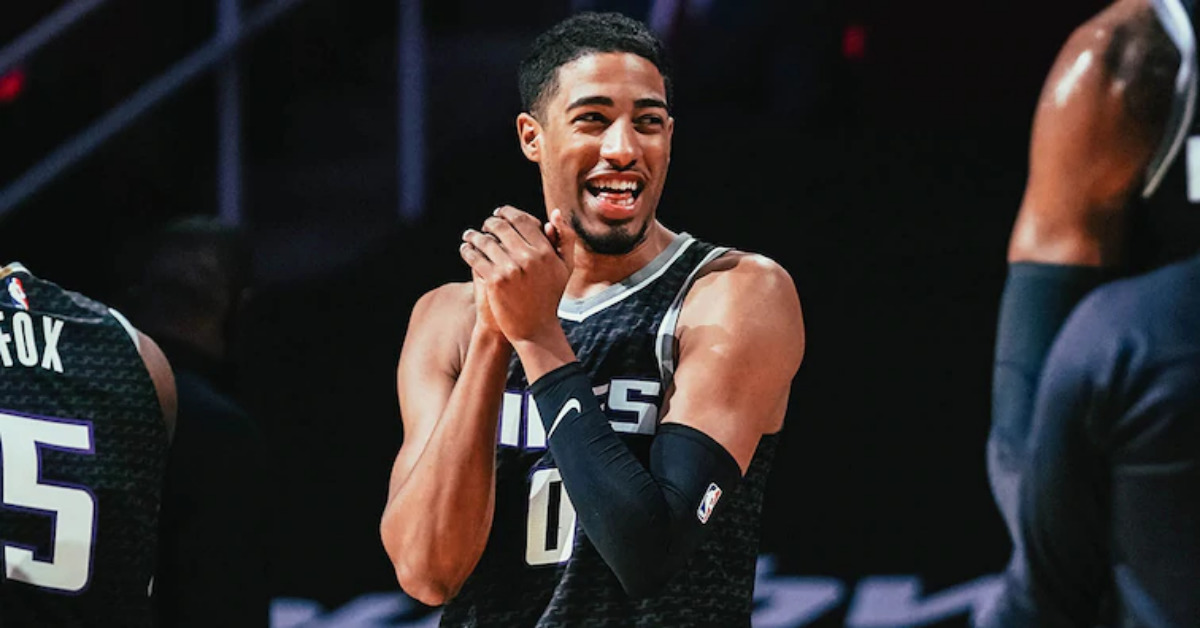 When Tyrese Haliburton slid to the 12th pick in the 2020 NBA Draft, Kings fans couldn't help but celebrate their fortune. Instead of debating the merits of Tyrese Maxey versus Aaron Nesmith, Sacramento walked away with a top-5 rated prospect, a rare stroke of draft luck for a derelict franchise. 
But once the dust had settled, the tears of joy had been wiped away, and the confetti had all been swept up and discarded, expectations for Haliburton began to temper a bit. He was a sophomore combo guard, and it's not often that rail-thin secondary ball-handlers who boast an odd shooting form and who struggled to create their own offense in college often become massive successes in the NBA. His future was discussed in more muted tones, often in the vein of a complimentary player to the cornerstones of De'Aaron Fox and Marvin Bagley and whoever the Kings selected in the 2021 draft. Experts often described his ceiling as a competent starter who could possibly develop into some sort of "super role player", a la Shane Battier or Danny Green.
Six games into his NBA career, Tyrese Haliburton has begun to blow that high-floor, low-ceiling projectition out of the water. His career arc isn't that of a high-end role player. He's a high-end role player right now. Place him on any NBA team, from championship contender to lottery tanker, and Haliburton would be receiving big minutes, and for good reason. He's begun to prove himself as a guard who can play either position, as an efficient scorer, as an individual and team defender, and as a clutch performer. Holes in his skill set certainly do exist, but they're pretty easy to overlook when he impacts the game in so many different, positive ways.
One of the most impressive aspects of Haliburton's performance thus far has been his ability to toggle between a primary and secondary ball-handler at the drop of a hat, with no efficiency lost between the two roles. On the season, he's recorded 28 assists to just 4 turnovers, placing him third among all NBA guards in assist to turnover ratio. In the half-court, his pick-and-roll instincts are, frankly, better than De'Aaron Fox's, and that's not in a one-to-one comparison to Fox as a rookie player, but as a comparison to current-era De'Aaron.
Tyrese ranks as the second-best pick-and-roll initiator in the entire NBA, averaging 1.4 points per possession and drawing a shooting foul 20% of the time. Perhaps even more impressive than his scoring has been his control with the ball, as he has yet to cough up the rock in the screening game, despite running the play for about 24% of his time on the floor. Comparitively, Fox is far below Haliburton's production and efficiency, ranking in the 37th percentile to Haliburton's 99th, scoring just 0.83 points per possession and turning it over 16% of the time. It's entirely possible that a future iteration of this team will highlight De'Aaron in transition and as a primary scoring option in the secondary break, while the ball will shift under Haliburton's control in half-court sets. The kid is probably good enough to handle that swap right now.
Of course, it was expected that a combo guard would be able to handle some initiating duties as he entered the league, as that was his primary attraction heading in the NBA, but Haliburton's comfort level as a scoring option has come as a complete surprise to many who watched him play at Iowa State. Among rookies who have appeared in at least five games, Tyrese currently ranks third in points per game, but it's his combination of efficiency and timing that truly impresses. Although he's third in scoring in his class, Hali has posted just the 14th highest usage percentage. When compared to all NBA guards, Haliburton places in the 90th percentile in true shooting percentage at 67%, while his 48% accuracy from three places him seventh in the league among players who attempt at least four long-balls per game. He's picking his spots and scoring only when a good opportunity arises, a rare trait for a rookie, especially one who had no Summer League and essentially no training camp to start his NBA career.
Many first year players walk into the league as competent scorers and initiators, as Haliburton has done, but the same top performers often find their downfall on the defensive side of things. That's not been the case with Tyrese. He's shown the ability to defend both guard positions, and even some small forwards, and thus far in the 2020 season, he has reduced his opponents' field goal percentage outside of the paint by 2.1%, third on the team. He's easily in the running for the most talented perimeter defender on the team already.
Haliburton has also shown a knack for constantly disrupting opposing team's passing lanes, ranking in the 82nd percentile in steals per game at 1.3, while also leading all rookies with 2.7 deflections per game. His impact as a perimeter disrupter isn't a Rondo-esque, stat-stuffing selfish play that sacrifices the defensive scheme on the altar of individual accomplishments, either. As a team, the Kings post a defensive rating of 108.1 with Haliburton on the floor, the best mark among rotational players. Conversely, when Hali exits the game, Sacramento's defensive rating skyrockets to 114.9, the second-worst rating behind Richaun Holmes. Overall, the Kings are outscored by 8.9 points per 100 possessions when the stud rookie sits, second once again to only Richaun Holmes. He's one of the only players on the team who puts in effort in every single defensive possession, and the results speak for themselves.
The final aspect of Haliburton's seemingly endless laundry list of accomplishments, and perhaps the most surprising element to his game, has been his complete and total comfort in performing in late, close game situations. Tyrese ranks second in the NBA in fourth quarter minutes per game at 10.2. That's not second among rookies. That's second among every single NBA player. And as evidenced by his 15 point, 4 rebound 4th quarter burst to lead the Kings to victory on Wednesday evening, Haliburton should be playing every minute possible in the final period for the Kings.
In clutch situations this season (5 minutes or fewer remaining, 5 point differential between teams), Haliburton has played 19 of 25 possible minutes for Sacramento and has scored 11 points, shot 4/6 from the floor, 3/4 from three-point range, and has yet to turn the ball over in that situation. It's often said that some players just have "it" when it comes to big-time shot-making, and Haliburton certainly seems to have been born with that splice of DNA; he's about as cold-blooded as they come.
When Tyrese Haliburton was drafted by the Kings, he was projected a safe-if-unspectacular option. His first few forays into the NBA have proven those forecasts as too conservative at best, and somewhat foolish at worst. Tyrese Haliburton's ceiling certainly isn't that of a high-end role player, as he's playing that part six games into his rookie season. His future is as bright as any other member of the 2020 NBA Draft class.