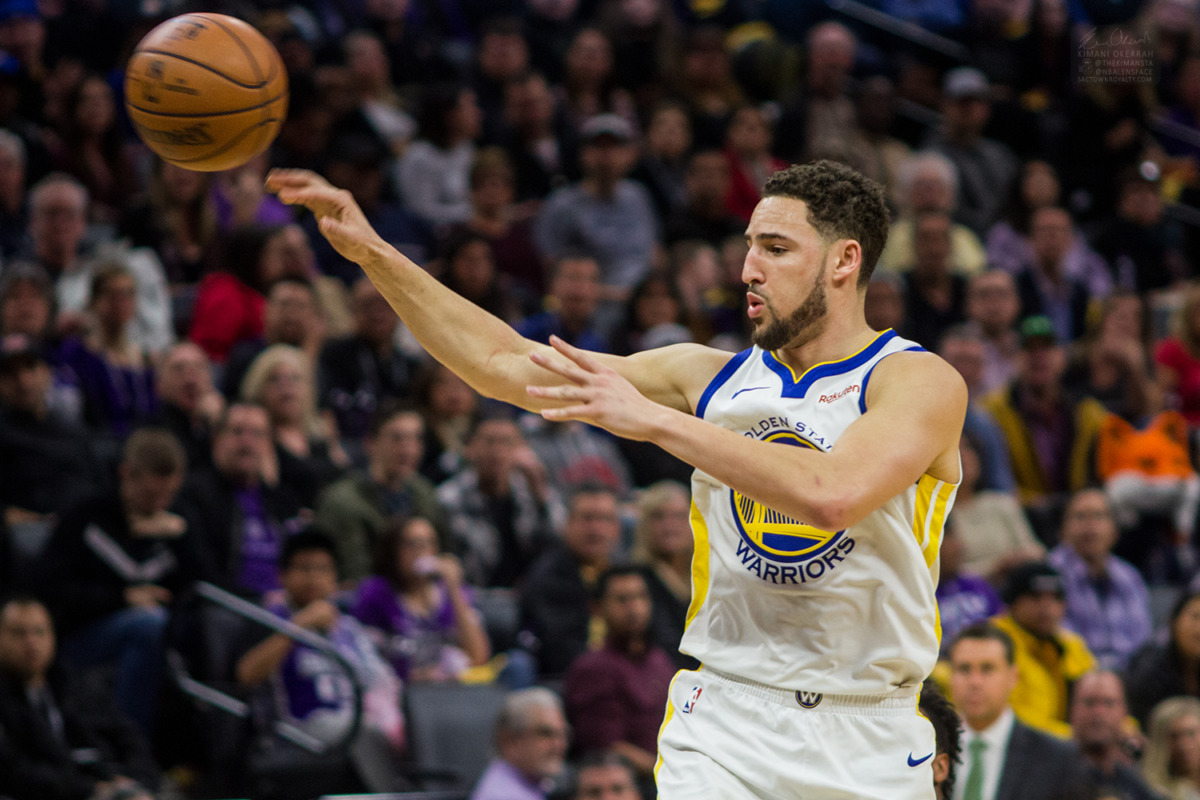 Welcome to Around the Realm, where we look at the top news stories from around the league. If I missed any notable stories, feel free to discuss in the comments!
Klay Thompson is out for the season
In the hours leading up to the NBA draft we learned that Klay Thompson had hurt himself during a workout. Today the worst fears were confirmed, as Adrian Wojnarowski reported Klay has suffered a torn Achilles.
Source: Golden State's Klay Thompson has suffered a season-ending Achilles tear.

— Adrian Wojnarowski (@wojespn) November 19, 2020
This is a huge blow for the Warriors, who had hoped for a title run. Golden State responded quickly to address the opening at the wing, trading for Kelly Oubre Jr.
The Oklahoma City Thunder are in serious talks to move Kelly Oubre Jr. to the Golden State Warriors, sources tell @TheAthleticNBA @Stadium.

— Shams Charania (@ShamsCharania) November 19, 2020
The Warriors acquired Oubre using a $17 million trade exception, but the move could have significant impacts on their luxury tax bill.
Golden State tax bill is currently $66M

The addition of Kelly Oubre would see it increase to $134M

$14.4M of Oubre + $68M in taxes= $82.4M

— Bobby Marks (@BobbyMarks42) November 19, 2020
Daryl Morey is a magician
When Daryl Morey arrived in Philadelphia, the team was locked into a terrible cap situation and a roster that didn't work together. On draft day Morey managed to completely unclog several of Philly's biggest issues.
First, Morey dealt Al Horford and draft assets to the Oklahoma City Thunder for Danny Green and Terrance Ferguson.
The Sixers are sending a lightly-protected 2025 first-round pick and the 34th overall pick in tonight's draft, sources tell ESPN. The Thunder are also sending Terrance Ferguson to the Sixers with Green. https://t.co/sDCfPo4T4L

— Adrian Wojnarowski (@wojespn) November 18, 2020
Morey then traded Josh Richardson and a second round pick to Dallas for Seth Curry.
Curry is on a great contract -- three more seasons, about $8.2M per. Richardson can hit free agency after this coming season, Dallas gets some needed wing defense and another good 2nd-round pick coming up here. J-Rich is better than he looked last season. PHI gets elite shooting https://t.co/XhrHRrQMQe

— Zach Lowe (@ZachLowe_NBA) November 19, 2020
In two moves Morey unclogged Philadelphia's cap sheet from long term, hefty contracts for Horford and Richardson. And in the process he surrounded Joel Embiid and Ben Simmons with floor-spacing shooters in Curry and Green. The moves also allow Tobias Harris to move back to his more natural stretch 4 role.
Gordon Hayward opts out
Despite the deadline extension and Danny Ainge's best efforts to find a deal, Gordon Hayward opted out of the final year of his contract and will enter free agency.
Celtics' Gordon Hayward has opted out of his $34M deal for the 2020-21 season and will become a free agent, sources tell @TheAthleticNBA @Stadium.

— Shams Charania (@ShamsCharania) November 19, 2020
The current speculation is that the New York Knicks are targeting him after they cleared about $40 million in cap space on Thursday.
The Knicks declined team option on Bobby Portis ($15.7M) and waived Taj Gibson ($10.29M) and Elfrid Payton ($8M), sources tell @TheAthleticNBA @Stadium. Frees up salary space for New York.

— Shams Charania (@ShamsCharania) November 19, 2020
The Knicks have been aggressive in their pursuit of Gordon Hayward all week, sources say

Amid a growing belief leaguewide that Hayward will decline his $34 million player option for next season, New York may loom as Hayward's best option given all the Knicks' newfound cap space

— Marc Stein (@TheSteinLine) November 19, 2020
Rubio returns to Minnesota
As part of draft day trades, Ricky Rubio returned home to the Timberwolves.
Minnesota is acquiring Oklahoma City's Ricky Rubio, the 25th and 28th picks for a package that includes the No. 17 pick, sources tell ESPN.

— Adrian Wojnarowski (@wojespn) November 19, 2020
The deal also included James Johnson going to Oklahoma City.
Minnesota is trading James Johnson to Oklahoma City as part of the Ricky Rubio trade, sources tell @TheAthleticNBA @Stadium. https://t.co/P0P0EuvqRW

— Shams Charania (@ShamsCharania) November 19, 2020
Rubio pairs well as a backcourt partner for D'Angelo Russell and provides an experienced hand to spread the ball among Russell, Karl-Anthony Towns, Anthony Edwards, and Jaden McDaniels.
***
Today was a day full of player options being picked up and declined, and it would be overwhelming to include every move here. The NBA is going to look wildly different in another 24 hours, as NBA Free Agency kicks off at 2pm PT on Friday.