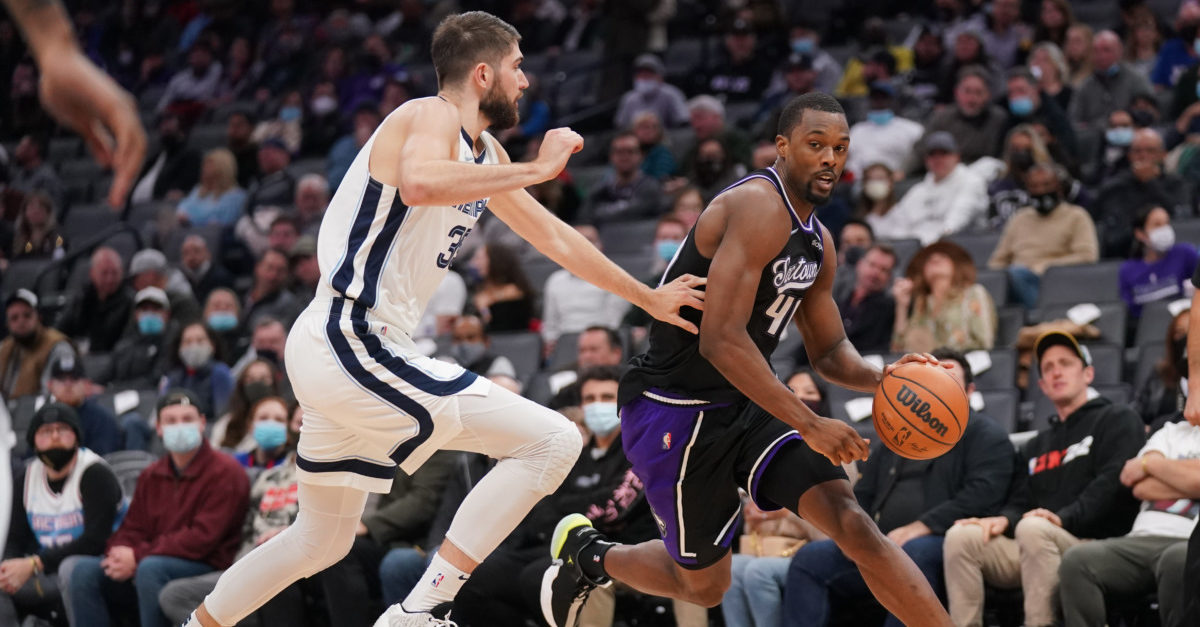 [Editor's Note: In honor of the Kings missing the vast majority of their rotational players tonight and having to sign Justin Robinson to a hardship exception, we have sent Tim to similar health and safety protocols (overindulged in raisins and yogurt pie), and we have signed his wife, Tori, to a hardship exception. These are her honest, unedited thoughts about tonight's game.]
First of all, let me just say that I am honored to be spending my Friday evening doing this. As a busy stay-at-home mom, I can't think of anything else I'd rather be doing; what a productive use of my time. Happy Bday Buddy! Oh, and Kayte came to slay with her high and tight pony and red blazer, I see.
First Quarter Thoughts:
My prediction: Kings win 100-89.
This feels like it's going to be a strong first half and inevitable tank in the second.
We're shooting well early. I don't think it's going to hold.
In my mind, I'm still stuck in the Isaiah Thomas/DeMarcus Cousins era of the Kings because that's when I paid most attention to the team and went to the games. And I have a Boogie jersey!
It's okay to run a play and not shoot a three. I think that would be fun to see.
OKAY, Tyrese can break ankles.
I feel like the Grizzlies are going to let us goof around until they take the game seriously and blow us out.
Has anyone tried hanging a "believe" sign in the locker room?
Second Quarter Thoughts:
Haliburton is *chef's kiss* (I also get the vibe that he respects women).
Kayte likes the word gritty.
LIVE BALL TURNOVERS.
How do we respond to a 13-0 Grizzlies run? Toss the ball into the crowd and continue our LIVE BALL TURNOVERS.
Haliburton shouldn't be number zero because he is a HERO.
Going into halftime with a lead was too much of an ask. BABY STEPS.
We didn't even wait until the third quarter to lose our grip on the game.
Third Quarter Thoughts
The Grizzlies are making a run and visible panic is setting in.
The Kings are bricking every shot. The players may change, but the strategy stays the same.
4th Quarter Thoughts
This has better a game than I expected.
Never mind.
It was clear from the beginning that this squad would eventually get outpaced. (This is the first game I've watched all season, so I know what to look for, clearly )
ZZZZZZZZZZZZZZZZZZZ (Tori fell asleep for most of the fourth quarter)
Everyone played hard, which I can respect, even if it wasn't a win.
Pizza Guy of the Game (I told Tim this should be a regular thing and he laughed at me): Tyrese Haliburton with 21 points, 6 rebounds, and 10 assists on 53% shooting from the field and 60% from deep.