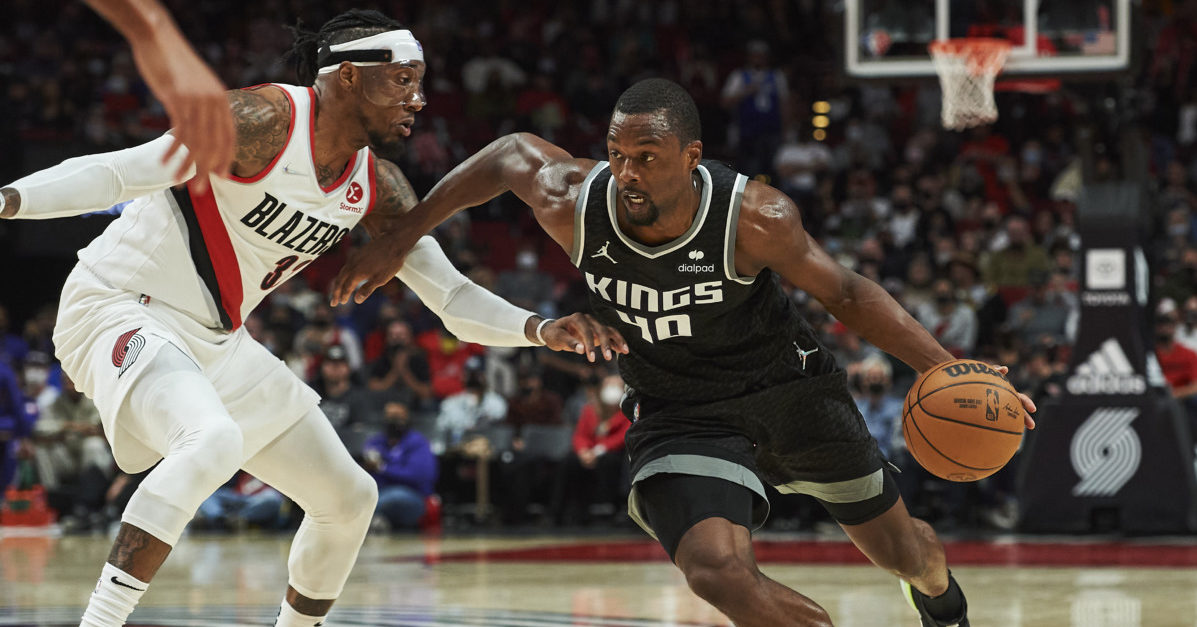 Harrison Barnes is usually working out three to four hours before games and he gets his lifts in during the early morning hours or before practice. This is according to De'Aaron Fox, who said Barnes told him he has been on this routine since he was a rookie. Barnes likes to go through full workouts to get a sweat in and calm down a little before games.
Fox said Barnes' work ethic has been this way since he arrived in Sacramento. This is why Richaun Holmes wasn't surprised when the 29-year-old dropped a career-high 36 points on the Portland Trail Blazers Wednesday night.
"Harrison, everybody on the team will tell you, he's always putting his work in. He's getting his work in early, late, so we expect that from him. The amount of work he puts in we expect nothing less from him," Holmes said. "He can be that type of player for us every night without a doubt and we have the ultimate trust in him."
Barnes shot a blistering 8-11 from three (a career high for threes) in the win over Portland to go along with 9 rebounds, 2 assists and 2 steals. The Kings would certainly be starting the season 0-1 without him.
Check out the highlights here:
Head coach Luke Walton said after the game that he wants Barnes taking a lot of threes this season.
"One of the things I've challenged Harrison on all summer and even last year, is we need him to be aggressive, and I don't mean that as go one on one and take a bunch of shots, but I've challenged Harrison. I want him getting eight threes up a night. He's a very good shooter and there's no reason he can't make those shots," Walton said. "We needed all of those points tonight and that's really how we want to see Harrison playing all the time. Some nights they'll go, some nights they won't, but we definitely want him taking those shots and he was a big reason why we won tonight."
Barnes hit the 40% mark from three twice in his career (2014-15 and 2018-19). In 2014-15, he only took 2.6 threes per game. In 2018-19, that 40 percent did come in only 28 games with the Kings after he arrived in Sacramento. In the 49 games he played with the Dallas Mavericks in that season, he shot the most threes per game of his career – 6.3 per game. (He went 38% on those shots.) Overall, he had the seventh best three-point percentage among all small forwards that season. Last season, Barnes ranked 17th among all small forwards in three-point percentage at 39%. His career average is 37%.
Barnes is a very good, versatile basketball player and helps put pressure on defenses, especially when he is on the floor with Fox. Him taking eight threes a game would certainly be a change for him and this team. If he can get back to the 40% mark, or slightly above though, it would open the lane up even more for Fox and the offense.
Barnes is a hard worker who understands and accepts his role. Sometimes he can defer a little too much to the primary scorers on the team and does get beat occasionally on defense, but generally, him being aggressive the way he was Wednesday is always going to be a positive for the team. On nights when Tyrese Haliburton isn't on from a scoring perspective (like last night), or Fox is struggling, having the ability to rely on Barnes to fill the scoring void is very much needed.
If he can stay healthy and keep up steady production, he could be a big factor if this team is going to get better this season.
Watch the full media sessions below.