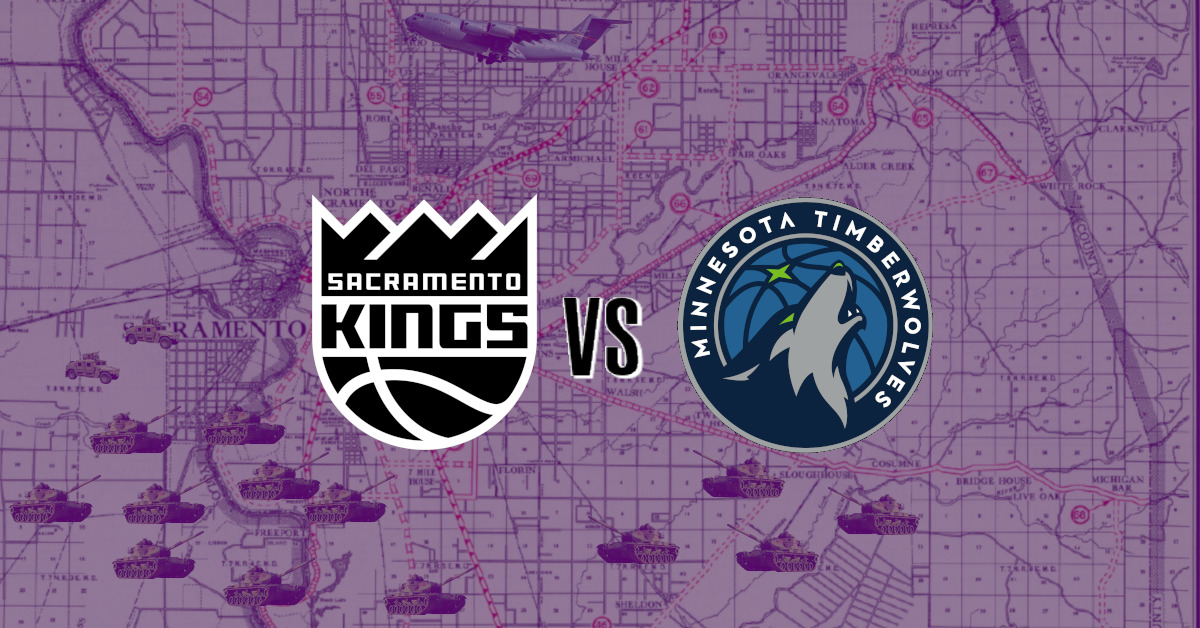 If ever there was a time this season for the Sacramento Kings to catch a break, it would be right about now. After hitting on their second seven-wins-in-eight-attempts streak of the season, the Kings are now trying to prove lightning doesn't strike twice. While their first win streak ended up with a subsequent nine game tumble down the conference standings, Sacramento has a golden opportunity Monday night to stop this slide at just three. Their opponent: the worst team in the Western Conference, with injuries to key contributors and in the midst of losing four out of their last five.
Going to speak it plain and clear: this right here is a goddamn trap game.
Let's talk Kings basketball!
When: Monday, April 5th, 4:00 PM PST
Where: Target Center, Minneapolis, MN
TV: NBCSCA - Mark Jones on the call
Radio: KHTK Sports 1140 AM
For Your Consideration
Today we're going to do something different because, well, I say so and none of you all can stop me. Helping me with today's preview is the Swiss Army knife of our former sister site, Canis Hoopus: Leo Sun. Leo does previews, recaps, special pieces for both the NBA and WNBA over there and just so happens to be a long-time personal friend who has suffered along with me as we attended Here We Stay games, rallies and just about every other attempt to give the Maloofs a middle finger or two. Leo's going to give you a taste of the other side of this game and I'm going to head over to Canis Hoopus tonight and help him recap the game tonight as well as the other two games we face off in later this season. Today we're getting pessimistic, the second game will be our most optimistic takes and to wrap up the season, we'll attempt to be completely realistic in what is to come in both the game and the outlook for our two franchises. So, without further ado...
WOLVES OUTLOOK
The buzz phrase for the '20-'21 Minnesota Timberwolves is "Weirdest team, ever." From the tragedies that our franchise cornerstone has endured in the offseason, to 289 days of having not played a regular season NBA game, the tone of the season was already in jeopardy before the first tip. Not enough to convince you? In the second game of the season, Karl-Anthony Towns goes down with a preexisting wrist injury that costs him 7 of his next 8 games, before contracting COVID-19 which would knock him out 13 more games. Want more? Literally just before the game KAT returned from his bout with COVID, D'Angelo Russell is ruled out due to knee surgery for (going on) 27 games, resulting in the insane fact that KAT and D'Lo have been on the same roster for 425 calendar days, yet have only played 5 games together. 5. FIVE. Throw in a bizarre mid-season coaching change, an ugly off-the-court issue for our iteration of Buddy Hield (albeit much less expensive), acquiring my favorite player ever just to destroy him, and you get a Wolves team that's a league-worst 12-38.
Ricky Rubio really defeated on Zoom. Talked about how winning culture isn't being built here and even named Trust The Process in Philly as something he doesn't believe in.

— Ricky Rude-Leo (@Y0Leo) March 1, 2021
Sounds like Minnesota had survived the worst of it though, no? Narrator voice: They had not. Usually in a lost season like this, you have the NBA lottery to look forward to. With Anthony Edwards showing legitimate promise as a potential superstar (505th out of 509 players in VORP and 508th in Win Shares, ahead of Poku!), pairing him with any one of the tantalizing incoming NBA prospects doesn't sound too bad! Well, friends, even if the Wolves are able to maintain a bottom-3 record (That's the easy part), they only have a 40.1% chance of retaining their pick by having it land in the top 3. That means there's a 59.9% likelihood that the damn Golden State Warriors are gifted our 1st round pick as they continue to also snicker at the fact that we will still have to pay D'Angelo Russell $30+ million for each of the next 2 seasons.
Tanking is all about perspective https://t.co/UN3zlftxlc pic.twitter.com/irMqSPkL1T

— jakes graphs (@jakesgraphs) March 28, 2021
More like "Saddest team, ever."
TONIGHT'S PREVIEW
If the outlook of the Minnesota Timberwolves hasn't been comical enough for you yet, there's still the product on the court. Look no further than some of the most recent battles between the two runaway favorites for most pathetic NBA professional basketball franchise of all time! Of course, there was the epic performance by the Timberwolves to break the 8,377-0 NBA record of winning a game when up 17+ in the final 3 minutes of the 4th quarter or overtime. We also had these two team's most recent game on February 3, 2020, where I got to see the Kings send the Timberwolves to their 12th straight loss at Golden 1 Center live. At one point, I believe I saw Dewayne Dedmon do the Damian Lillard wave goodbye at the Wolves bench after he logged his season-high 5th block, prompting the Wolves to completely blow up their team the next day.
Ugh, sorry, I keep focusing on the past and future. Let's talk about tonight. Hm… let's see, the Wolves have listed all of D'Angelo Russell, Ricky Rubio, Malik Beasley, and Jaylen Nowell as doubtful for tonight. That's $58 million of salary that Minnesota will have stylin' on the bench. That means one thing! KAT will watch as Ant inefficiently jacks up 10 three pointers tonight. In the off chance that the Kings decide to throw perimeter bodies at Ant, then it will truly unlock the key to the Wolves tank: Josh Okogie, Jarrett Culver, and Juancho Hernangomez wide open bricks. I have faith that any 5 folding chairs used in Yi Jianlian and Darko Milicic workouts could guard any lineup that the Wolves decide to roll out tonight.
PREDICTION
Leo: De'Aaron Fox and Tyrese Haliburton combine 50 easy points and Kings Twitter will go to war again over Tanking v. Play-in Tournament, 410 U.S. 113 (2021).
Minnesota @Timberwolves Status Report in advance of tomorrow's game vs. Sacramento:

DOUBTFUL
Beasley - Left Hamstring Soreness
Nowell - Right Tibia Contusion
Rubio - Back Spasms
Russell - Left Knee Surgery

— Timberwolves PR (@Twolves_PR) April 4, 2021
Will: Anthony Edwards is going to roll through 30 points and Karl Anthony-Towns is going for 50, bullying Richaun Holmes every chance he gets. That will literally be the only points the Timberwolves are able to muster because, woof and the Kings go on to rout the Wolves and cause the third or fourth civil war in Kingsland this year over where the Kings are going. Bryant, who claims to be zen about this season, will be discovered secretly giving weaponized tweets to pro-tank members. He will be removed from Twitter with the greatest of haste.
Kings: 119, Timberwolves: 80