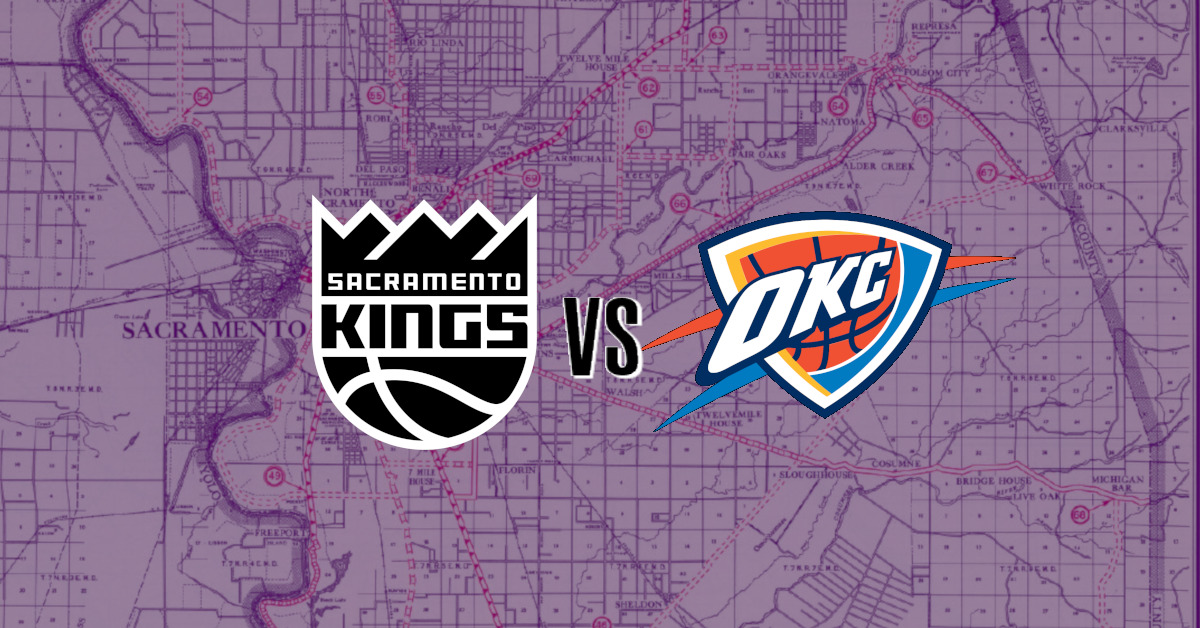 The Boogeyman comes to visit Sacramento today. Not the Boogieman, as he's busy having fun with Mike Malone in Denver - the Boogeyman of the Sacramento Kings front office and many Kings fans alike, the Oklahoma City Thunder. The Tankers.
The Thunder are latest team that dares to Tank, capital-T tank, and accept a long launchpad for their rebuild. The squad that somehow got a player as great as Shai Gilgeous-Alexander (who arguably should have been an All-Star, but is also out with an ankle injury until the All Star Break) to be alright with multiple years of suckage. Who knows why a star like him would be ok with a losing plan? (Hint: it may have to do with his $173 million, 5-year extension, or it may be that a smart player can be convinced of a direction for eventual success...)
Sam Presti is leading an organization that has decided that this is the best way for a small-market team to snag big-time players and build a good NBA squad. They're in year two of this dark experiment, likely won't see success for another year or two, and have a treasure trove of draft picks to play with as they move along.
You know what would really be scary, Sacramento? When the Thunder's rebuild ends before the Kings' does.
Let's talk Kings basketball!
When: Saturday, February 5rd, 7:00 PM PT
Where: Golden 1 Center, Sacramento
TV: NBCSCA - Mark Jones (play-by-play)
Radio: KHTK Sports 1140 AM
For Your Consideration
Losing the Games vs. Losing the Effort. The Thunder have won three in a row! Sure, two of those were against the Portland Trail Blazers, who waved their own white flag yesterday... but three in a row is a big winning streak for the Thunder, especially with SGA out. Lu Dort has been sensational since returning from his own injury, and has averaged 24.5 points, 6.5 rebounds, 3 assists, 50% from the field, and 43% from 3 - but there's a chance he may be out today, after suffering a hard fall in last night's win over Portland. Josh Giddey is averaging 11.8 points, 7.6 rebounds, 6.1 assists, and at least one insane pass per game, none better than this OT-forcing bullet against the Mavericks. The rest of the Thunder roster might be tough for even the most diehard NBA fans to name, but they've played well enough to make their cover from The Athletic say this.

The Thunder getting 32, 14, and 12 from Kenrich, Muscala, and Jerome off the bench for the Thunder last night highlights what will be a problem for the Thunder down the stretch.

If they want to tank they need more Poku, Theo and younger players. Giddey and Dort are too solid.

— Andrew Schlecht (@AndrewKSchlecht) February 5, 2022
The Kings should win this game, regardless if De'Aaron Fox plays or not. The team that beat the Nets in this building four days ago should not lose to the Thunder. But apparently, effort and energy aren't always tied to how a squad chooses to rebuild. Keep that in mind if the young Thunder dudes blast past or outwork the Kings veterans this evening.

Oh, and just so everyone is aware:
A loss tonight will push the Kings into sole possession of 4th place in the NBA Lottery.

Lotto odds of 4th:

1st - 12.5%
2nd - 12.2%
3rd - 11.9%
4th - 11.5%

That's a 48.1% chance at a top-4 pick and a 36.6% chance at one of Smith, Banchero, or Holmgren.

— SactownBabyGiraffe (@TimMaxwell22) February 5, 2022
Our resident preview wordsmith and tank-fan extraordinaire Will Griffith is busy this morning building an altar to the basketball gods in his bedroom closet. He's desperately trying, a year and a half in advance of the 2023 NBA Draft, to will Victor Wembanyama into a Thunder jersey so he can see his dream of a Aleksej Pokusevski/Wemby slenderman dynasty. Anyone remember the classic Nickelodeon show Hey Arnold, when Helga made her closet into an altar to Arnold? Picture that, but replace the football with a whole bunch of tentpoles and broomsticks, and swap Helga's twintails for Will's mohawk. Mr. Griffith will give an Operation M.C.N.A.I.R update next time.
Prediction
Davion Mitchell's hot streak continues, and there isn't a more fun match-up to watch than Mitchell on Josh Giddey. Tyrese Haliburton and Giddey end up with the same exact statlines. Will finishes his Poku/Wemby alter, then weeps quietly as he remembers that Poku is so bad that even THIS Thunder squad sent him to their GLeague team. Monte McNair again crumples his tank pros and cons list as the Kings beat a team whose starting 5 have an average age of 21.6 years old.
Kings: 108, Thunder: 98