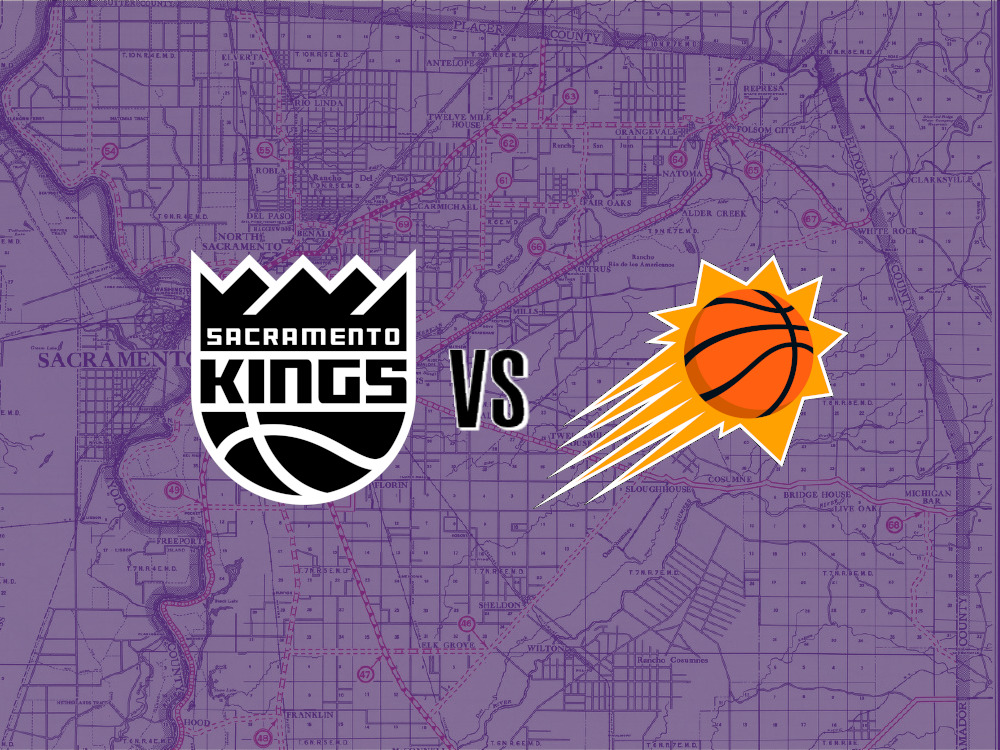 It's the day after Christmas and somewhere in your living room is a pile of cardboard or wrapping paper or tissue that still needs to be taken out to the trash. Go do that now. No seriously, just go do it so we aren't interrupted during this! It's just sitting there in a sad little pile. I'll wait. This team ain't going anywhere fast so I've got plenty of time on my hands.
You back...?
Oh, alright, guess not. Must have been a cat walking by the screen or or leaves or someth-
You're back! Hey okay! Alright! See that wasn't so bad now was it?
So let's get to it then! The Kings are back in action and kicking off a back-to-back against the Phoenix Suns, who come into Saturday with a spotless 1-0 record after beating Luka Doncic and the Dallas Mavericks on opening night. Runner-up to the NBA Player of the Seeding Games, Devin Booker looks to be ready for a massive season, Mikal Bridges seems just about ready to take on that role as third best player on a playoff team, DeAndre Ayton is still not Luka Doncic and Chris Paul is still very much Chris Paul. Can the Kings prove that Wednesday night's victory in Denver wasn't a fluke? Is this the start of a magical season in which the people screaming "NO TANKING NO REBUILDING" finally vanquish those without the winning gene in their bodies?
No.
BUT MAYBE! Let's talk Kings basketball!
When: Saturday, December 26rd, 7:00 PM PST
Where: Golden 1 Center, Sacramento, CA
TV: NBCSCA, Mark Jones on the call.
Radio: KHTK Sports 1140 AM
For Your Consideration
Heliocentrism for Dummies: So just for the few of us who went down into their emergency shelters in March and are just now (and very briefly) superterranean, to check on the status of the world you left behind - the Phoenix Suns are probably good now. No, not in that Goran Dragic-Isaiah Thomas-Eric Bledsoe mirage of being good, but actually, solidly built and expected to win more nights than they aren't. Phoenix was included in the NBA's Bubble on what amounts to a technicality and the need for better teams to have an easy game to gear up for the playoffs, then unleashed unholy hell on all who doubted them, going 8-0 during their time in Orlando and coming within a water bear's whisker from the NBA Playoffs. After a decent off-season and one fantastic swap for Chris Paul, the Suns are the NBA's fun, exciting dark horse pick for an extended playoff run.
So how do the Kings stack up? With their win in the opener against the Nuggets on Wednesday, the Kings upended the apple cart right from the start and has more Kool-Aid being passed around than I could ever imagine. Was it nice to get a win and see a semi-cohesive squad on the floor? Absolutely. Is it nice to let those ever-rare feelings of victory wash over you after an improbable victory against a top-3 team in the West? 100%, go for it. I'm not one to tell others how to fan, so do what you're gonna do. One game into the season it's hard to use stats to justify anything without it having a case for the other side as well. If someone points out that the Kings really didn't play that well, someone else will say "Yeah! And they still beat the Nuggets! Imagine how good they'll be when they gel!" If you want to mention that Jamal Murray pulled a Jamal Murray and absolutely disappeared for the start of this game, someone else is going to mention that it was solely the excellent defense played on him. I can't do it! I won't engage! I'm happy for the Kings and did a little celebratory dance myself after the tip-in, but, one game does not change the logic and direction of the season. Nothing of what I said makes for good Instagram captions or sells shirts or gets my lips nestled any closer to vulpin keesters, but it is a shade closer to the truth. That being said, I would rejoice in being proven wrong in my reserved thinking and would gladly eat crow if it meant the Kings being a success. So, now, what about those damn Suns?
The Kings seem to do a darn good job alternating wins and losses against the Suns and if you were to solely trust the pattern that's been laid out the last four games, hey, the Kings are winning tonight! All this despite Devin Booker averaging 30.0 points and 9.0 assists in his last 5 games against the Kings and with three of those games being double-doubles for the baby-faced long-range bomber. The emergence of Mikal Bridges and his match-up against Harrison Barnes (who was the true MVP of Game 1) will be a fascinating one to watch. Tyrese Haliburton had a very smooth first game in the NBA and would have had me out of my seat if he'd have clinched the game on that corner three in the closing minutes against the Nuggets. It looks like he might be getting major minutes this season and my eyes will be locked to him every moment he's guarding Chris Paul or Devin Booker. Those are two of the craftiest men in the league and how Haliburton handles them will be a true test of his NBA maturity early on. DeAndre Ayton and Marvin Bagley should get solid minutes against each other as well. Former teammates and now a fairly underwhelming #1-2 punch in a historic draft, Bagley and Ayton both have critical seasons ahead of them and are both looking to establish themselves as cornerstones of two incredibly different rosters. I have no real takeaways from this game or these match-ups yet, as it really is just too damn early in the season. I hope that they play well as much as I hope they actually get the W, but a loss is what it is.
Prediction
The Kings will literally never lose again. They will also win the NBA Draft. We will make endless shirts with infinitely good slogans and you all will buy so many it will correct all that is wrong with this world. Climate change stops and reverses. The angry faced emoji with steam coming out of its nose retires abruptly, goes to therapy and realizes that they should have sought help when they started seeing every retired NBA player "was a PROBLEM". Years later, they see the bucket emoji being used on a Willie Cauley-Stein highlight reel, feel faint, then break down in their apartment, with a rush of happiness about having escaped that life and waves of mourning all that lost time to various Steve Novak and Marvin Williams clips being retweeted ironically by memesters on Twitter and Instagram. The thought occurs - NBA players were never the problem, it's own obsessive need for validation was. Gradually, the steam disappears from under its nose, its furrowed brow loosens and it never feels the urge to watch basketball again.
(Without a handle on things, the bucket emoji eventually dies cracked and alone in an abandoned Rudy Gobert highlight reel draft on MySpace. The flexing emoji does a stint in county for armed robbery but ultimately cleans itself up and lives its life as an extended arm emoji that no one uses.)
Kings: 119, Suns: 108