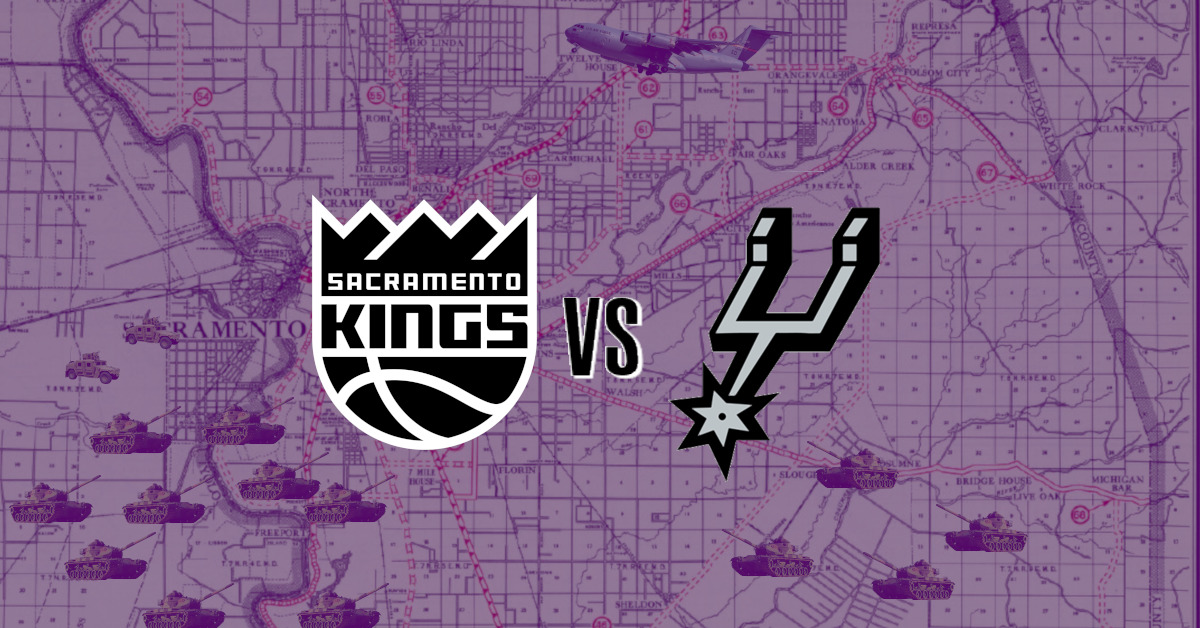 The Sacramento Kings are on the verge of their first six game winning streak since 2005 and to get there, they'll have to go through the team they just beat on Monday, the 8th seeded San Antonio Spurs. What dark magic does Popovic the Grey have to cast up De'Aaron Fox and the Kings? Will he command the creature known as Jakob Poeltl to rise from the depths and strike with maximum efficiency yet again? Did Will call Popovic "the Grey" because they already had Derrick "the White"? When will this Lord of the Rings motif stop??? Let's talk Kings basketball!
When: Wednesday, March 31th, 5:30 PM PST
Where: AT&T Center, San Antonio, TX
TV: NBCSCA - Mark Jones on the call
Radio: KHTK Sports 1140 AM
For Your Consideration
Two Things At Once: Gonna get this one out quick and move on to the Spurs game. I try to be a fairly inclusive guy. I was raised in a multi-ethnic family by loving parents who demanded equality for their children wherever it was found to be lagging behind. I have friends and family that have done dumb stuff that required redemption and love despite their issues, and hell, I'm even friends with a couple of Lakers fans. It's difficult, but I understand that at a fundamental level, humans are often contradictory and that's absolutely fine. I started a rather large discussion yesterday from the comfort of my kitchen yesterday for implying that people who still have concerns over the longevity of this particular team and were "pro-tank" didn't have to be shamed because the team has suddenly won five in a row. I agree they also shouldn't be raining on other, more celebratory fans' parades but there's enough room on the fan wagon for literally both groups.
Doubting the worst run team in professional sports for the last 14 years means people get leeway. Those people can also both be happy to see Fox and Hali and the group get it together and play well, even with those doubts in the long term. I can guarantee that the twitter equivalent of bed lice screaming from both sides of my mentions have friends and family that think they're doing well right now but also worry about their long-term well being too. Anyways, quick note to the holier than thou - this team makes everyone dumb and everyone crazy and regardless of the strategies you think are more conducive to long term success, you're right. You're also wrong. I'll fist bump you at the parade one way or another.
On to the Spurs - Is there ever going to be a time where the Kings just, don't allow a random player an explosive offensive output? I'm sure every team feels this way and yes, it will be more common with one of the worst defenses in NBA History but, man. Monday night it was Poeltl, who averages less than 8 points a game, but busted out for 17 points, 11 rebounds on 8-11 shooting. 15 of his 17 points came in a first half that made him look far, far better than he is. If the Kings moved on to the rest of a road trip or some other team, I wouldn't care that much, but this is the stuff that I feel like Popovic and the rest of his staff will use as an exploit to kill the Kings tonight. He found some extra soft weak spot in the Kings cardboard armor last game and now he's going to punish the Kings for getting cocky. It obviously could just be an outlier from Poeltl, but I'm always wary of the Spurs.
To make sure we know the stakes of tonight's game: The Kings are currently one game back from the 10th seed, a game and a half back of the 9th, two and a half back of the 8th and three games back of the 7th seed with twenty five games to go. They are still thin as hell and an injury to Fox, Haliburton, Barnes or Holmes would render this run immediately in doubt. The value buyer moves of the off-season helped make the bench less terrible and despite my eyes seeing a good game from them on Monday, I still have some doubts over their long term effectiveness and whether or not they're actually, well, good. Which again for all the professional reply guys haunting the hallways of TKH Offices, is normal and entirely fine.
This was a quick one today! I have lives to ruin elsewhere!
Prediction
I demand that fifty piece from Fox, because I know it's in there and what better time than in the home state of Texas? Tyrese spends tonight putting defenders on skates, Buddy Hield continues to make himself comfortable in his super-small forward role by dropping another five treys.
Kings: 126, Spurs: 114