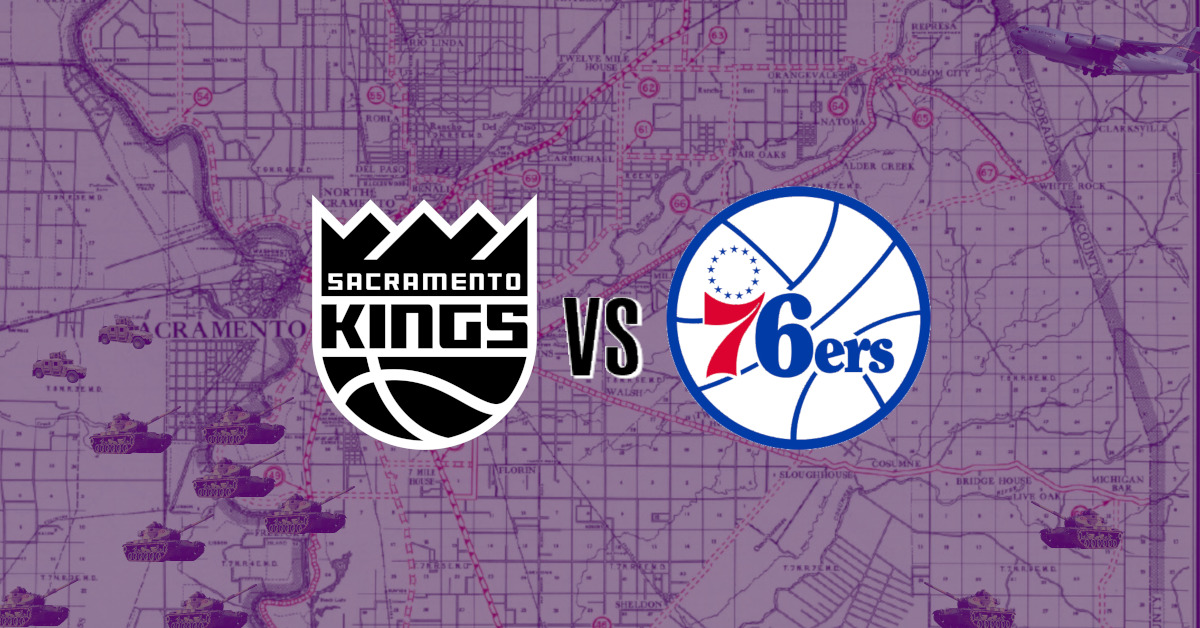 Happy Saturday! The NBA Trade Deadline is five days away, the Kings are back to playing mediocre basketball, these twelve dopamine patches Greg duct taped to the back of my neck are working - things are looking... well they aren't looking up to be honest, but we can be kinder today and say they're looking rather horizontal (in the short term).
The Kings are on the second night of a back to back after sneaking up on a Boston Celtics team that is reeling right now. Sacramento will have to take on a Philadelphia squad that is missing their MVP candidate, but still plenty dangerous for the Kings. Let's talk Kings basketball!
When: Saturday, March 20th, 5:00 PM PST
Where: Wells Fargo Arena, Philadelphia, PA
TV: NBCSCA - Mark Jones on the call.
Radio: KHTK Sports 1140 AM
For Your Consideration
A More Traditional Preview: I want to say thanks for those who read and responded to my preview from yesterday and allowed me to vent a particular grating frustration of mine. I try not to go off the rails too frequently because my back teeth and jaw can't handle the pressure I put on them during those hours of typing it all out. I really appreciate the level on conversation in posts like that, regardless of whether I think you're stupid or Rhodes Scholar level braniacs.
Saturday's game against the Sixers could give me an in to talk about Sam Hinkie or The Process, or the Kings not drafting Matisse Thybulle when many of us screamed in unison that they should. But the sun's out for only so many hours today and so I think we're just going to break things down a bit.
As we are all aware, these Sixers a damn good. They're seventh in the league in scoring at over 115 a contest, seventh in the league in defense by holding opponents under 110 a game and they're seventh in pace. They're quick, they're hungry, they're the top team in the East for a reason. They're also going to be without their Top-3 MVP candidate in Joel Embiid tonight as he's out with a knee injury for a few more weeks and could very well be without former Kings Seth Curry, who left Wednesday's loss to the Bucks with a bum ankle.
No matter though, they've still got more than enough talent to hand the Kings their 25th L of the season. Filling in for the bulk of Joel Embiid's minutes is a nearly unknown big man by the name of ... Dwight Howard. Technically he's coming off the bench for Tony Bradley, but you don't have to wonder if he's still any good - Dwight is still very effective in his minutes. For a guy like Seth Curry, the Sixers have the luxury of starting a guy like Thybulle, or a great young player in Shake Milton, or even giving minutes to a 6'7 shooting guard like Furkan Korkmaz. If there's one thing the Sixers do have in spades, it's talent at the shooting guard spot. I didn't even mention a guy like Tyrese Maxey, who dropped the most points in a game as a rookie since Allen Iverson when Maxey dropped 39 earlier this season, in a game that featured just 7 players for the Sixers due to COVID protocols. More nights than not he's a DNP where he might be a sixth man for some decent teams in the league. The Sixers are loaded, they're well coached and they're not looking to lose games and risk giving up home court advantage throughout their upcoming Eastern Conference playoff run.
It's fun to think that the Kings could keep sneaking up on teams with injuries and beating them in the chaos and there are probably games in the future where the Kings will do just that. This Sixer's team is just not that team: they're deeper than a Charlie Kaufman film and matchup particularly well against these Kings. There goes my jaw clenching again.
Prediction
Psh. Did I say Charlie Kaufman? I meant Michael Bay. The Sixers show they're all flash, no depth and De'Aaron Fox goes for 40 against one of the best defensive point guards in the league. Buddy hits 6-11 from three in a last ditch effort to show he's still got it for the right teams.
Kings: 113, Sixers: 108