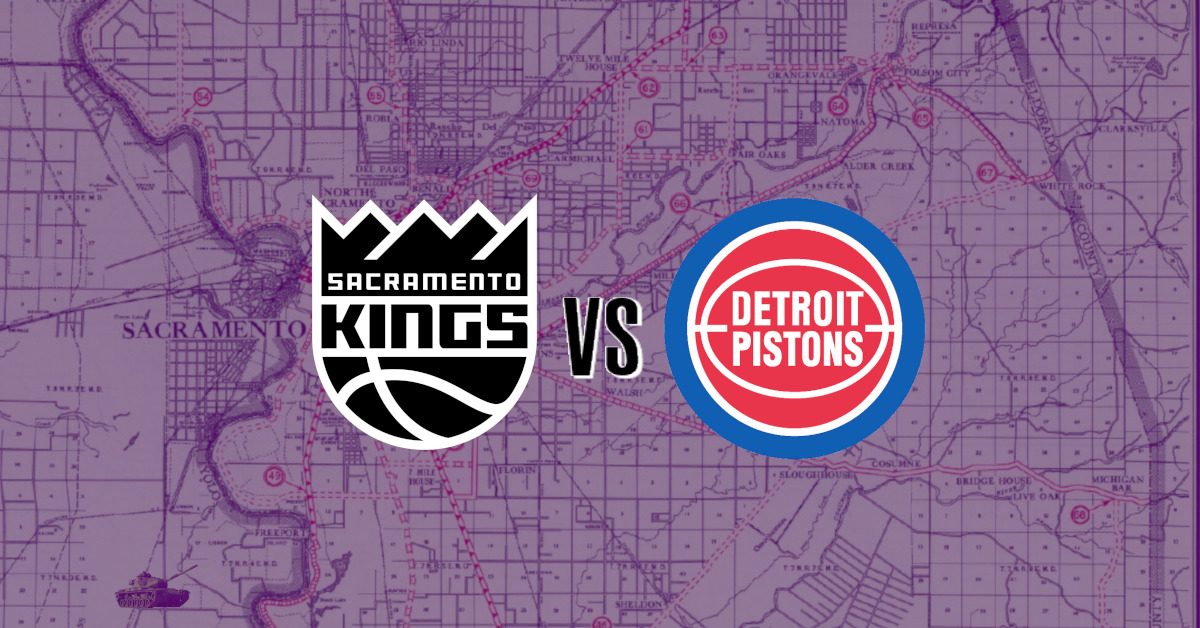 I missed all but the fourth quarter of the Kings game on Thursday. I was making my way out of the parking lot from where I was in Natomas, to my home out in Rancho and had plenty of traffic and time to kill, so of course, I flipped on the radio. The half time buzzer had just sounded and I heard Gary Gerould announce that the Knicks had scored 77 points in the first half. I just turned it off right then and there and turned on an episode of The Dollop. I took my time getting home, getting out of my car, describing my day to my dog, wandering about the house before the obligation finally drove me to turn on the game. The Kings had cut it to ten, I jumped on Twitter to see what the world thought of the events of the day. I looked up and it was a twenty point game. My eyes went back to my phone. Rinse and repeat. Buzzer sounds. Game over.
This franchise is... something. I'm trying to think of a word that Greg doesn't have to edit. It's something.
When: Friday, February 26th, 5:00 PM PST
Where: Little Caesar's Arena, Detroit, MI
TV: NBCSCA - Mark Jones on the call.
Radio: KHTK Sports 1140 AM
For Your Consideration
Fade for Cade: I really don't have much to say today about the game we're all going to have to witness. Detroit is the best chance the Kings have to win anything at all before the All Star Break and one of only four teams with a worse record than the Kings.
In the post game last night, Harrison Barnes said it best, but much nicer than what I would have - the Kings have an IQ problem. Their defense is looking-for- wishbones-in-boiled-eggs dumb. Yes, there is an effort component and sure Bagley got blown by in every conceivable way, but honestly, that isn't necessarily all on the players. How much more can you ask of a kid who took a million games off due to general soreness when his head coach is about as useful as a chocolate beach umbrella. The man was out there breaking clipboards out of Alvin Gentry's hand like he didn't know he's about to go on a two-year paid vacation. His scheming hasn't worked, his players aren't playing hard and the losses are piling up in embarrassing fashion. At this point, I am barely exaggerating when I say the most resistance a Kings opponent sees on offense is the grip the net has on the ball as it's falling through. That end of the court is pathetic and as far as I'm concerned to fail to this degree, they're all stupid. The whole lot.
Kings play the Pistons tonight. Pistons are very bad. Kings are very bad. They're bad from deep, bad from inside the arc and generally bad at offense and defense. They play slow. Their leading scorer is Jerami Grant. They just traded away their second leading scorer this season to New York for Dennis Smith Jr. and a second round pick. Their third leading score is Josh "On My Last NBA Stop" Jackson. Their fourth leading scorer is sitting indefinitely until they either buy out his massive contract or he tells three funny original jokes in a row. Their fifth leading scorer is injured and out indefinitely. YAY.
Film of the Night
Whiplash (2014) [R-Rating]
Directed by: Damien Chazelle
What IMDB Says: A promising young drummer enrolls at a cut-throat music conservatory where his dreams of greatness are mentored by an instructor who will stop at nothing to realize a student's potential.
What Will Says: "Wait, but Will..." you think to yourself, "this is another New York movie. This film takes place in New York!". I KNOW THAT! I didn't want to do Robocop, Ford vs. Ferrari or Roger & Me so I went with an actor who was born in the suburbs of Detroit, Michigan. AND DON'T FOR A SECOND bring up that I could have done something by Robin Williams, Charleton Heston or James Earl Jones instead. "You could have done any Sam Raimi film!"... I picked WHIPLASH goddamn it and if you want to talk about another Detroit based film or actor or actress or director or producer, comment! Now will someone please post the "not my tempo" gif before I lose it?!
Whiplash is the story of obsession and how far people will alienate themselves and others to achieve their dreams. Detroit native JK Simmons plays one of the most manipulative, vile, yet believable people ever put to film and the Oscar he won for the role of Fletcher was deserved in every possible way. Miles Teller does the best thing Miles Teller can do - play a little dweeby annoying asshat who is both undeserving of the punishment he receives or the praise he so desperately longs for. I love this movie and the complications it adds to the act of striving for greatness. Is enduring the pain of abuse, isolation from loved ones and general annoyance of those around you worth it to become the best? Director Damien Chazelle has pretty much nailed everything he's committed to film and this is best so far.
Where to Watch:
Hulu Premium Subscription
Starz
Trailer
Prediction
Kings break their nine game losing streak. De'Aaron Fox scores 40 and someone on TV tells you things aren't nearly as bad as they seem. Kings are back on track and maybe they can make a little push before the All-Star Break. They are lying to you.
Kings: 134, Pistons. 121