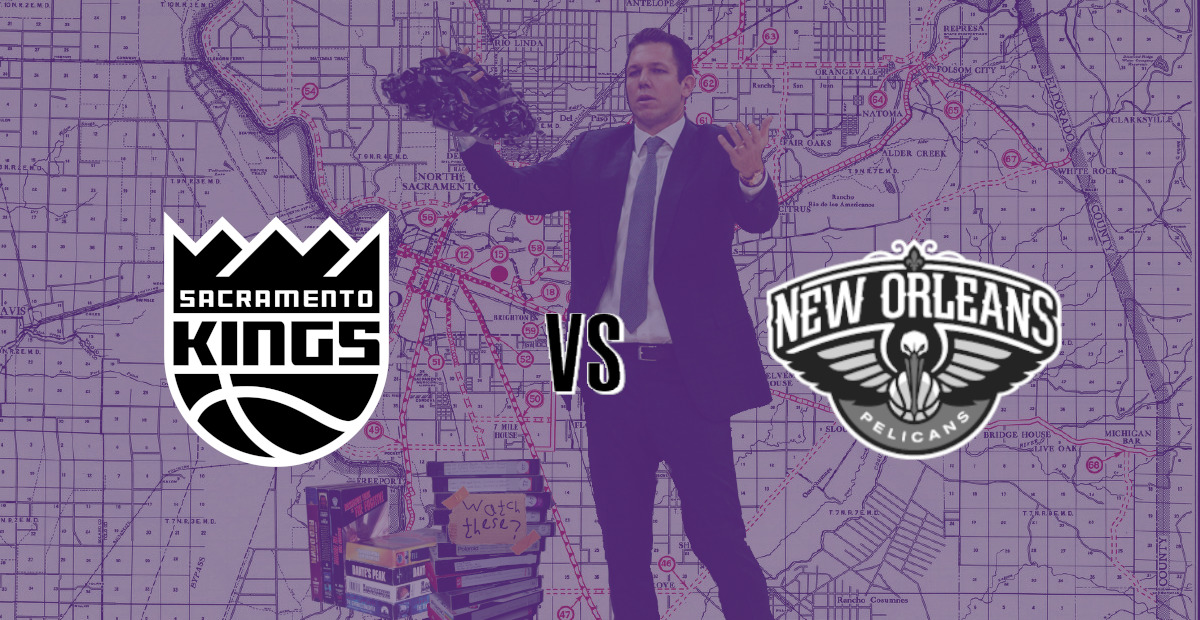 Let's start with a different feel than the last preview I did! Let's be positive! Let's look forward to today's match-up between an extremely adept Pelicans squad and an extremely.... an extremely... well I'll let you fill in the descriptors for the Kings. This thing is getting published like two hours before the game starts so you all really aren't going to need too many extra frills on this one.
Positives, In Regards to the Sacramento Kings
(Maybe the World If I run out of things):
-As far as we know, both De'Aaron Fox and Lonzo Ball will be healthy for this one, a rara avis of such mythic proportions that in the past, people (not naming names) would be tempted to tweet borderline inappropriate things from official Twitter accounts to celebrate the match-up.
- I will not be in charge of sending out tweets for this article! (Definitely, totally unrelated to above)
- Zion Williamson might be the first star in awhile that the Kings had discernibly no shot at and therefore cannot be held against the franchise's current general manager or ownership.
-There's a gorilla baby boom happening in Uganda and an elephant baby boom happening right now in Kenya!
That's literally the only good things I have to say, so lets get down to brass tacks and talk about the Kings.
When: Thursday, August 6th - 10:30 am PST
Where: HP Field House, ESPN Wide World of Sports Complex, Kissimmee, FL
TV: NBATV, NBCSCA
Radio: KHTK Sports 1140 AM
For Your Consideration
I'm going to drop one more good piece of news on you, not to warm your hearts or give you any tangible hope, but more to inoculate you against any hype that might float into your room during this game. Despite the Gordian knot this current season has slowly tangled itself into over the last 8 months, the Kings are still within a game and a half of the play-in game and with injuries to the Grizzlies and some possible timely play by others, the Kings still technically have a shot. Again, this is not to hype you up. To get in, the Kings would have to pass literally every team above them and a few key losses would still have to be had. Yes, they'd even have to pass the Phoenix Suns, who began this Bubblepalooza with a better chance of snagging the first pick in the draft than they did getting to the play-in game. One of those teams above the Kings? The New Orleans Pelicans - the team most built for the playoffs and only a single game out of that ninth spot. Packed with vets like Jrue Holiday and JJ Reddick and anchored by young Lakers castoffs Lonzo Ball, Brandon Ingram and Josh Hart, the show runs around Zion Williamson, a 290 lb slab of meat gifted by the gods with the ability to embarrass any man that gets underneath him. He's the scimitar-tusked boar that learned to fly, a snowball large enough to make hell feel a nippy. The only way to describe him without showing you a picture would be to ask the first candy-addled ten year old you saw coming out of an Avengers film to describe Lebron James. He's the Hulk to Luka Doncic's Captain Slovenia, and Thursday, he's officially off of his minutes restriction.
I'd love to say that a win against the Pelicans would be huge towards getting this team back on the right track. In a universe where the coach of the Sacramento Kings was actively trying to make the playoffs, these three losses might still not have been enough to break my spirit. But, by his own admissions and by his general lack of urgency about anything, the Kings are just happy to have a mini-camp before the season starts over in December. As such, a win here is about as useful as a back pocket on a t-shirt.
Prediction
De'Aaron Fox devours Lonzo Ball's heart and soul on his way to a 20-10-5 game, leaving literally every single other part uneaten as a warning to all others that come his way. Buddy has less than ten turnovers, Bogi hits more than one shot and I don't get fired today!
Kings: 118, Pelicans 114