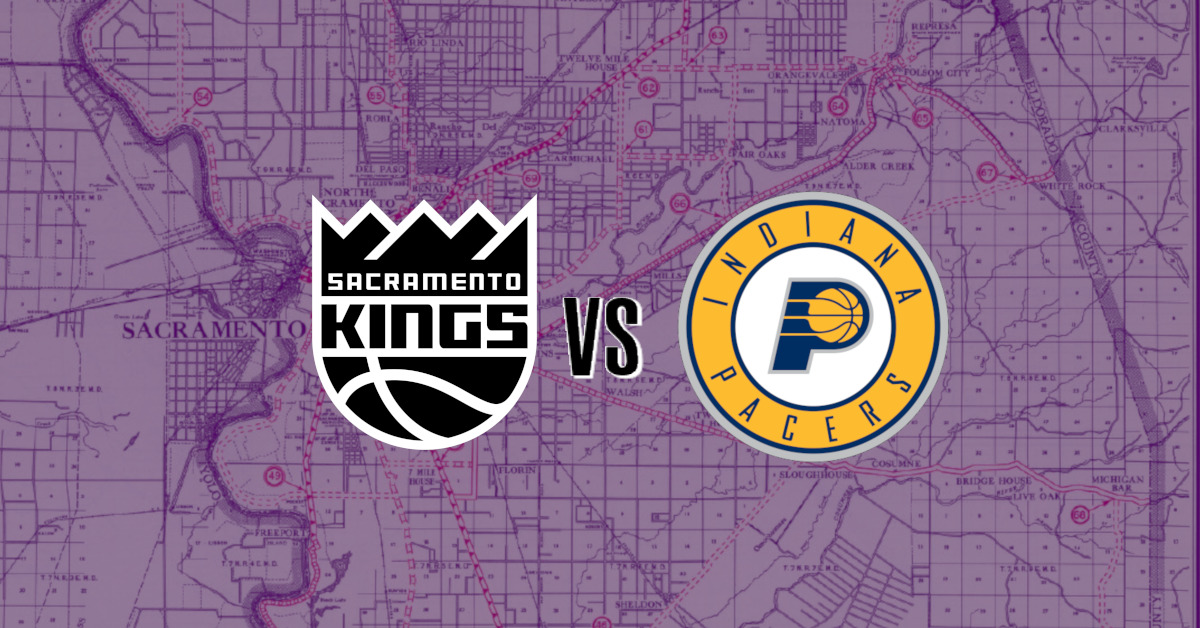 It's setting in, isn't it? Even for all the excitement of that start, even with a Rookie of the Year candidate, even with an overhauled coaching staff - the Kings just aren't talented enough to make that run for the playoffs. Now is the winter of our discontent and Monday's opportunity to rebuff any other notions in the minds of Kings fans is an Indiana squad, hell bent on pulling themselves into Eastern Conference champion contenders. Led by the three-headed hydra of Malcolm Brogdon, Domantas Sabonis and Victor Oladipo and steered by rookie head coach Nate Bjorkgren, the Pacers have clawed their way to a 6-3 record and aren't done trying to do some early damage in the East's packed playoff race. Can the Kings snap out of their two game streak of losing by 20-plus points or are they doomed to another blowout? Can Buddy Hield overcome gravity's obvious grudge against him and convert on over 30% of his shots? Will Marvin Bagley continue to punish me for praising him literally just that once? What are Sacramento's chances at the NBA's rumored expansion teams? Let's talk Kings basketball!
When: Monday, January 11th, 7:00 PM PST
Where: Golden 1 Center, Sacramento, CA
TV: NBCSCA - Mark Jones on the call.
Radio: KHTK Sports 1140 AM
For Your Consideration
...And Meaner Creatures Kings (Fans): For all my righteous indignation, for all the piss and vinegar in my veins and the thick, sinewy extraocular muscles I possess from rolling my eyes these last fifteen years, I still want to preface this with saying that this season is still young and technically the Kings could turn this thing around and make that ill-fated run at a playoff spot that a good deal of my Twitter mentions still thinks is the only way back to relevancy. Now that the disclaimer is out of the way and everyone who routinely calls this site a cult is satisfied - the Kings are not making the playoffs and your favorite Sacramento player isn't making an All-Star game in the next 3 years, if ever. The opening to the 20-21 season was a lot of fun, I agree. I'll even go so far as to say that there's a case to be made that the Kings were a couple of dice rolls away from starting the season 5-1, but even so, even in that universe where the Kings got early articles from big time bloggers asking "Are the Kings For Real?" and Chuck Barkley goes on national TV and predicts the Kings as a 6th seed - the Kings this season were fated for failure. And here's the thing... That's totally fine.
We heard early on this season from the likes of Sam Amick and James Ham that the front office was less concerned about wins and losses this season than they were about rearranging the team around De'Aaron Fox and evaluating those around him and how they fit with the vision of this team moving forward. The young and naïve and hopeful Kings fans are starting to see now why this stuff gets floated out there a few weeks before the season. Sure, Buddy Hield is in a slump and regression to the mean works both ways, but Buddy has been like this since the Bubble. I don't know if it's long-hauler COVID symptoms, that he came into camp too muscled up and lost his touch or if he's simply so done with Luke Walton and this franchise that he's self sabotaging until it becomes clear to McNair and staff that he's holding his shooting percentages hostage until his demands are met, but this has been Buddy for six months now.
Both Fox and his bank account got beefed up this off-season and McNair's insistence that this is De'Aaron's team for the foreseeable future has to give him confidence, but the kid still isn't going to be a 38% three point shooting Charlemagne overnight. He still has seasons of work to do grinding that that shot into a smooth shooting stroke and just as important, needs time to develop a voice for leadership in that locker room as well. His rapport with the younger guys seems to be solid by all accounts, even with Bagley after each of the two's dads agreed Marvin should be traded, and I find a great deal of hope in that.
Speaking of Marvin Bagley, I know it was fun for some to slap a calculator and shoddy assumptions together until it got to a prediction that involved Marvin being a 20-10 guy this season, but this kid was always going to be a season-long project. In the end, while he's showing flashes like he should, the kid obviously hasn't progressed like many thought and with a father that seems deadset on being coach, trainer and agent to his son, that shouldn't be a surprise. He was out for basically an entire season, missed a good deal of time the year before that, was always pretty raw on both ends of the court and has an absolutely abysmal coach. I know I spoke to some prior to the season who don't take coach into consideration when predicting out how players were going to fair. I have no idea why you wouldn't.
Even the Tyrese Haliburton pick at #12 is looking like a home-run pick by the Kings, but he will hit a rookie wall - opposition scouting will wise up to him as a player and his body is going to tire after the season drags into 50, 60, 70 games. He's an integral part of the team and that's great, but for a rookie, he's also almost too integral if you're hoping to make noise in a playoff race and just blindly assuming the league or the schedule just won't catch up to him.
These are all essential guys for this team and even if all of them performed at 100% of their expectations, the Kings do not have the talent elsewhere to truly compete for a playoff spot. Yes, even seeing the record they have now and yes, even with the Western Conference seemingly weaker than predicted. Harrison Barnes is playing inspired, Richaun Holmes is busting his ass for this team and a new contract. Luke Walton is coaching for his life in the same way that people who fall into murky lakes sometimes swim toward the bottom instead of towards air because they're too freaked out to follow the direction of their own bubbles. But expecting Luke Walton to suddenly change, Buddy to be happy, De'Aaron Fox to take another leap, Marvin Bagley to prove his worth, two role players to have a fantastic start to their season and the #12 pick in the draft to play like a Rookie of the Year candidate and maintain all of that for the entirety of a COVID-stalked season? It's too much for any team to hope on. I know we have to do it because that's what fandom is. I'm not scorning you for your hope just, asking you to be a little more efficient with it.
There's still a ton to look for in this season. Nearly every reality I've listed above is something Kings fans should be hope to see improve. I'm hoping for Fox to start showing another jump is coming. I'm hoping Haliburton wins Rookie of the Year. I'm hoping Marvin proves my 14 & 8 averages prediction wrong and I'm hoping we can see him actually out there enjoying the game of basketball. I'm hoping Buddy breaks his slump so he's watchable again and then I hope gets sent to some place he's happy. I hope every single one of you who loudly exclaimed that it was playoff time after three games and berated others patience ends up losing their car keys in the couch and traffic is extra bad. Not forever, just like, one single day.
Pace Yourself: Okay, I actually do want to give you a quick rundown of Indiana and what you might see tonight because they're really play fun basketball. First and foremost, Malcolm Brogdon and Domantas Sabonis are having fantastic seasons, each averaging over twenty points (23.4 & 21.6 respectively) and over six assists a game (7.2 &6.1). Both of these '16 Draft surprises have taken unconventional and somewhat slow routes to NBA successes, but they're each fantastic stories in their own right and I love that a second-rounder turned ROY and a son of a former basketball star/ low lotto pick have just steadily grown together and now are looking like a really solid pairing. The Pacers third leading scorer is their de-facto leader, Victor Oladipo, at 19.9 points per game. Oladipo had his name in trade talks all summer after it was leaked that he requested to move on from Indiana and had in fact, even asked opposing players and coaches during games if he could come play for them. I'm sure management threatened him with the ol' Sacramento switcheroo, because he walked back some of those comments and has been quiet on that front since the season started.
The Pacers are lead by first time head coach Nate Bjorkgren, who is yet another success story from the G-League, where he spent 4 years under Nick Nurse, then coaching his own team before being hired as an assistant under Nurse when he was hired as the Raptors head coach. He has his team out to an early 6-3 record, third best in the East and is doing so with some interesting wrinkles to what had become a stagnated offense under Nate MacMillan. Despite being 20th in the NBA in pace, the Pacers are 7th in the league in points per game at 115 a contest. They're 4th in total field goal percentage at 48.9%, and make up for their middle of the pack three point attempts and percentage by taking the 11th most shots inside the arc and being 4th in two point field goal percentage at 56.1%. They're 5th in the league in assists while being the 6th best in terms of turnovers and on defense they're 5th in the league in steals and 8th in the league in blocks.
But that doesn't mean there isn't hope here. The Pacers foul, a lot. They commit the fourth most fouls in the entire league and their starting front court of Sabonis and Myles Turner each average 4.2 fouls and 3.6 fouls a game respectively. This bodes well for a Kings team that gets to the line more than any team in the entire league. The Pacers are also a pretty garbage rebounding team, third worst in the league. Their leading rebounder is Sabonis, at 9.7 a contest. Their second leading rebounder? Victor Oladipo at 5.9. Their center, Turner? Averages a little less than FIVE a contest at 4.8. This is pretty damn good team and they've caught their stride right out of the game. Watch tonight and daydream about one day having the next G-League whiz walking the sidelines in Sacramento.
Prediction
No predictions until Buddy Hield makes more than 40% of his three point shots, two games in a row!
Kings: 119, Pacers: 109