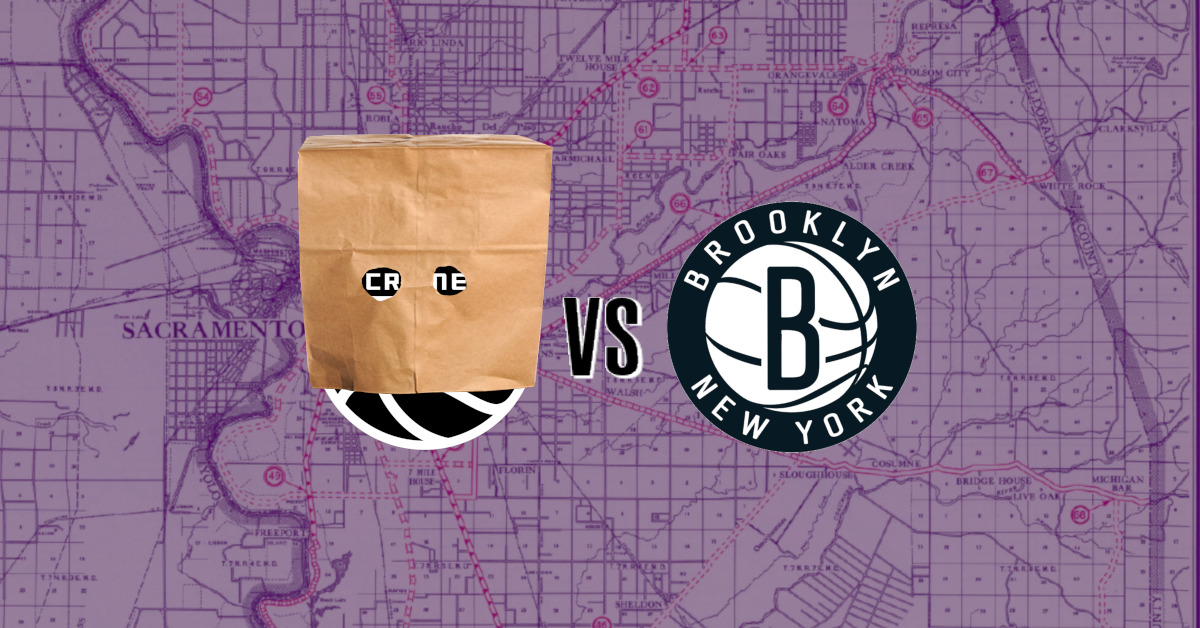 The Kings have limped back home, owners of the 5th worst record in the league and losers of seven straight game but they'll have no time to lick their wounds or rest and reflect - the Nets are in town. Tied with the Jazz for the third longest losing streak in the league at 5 games in row, Brooklyn is ... EVERYONE TOGETHER NOW... looking at tonight as a get right game. Yesss, we did it. Kevin Durant is probably not going to suit up tonight as he works through a sprain MCL, which leaves just Kyrie Irving and James Harden to beat the Kings. There's a joke in there somewhere about spheroids and the pairs affinity for conspiracies and strip clubs, but I don't have time to make it.
Let's talk Kings basketball!
When: Tuesday, February 2nd, 7:00 PM PT
Where: Golden 1 Center, Sacramento, CA
TV: NBCSCA - Kyle Draper (play-by-play)
Radio: KHTK Sports 1140 AM
For Your Consideration
Don't Drive On The Railroad Track: I'm going to get bold and say that I think our losing streak is going to be over soon. Not today, maybe tomorrow depending up whether the Warriors decide to sit everyone like they did the other night (in a win that extended their win streak to 7 games in a row), but at some point the Kings are going to pull out a W in an NBA basketball game. I'm not sure how I'm going to feel about it.
Obviously, I'd rather see the Kings win than lose on any given night, while in the macro view of things I somewhat paradoxically have called for years now to abandon the vets of this core in a tank. The Kings ain't tanking and they ain't winning either and we've got about a week to figure out which side of the tracks this Kings squad is going to build their home. Do they exhaust their capital and rush into buying the biggest gaudiest team they can afford? Do the buy a big lot, sell off their assets to build their dream team, even if it takes more time and patience from all involved?
There's a million different factors to ponder but one that's recently added a new wrinkle is how De'Aaron Fox's mysterious ankle plays into this a bit: is he dictating when he plays? Is the team holding him for trades? Did he fall in the shower one morning and tear his achilles? I have no answers. The team has no answers other than vagaries. But I bet we do in 8 days.
Regardless of who stays and who goes at the deadline, the fact remains that the Kings aren't very good. They'll win some and ruin our charitable streak in the process. They're bound to have newbies or surprises off the bench that show out and get us excited for elements of the coming season. But between now and that W hanging right above Sacramento's outstretched hand, we have a lot of unknowing to ponder and I'm at the point where, I just can't get too high or low on it.
A Thing To Read, Watch, or Do
Watch 'Groundhog Day' (1993) dir. Harold Ramis: What the hell else did you think I was going to suggest today? If I'm being fair, I'd totally be okay with you watching any of the "repeating loop" style movies because it's become a very fun subgenre of movie. "Palms Springs" on Hulu is a romantic comedy with Andy Samberg, "Edge of Tomorrow" is a fantastic sci-fi twist with Tom Cruise and Emily Blunt... I haven't see the "Happy Death Day" films that move the general plot into the campy horror genre but I've heard decent enough things about them that I can reasonably recommend them there and not feel too bad if they're meh. [Editor's note: Happy Death Day is well worth your time, the sequel was ok but not quite as strong as the first. -Greg] Yes, sure this team is now the sports arm of "protagonist on a forever loop" but at least these other options are entertaining and... well... have a satisfying ending.
Operation: M.C.N.A.I.R. Update:
So I'm incredibly happy to announce that in just the three games that we've been doing this, we've officially reached over $1500 in reported donations during this losing streak! We've helped 12 different local and national charities and are only growing in our counts every game.
For anyone who is donating, but feels like I haven't seen their comments in the recap threads or don't want me publicly placing sweet soft kisses upon your saintly crown, we've now got an email address that you can email your receipts, donation totals and questions to: [email protected] . Please still him me up on twitter if you're already doing so, or placing them in the comments, but we've got another option if you want it and one that I will constantly be checking!
Again, a massive thank you to everyone whose donated or shared this cause with others. Sacramento's fanbase is an incredibly gift to this world and we prove it after every single soul crushing, wallet lightening loss.
Prediction
You want a prediction about the basketball game, you're asking the wrong Will. I'll give you a season prediction: It's gonna be cold, it's gonna be grey, and it's gonna last you for the rest of your life.
Kings: 118, Nets: 117