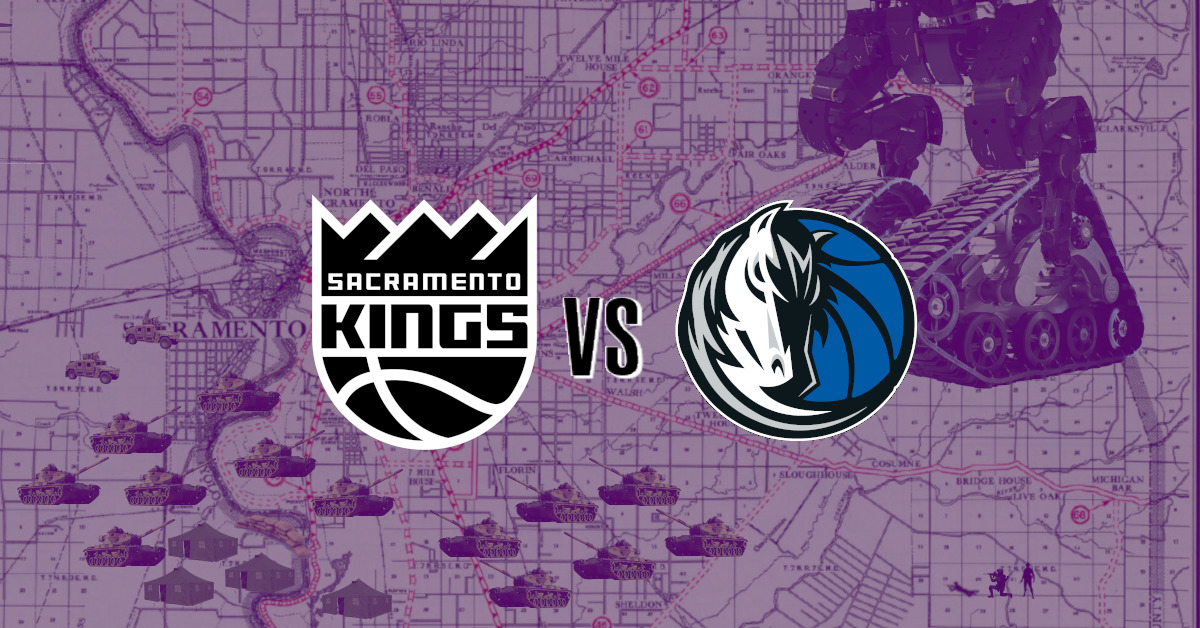 I swear, if 75% of us weren't in full apathy mode already, this Sacramento Kings squad would be a few weird wins away from a class-action lawsuit for the psychological damages they've caused their fans this year. Their latest round of emotionally manipulating their nerve-frayed fanbase ended in a win over the Los Angeles Lakers on Friday night, mere nights after giving up one of the worst losses in franchise history to the Utah Jazz. I'm both glad and oddly upset I missed most of hypersonic pendulum swinging of those two games, but even trying to make sense of the comments and box scores I saw on Twitter was headache inducing in the moment.
Tonight's game against the Mavericks will only serve to hurt a bit more. The Mavs, now sole owners of 5th place in the Western Conference standings, have been on a decent tear of late and as I mentioned before the only team that's been able to stop them? The Sacramento Kings - with AND without De'Aaron Fox. There's not much to add to that. No analysis below the fold that will make it make sense. The Kings are some horrible Cronenbergian creation blended with Lovecraftian monster that sludges along through the calendar, reflecting a unique nightmare scenario for any and all who gaze upon it. Regardless of what you want for this timeless, even morphing embodiment of ineptitude, it's either showing you your worst fears, or luring you into a false sense of something in order to hurt you even worse sometime further down the schedule - neither tanking nor winning enough to matter and doing the extremes of both in the least satisfying ways possible. It oozes and excrements all over the Jazz game, just to wake up and kill King James and the best defense in the league...
What does it have in store for the Wonderboy?
Let's talk Kings basketball.
When: Sunday, May 2nd, 5:00 PM PST
Where: American Airlines Center, Dallas, TX
TV: NBCSCA - Kyle Draper (play-by-play)
Radio: KHTK Sports 1140 AM
For Your Consideration
Counting The Days: I mentioned a couple of previews ago that with Luke Walton still coaching for his job and both a high level draft pick and a play-in game berth out of reach, the only thing I'm really looking for right now with De'Aaron Fox out is Tyrese Haliburton. How he fills the box score, how he manages the hole left by the Kings leading scorer and game manager, how he handles being a prized rookie on the least prized team in the NBA. The kid has been pretty goddamn stellar. Since being dropped into the starting line-up to replace De'Aaron Fox, Rese has averaged 18.5 points, 9.0 assists, 3.0 rebounds and to throw a cherry on this sundae, 1.7 steals. In the Kings win against the Lakers on Friday night, he dropped 23 points, on 8-14 from the field (including 4-8 from deep and 3-3 from the line), to go along with 4 rebounds and 8 assists in a whopping 39 minutes. Tyrese has been a surgeon in these games, far more poised as a rookie than I'd ever expected, but also just, a much better player at this stage of his career than I'd thought possible.
The game during this stretch that Hali struggled most? Against the Dallas Mavericks, where he did have 14 points, 10 assists but did so on 6-16 shooting from the field and 2-9 from deep and 4 turnovers to boot. With nothing to play for but pride, I want to see just how Haliburton handles Rick Carlisle and staff aiming at him once against with everything they've got. With Harrison Barnes missing for this rematch, he'll have one less weapon to rely on and just that much more to shoulder, but damn it, give him everything he can handle at this point. Have him guard Boban for a bit, hell, stick him on Luka for 40 minutes. I want to see what the rook has deep down.
I see Blake has just broken down a bunch of Tyrese film. Please lord, read that here.
Prediction
The Kings are going to rest Tyrese just to fully waste the time we've put into writing and reading this preview. Moe Harkless will drop 50. Buddy Hield will shoot exactly 12 shots. Luka Doncic will hit a shot that you'd have gotten kicked off of the team for taking.
Kings: 129, Mavericks: 125