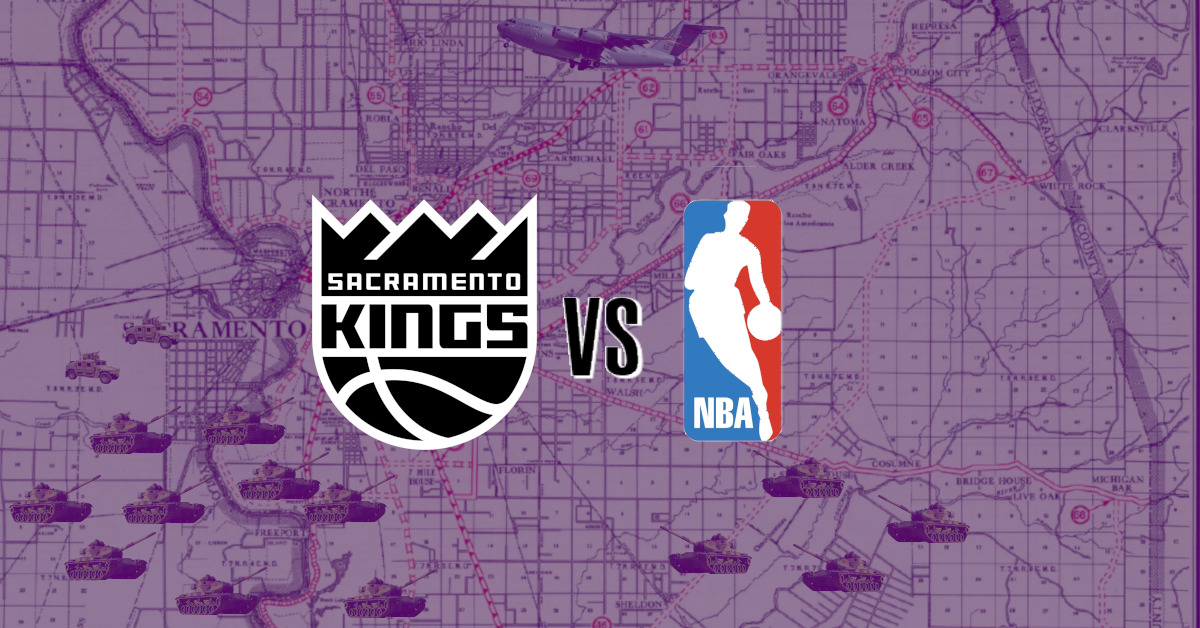 The Los Angeles Lakers are in town and hoping nobody noticed that LeBron James and Anthony Davis aren't really, you know, available to play in tonight's game. A new super team has arisen in their stead: wait, wait... hold on, my notes just say "Kyle Kuzma, Andre Drummond" but that can't be right, can it?? I was assured this Lakers team was deeper this year than last year by my 19 year old neighbor who literally cannot remember Shaq on playing in LA.... Oh well...
A NEW SUPER TEAM HAS ARISEN IN THE STEAD - KYLE KUZMA, ANDRE DRUMMOND AND KINGS KILLER ALEX CARUSO. Can the Kings break whatever jinx or reverse jinx I just tossed on the team? Will Talen Horton-Tucker show out for his future home team (after an off-season Buddy Hield trade, of course)? Will Montrezl Harrell and Richaun Holmes decide to stop wasting their energies on basketball and start understanding they could power the entire earth with their sheer doggedness if they worked in tandem?
Let's talk Kings basketball!
When: Thursday, April 2nd, 7:00 PM PST
Where: Golden One Center, Sacramento, CA
TV: NBCSCA - Mark Jones on the call
Radio: KHTK Sports 1140 AM
For Your Consideration
Into the Final Turn: So I know I joked about this Laker's team up top being deprived of their talented superstars and yes we've all seen in the national media that there's some worry about how far the Lakers will slip during the next five weeks. Anthony Davis is still a good two weeks away from returning and they've said anywhere from 2-5 weeks for LeBron. The Lakers have lost five of their last seven and have slipped to fourth in the Western Conference, with just a half game separating them from soul ownership of the sixth seed. The Kings are still resting in eleventh place, three games out of the eight spoth with twenty four remaining and only a single game out of the NBA's COVID-19 Consolation Prize, the 10th Seed Play-In Game brought to you by Pfizer.
This final push for any sort of post-season appearance is going to have to see the Kings overcome at least a couple of teams with better talent and better coaching than what Sacramento brings to the party. The Warriors, while not necessarily deep, will always have Steph Curry, someone who only needs six minutes of hot shooting to ruin the rest of the Kings season. If the season comes down to those last few games and the Kings are within a Warriors loss of the play-in game, just start looking at draft profiles. That isn't to say I think the Warriors are a team that's more talented than the Kings. The Kings starting five right now is probably stronger than the Warriors on paper. But their concentration of talent is much, much stronger and I'm never ever betting against a star the caliber of Curry.
The Kings are also going to have to fight off a Pelicans squad that is always a game or two from completely figuring out of Coach Stan Van Gundy is preaching. Zion Williamson, Brandon Ingram and Lonzo Ball are all a bit dinged up, but if they're healthy and focused on a run at the eighth seed, they're a team with enough firepower to start trucking teams in this last twenty-odd games.
Tonight, the Kings trot out a line-up that can beat this Laker's squad. Without their binary stars, the Lakers and mediocre and wandering about looking for non-Kuzma related shooting. This also goes for the Kings a bit: the Kings are still incredibly reliant on what De'Aaron Fox does. If he's 18 point per game Fox, the Kings aren't going to stand that much of a chance, even against the Blah-sangeles Lakers. Fox has pretty much got to go into superstar mode and stay there for the remained of the season if we want to see the Kings overcome their early season loses. He's shown enough now to make fans, coaches, GM's believe that he can be a number one guy every single night and now he's got to be that number one guy - every. single. night.
My analysis for this game is pretty damn simple: if Fox goes off for more than 27 points, the Kings are going to have a damn good chance of winning this game. If Fox goes for 22 or less, the Kings are going to be looking down the barrel at their second straight loss. There you go, that easy! (The Laker's have the best defensive rating in the league and hold their opponents to just 106.1 a game, the second best oppg in the league...so there you go, that... easy...)
Prediction
I really feel like I should predict Fox going for 50 every game for the rest of the season. He's dropping 30 tonight to go with 9 assists and a highlight dunk after blowing past Dennis "The other guy who grabbed DeMarcus Cousin's goodies" Schroder. The game is called in the third quarter and Harrell and Holmes both hustle for a ball and collide with each other, creating cold fusion. The world rejoices, the game is cancelled.
Kings: 71, Lakers: 65