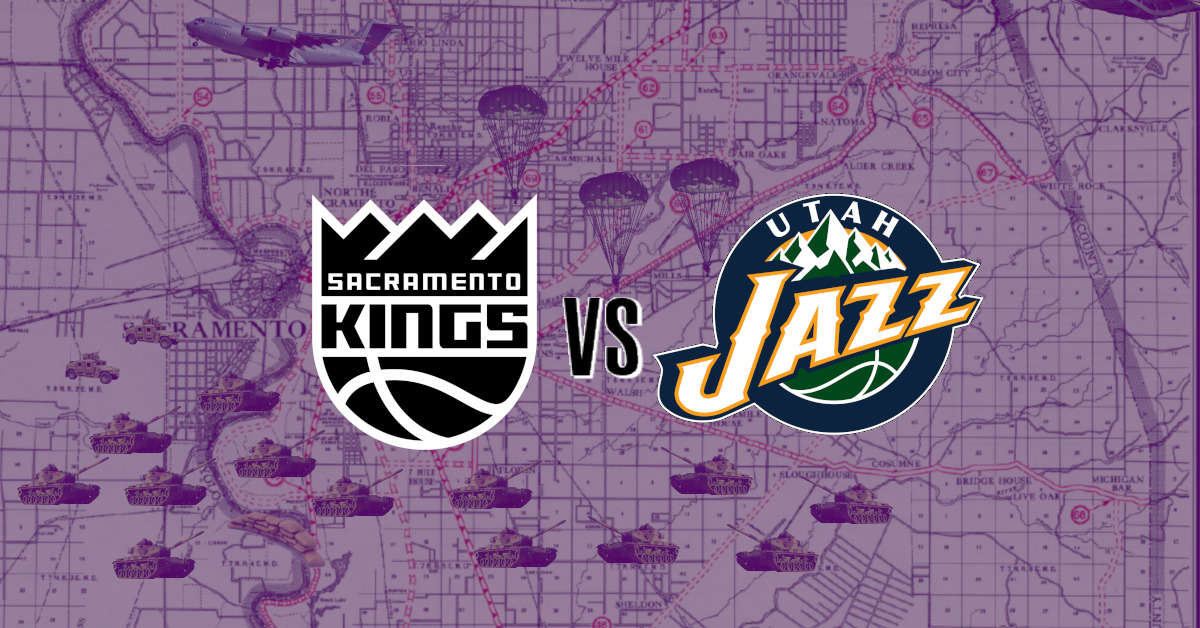 After losing to the worst team in the West then the worst team in the East in subsequent games, the Kings now face off against the Utah Jazz - the team with the best record in the NBA. They've won 11 of their last 13 games. They're healthy. Meanwhile, it's Saturday, the sun doesn't set in Sacramento till 7:38 pm tonight and you're a quick run to the grocery store and a google search away from making yourself a favorite cocktail or something fresh and entire new to eat and whoa wouldn't you know it but here's a link to 10 hours of soft jazz right here. How'd that slip in? It's just a basketball game. Luke Walton is going to keep getting paid whether you subject yourself to it or not. Blake even turned on the comment randomizer to deter you from even thinking about talking about it! Let go. Let life take over. Let me do all the talking...
When: Saturday, April 10th, 6:00 PM PST
Where: Golden 1 Center, Sacramento, CA
TV: NBCSCA - Kyle Draper on the call
Radio: KHTK Sports 1140 AM
For Your Consideration
Utah-t It Was Over? : I wish I could blame the lateness of the preview on the tiny little issue of the site's comments being rearranged in space and time at the whims of Blake's humanity hating, Artificial Intelligence program. We skimped on purchasing all three of Asimov's Three Laws of Robotics (it's annoying that they're sold separately) and now I'll never truly know how many of you read and hated that reference. The truth is, Utah is a fantastic team, well worth watching and the team I write about, that I've been told I'm supposed to love and support with my every waking breath, doesn't give a rat's ass about playing good basketball. I'm not surprised, hell, I'm like one of twelve people in this city that isn't even disappointed. But basketball is entertainment and I am, for lack of a better word, bored.
Utah is the third highest scoring team in the league at over 116 a game and hold teams to the third lowest output in the league, as well. They're third and fourth in offensive and defensive ratings, respectively. They have an offensive star and a defensive star and a coach who's sideline antics rank him somewhere between an Avengers villain and a folk hero. Their rebuild was quick, lightly unconventional and their rise to prominence takes away rumors from the off-season of what felt like an impending break-up. They're dramatic. They're fun. If they were candy, they'd be pop rocks, especially when measured up against the Necco Wafers of the NBA, your Sacramento Kings.
This preview is going to be short as hell, because the river calls to me and too much time ruminating on this franchise will put me in the current rather than admiring it from the banks. The Jazz attempt more three's than any other team in the NBA and they're fourth in percentage, shooting a blistering 39% from deep. They're the best rebounding team in the NBA, they're sixth in the league in blocks and they foul less than 21 other teams. They're a fantastic basketball team through and through. Time for that cocktail.
Prediction
Waking up on Monday, you feel the warmth of your sunkissed face on a cool pillow. Your alarm goes off, but it's less of a blare than usually. You don't rush to a shower, but take your time, making sure you smell clean, look presentable to the world around you. No need to make lunch - you have leftovers from this weekend. The kitchen is clean and in this revelation, you pause to take in those remaining glimmers of a good weekend as it slides away. Cleanly laundered clothes, a nice place to call home. Things might be okay - maybe not forever, but definitely in this moment, here and now. Somewhere else, online, a man in desperate need of a hug screams about the Kings' recent performances to another man who hasn't brushed his teeth since Thursday. You won't ever see it.
Kings: 119, Jazz: 117