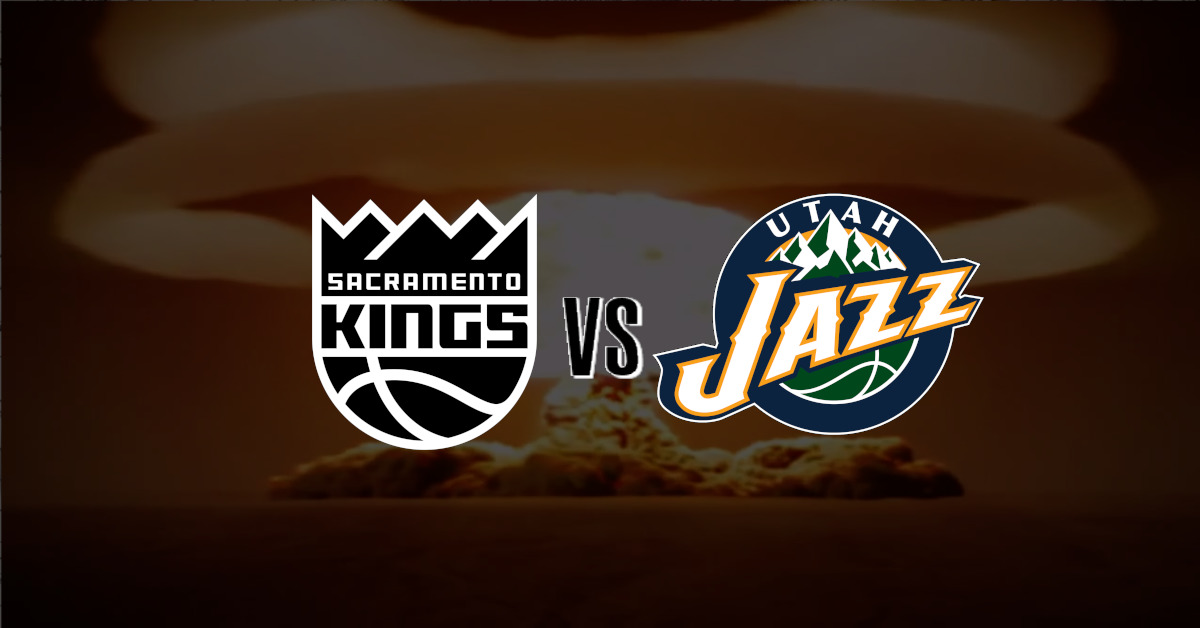 You have done it, weary traveler. One hundred and fifty six days ago, the Sacramento Kings were blown out in their first preseason game in Portland and seventy five games later, you are here, again, in that familiar void between reasonable hope for a high pick or for a playoff berth next season. There's one game left to play, with no meaning to either side save for any injuries that might come out of Sacramento's final 48 minutes of basketball till the fall.
For the last time this season, let's talk Kings basketball.
When: Sunday, May 16th, 6:00 PM PST
Where: Golden 1 Center, Sacramento, CA
TV: NBCSCA - Mark Jones (play-by-play)
Radio: KHTK Sports 1140 AM
For Your Consideration
The Noise in the Basement: There's so little to discuss about the actual game today. The Jazz will already know whether or not they have the top seed sewn up by tip-off of this game. The Kings can't make headway in their draft position. The die has been cast for both squads, all that's left to do is play it all out. Sure Louis King can breakout for another fun high scoring game in his last second stint with the Kings. Sacramento Bee reporter Jason Anderson pointed out that Buddy Hield is five three pointers shy of Peja Stojakovic's franchise record for three pointers, so that has some decent potential for a Sunday evening drinking game. Through and through, this game will, like most games in Sacramento Kings history, signify absolutely nothing in the course or direction of this franchise and probably do very little to entertain the actual audience. Can you all tell yet that I need a break from this version of the Kings?
All that being said, I do think there's some bright days ahead somewhere for the Kings. Fox and Haliburton are only going to grow in their understanding of one another and might just be a good enough combo to drag the Kings that much closer to the playoffs and that much further from a high lottery. Now, that's not enough (and the tankie in me is screaming), but it does give Sacramento's management a wider crack in the door to find value players to get the Kings the rest of the way to a playoff berth then operate from there. Do I have much hope in that all leading to an actual championship window? Hell no. Especially not if a guy like Luke Walton is still the person leading this team. Posturing in local media feels a lot like preparing a fanbase for his return next season and in a "forest fires lead to new growth" kind of way, enough moves that show how cheap and unaware of their surroundings they are, the closer the Kings get to new ownership, which, hey I'm down for at this point.
It's strange. After over half a decade of doing this now, seeing the atrocity that is this franchise, this might be the least I've ever felt one way or another about a team. I thought I was deluged with apathy before with this squad but this season and its win streaks, losing streaks, tanking vs. play-in, gap year or otherwise, all this posturing and talk has really been for a product that routinely shows it doesn't care from top to bottom and I'm afraid I'm starting to follow in kind. Fifteen years out of the playoffs will do that, but so will keeping a coach because your wallet is thin or holding onto vets too long in the hopes of making that sweet Playoffs Jr cash. Here We Stay Day was yesterday and it never leaves my mind how much sauntering was done into this market, how much bragging was done about having the brightest and best and that secret sauce, and then constantly whipping out used and dusty lightbulbs, retread tires, warm jars of expired vegan mayonnaise. On the other side, I enjoy De'Aaron Fox and Tyrese Haliburton immensely and as they say "winning solves everything". But, two eighth seeds and a blow up won't do it anymore for most of us and I won't ever trust this ownership to deliver anything more than that until way, way more than that.
You don't get to hate the Kings unless you love the Kings and as I find myself falling out of love with the Kings, I also find the adage holds true. I hated much of this season, sure, but the moves, the scorn, the drama.. I hate it a lot less, because they've taken away a lot of the love already.
To wrap up the final rambling of the season, I just wanted to say how much I love this place we've built. Refugees of silly labor laws and poor site management, rebuilding our friendships and history here on a site we get to control. If I didn't get to read poems in my comments, or see sarcastic gifs or peer pressure to watch Lady Bird or arguing about franchise building strategies, I'd have quit this franchise long ago. We're on this long march together and I'm glad I've never, ever had to walk alone. My thanks go out fully to you reading, and to all my fellow writers, as well. Akis, Greg and Kevin have always had to fight the fights I've started here, in the comments and especially on other social media and I love them to death for it. Blake gave me a place here to start those fights and so all of your scorn should go to him for building the damn thing so well. Tony and Tim were always willing to pick up the slack for me last second when kidney stones hit or my computer self-sabotaged, they deserve far better than I can give in terms of thanks. The late, great Sanjesh and his incredible follow-up, Mirann always had the task of following or ignoring my ramblings and they did so with more talent in their backspace key than I have in my entire body. Bryant has always been biggest hype man and his sharing of my writing brought more comments to the threads than I feel comfortable even thinking about. He gets the healthiest of my two kidneys to use or sell when I'm gone from this place. Brad and Richard have been two guys I could rely on in real life to talk me down from personal or basketball related cliffs, or push me to jump when it was necessary. Brenden let me on his podcast multiple times to rant or screw around and did so after I bullied him about cats constantly through out the last year. He's a true King. Omer always reminds me how little I know of the game of basketball when we talk, TJ reminds me how wonderful success can look on a person who just doesn't know how to give up and Robby is literally always there to remind me that there's more to life than this game, or this argument or this website - I'm just not cool enough or burnt out enough to reach it yet. Finally, a massive thank you to Kimani, the most human and beautiful of us all, who is never afraid to tell his friends exactly what they needed to hear, a true friend.
Now that I see this written, it feels a bit like a good bye. It isn't, I don't think. I just wanted to give space to the people who have allowed me to operate in this space and encouraged me to be me and now I have, so go enjoy tonight's game as best you can.
I'm glad this season is finally over.
I cannot wait to watch Kings basketball with you all again in the Fall.
Prediction
You all get exactly what you need and nothing you don't and we all look back on this someday and laugh about how crappy this whole era was, as if it was a distant memory, as if we don't even remember what we were like back then.
Kings: 117, Jazz: 109
Buddy Hield 3 pt record