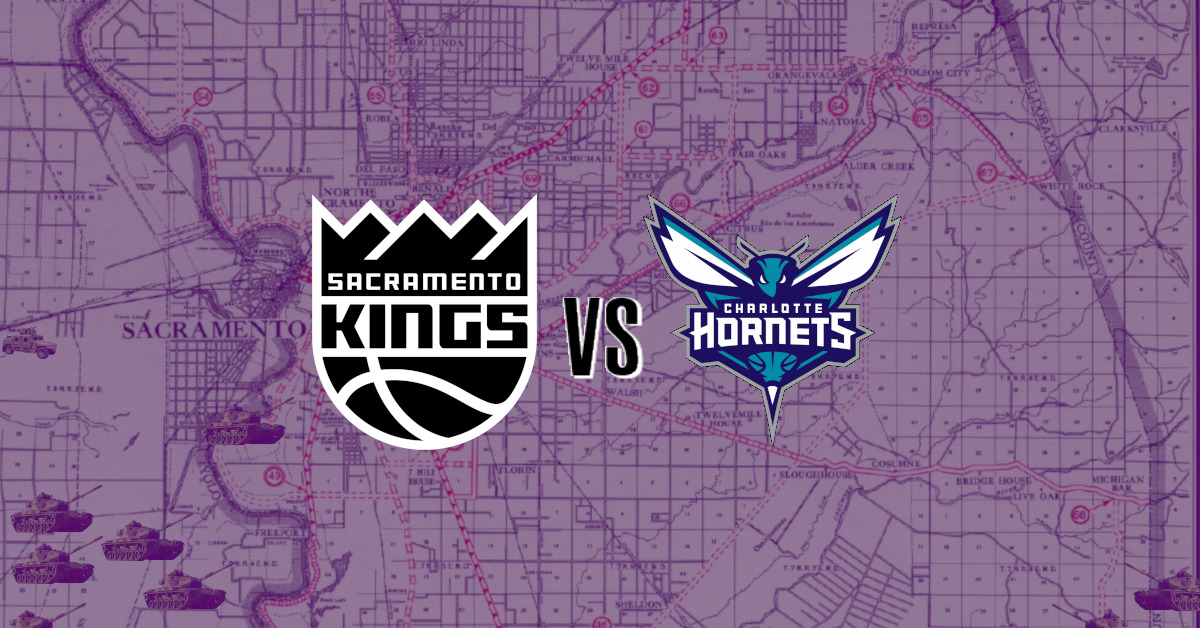 The Sacramento Kings are in Charlotte today and hoping to find a semblance of professional basketball buried deep within their souls as they take on Lamelo Ball, Scary Terry Rozier and the rest of the Charlotte Hornets. This will mark the first time that the current Rookie of the Year favorites match-up against one another in Ball and Sacramento's Haliburton and outside of that, be glad that this game is early so you can miss at least the first half if you have even the mildest of commutes or chores to do before the sun goes down. My apologies in advanced if this preview sounds a bit more monotone than usual: I could blame in on Daylight Savings Time hitting me harder than usually but really, this team is miserable to watch and my brain is fully hitting the fatigue wall with them. Ten days till the trade deadline! Let's talk Kings basketball.
When: Monday, March 15th, 4:00 PM PST
Where: Spectrum Center, Charlotte, NC
TV: NBCSCA - Mark Jones on the call.
Radio: KHTK Sports 1140 AM
For Your Consideration
Turning the Cl(Hawks) Forward: I have to be real with you here, I didn't exactly finish that Hawks game. The afternoon of the game I was surprised with a wager from my partner: if I watched Mama Mia with her, I'd get a free pass to screen any film for her, in return. Now, I'm already a fan of a good number of musicals, ABBA's music is harmless and fun and I could get a ton of play with the phrase "any film" so I jumped on it and said to hell with John Collins vs. Marvin Bagley. Sunday when I had time to go back and watch, I got about midway through the third before my brain stopped processing that I could skip the commercials on pre-recorded games. I was just blankly letting the game run out minutes and hours of my life with zero attachment to how they were playing... so I flat out turned it off. If this team is going to give up like that Atlanta game, I see no reason why I have to suffer through the whole damn thing.
Reading Greg's recap prior to turning on the game, I saw Fox went for 32-7-6 in the game and so at the very least, I felt like I was in for some entertaining Fox hero ball. Then he had 20-5-5 at half time and doing the simple math in my head helped me to see pretty quickly that the kid just had to flat out stopped operating at some point in the second half to wind up with just two more rebounds and a single extra assist. Atlanta isn't a good defensive team, it isn't like Trae Young suddenly put the clamps on him. Harrison Barnes was seconds shy of playing 40 minutes and had 11 points to show for it. The 7 rebounds and 5 assists show he was at least doing other things on the court but any lip service to Barnes turning a corner on his tendencies to disappear really just cannot be justified. Buddy shot 4-16 from the field, 2-11 from deep. If it's true that these rough games are due to him looking over his shoulder at Haliburton coming for the starting spot, he can stop. Keeping him in the starting line-up is officially the tank move. The man can like all the tweets he wants to about coming to other teams, the current fact of the matter is, he's scared them off with shooting night's that make Mario Mendoza's line look like Ty Cobb's. A basketball Greek tragedy: a cock-sure player wanting to be moved to another team and yet so afraid of being benched that his numbers ensure other teams don't want to make a move for him forcing the team that has him to either continue to start him to tank their season or bench him anyways.
This team is in tank mode and that's honestly fine by me. Even if the rumors of Danny Ainge finally balking at the price of Barnes for good is true, even if Buddy's value is so deeply in the toilet that McNair can't move him - that's fine. I legitimately think this team could hold onto all their pieces and if nothing happens, they could still be bad enough to garner a Top 5 selection. With Walton at the helm, Barnes and Buddy taking full games off, De'Aaron Fox giving up half way through the third, the bench being garbage - the Kings are absolutely zero threat to go on another streak of seven wins in eight games. If McNair's market for Buddy and Barnes dry up before the deadline: I'm actually okay. Keeping them both probably means letting Holmes walk, which in itself ensures another season of this kind. But Barnes and Buddy can regain some value in the off-season just by nature of whatever teams struck out in the post-season knowing in hindsight they should have swapped for them and the Kings still get their youth movement. It's ugly basketball. It's boring basketball. It's Kings basketball.
Will, what the hell does this have to do with the Hornets game?
Not a goddamn thing.
The Hornets are a decent team that plays hard, sneak up on good teams when they aren't watching and have a generally fun style of basketball. Last time they played, they ambushed the Kings in the last minute of the fourth and stole a game the Kings absolutely should have won. PJ Washington averaged 11 points per game at the time and nearly quadrupled that output. That game was without Gordon Hayward, the team's leading scorer, who is back in the line-up for the Hornets tonight.
There, we talked about the Hornets.
Prediction
The Kings release a statement that says that Monte McNair has been a social experiment done by Vivek Ranadive and Joe Dumars - it has now concluded and Vlade Divac is being rehired as GM. Vlade trades Tyrese Haliburton, Marvin Bagley and three unprotected first rounders for Nikola Vucevic. The Kings go on a five game win streak after the trade and ultimately wind-up in the 12th seed. A loud minority of people tell you to wait and see because NEXT season is the true test of whether or not this team is actually good. The Magic select Evan Mobley after the pick jumps into the Top-2 of the draft. Seven years from now, the Orlando Magic make the NBA Finals and the Vancouver Kings are drafting 9th. You won't have thought about this site in years.
Kings: 117, Hornets: 114