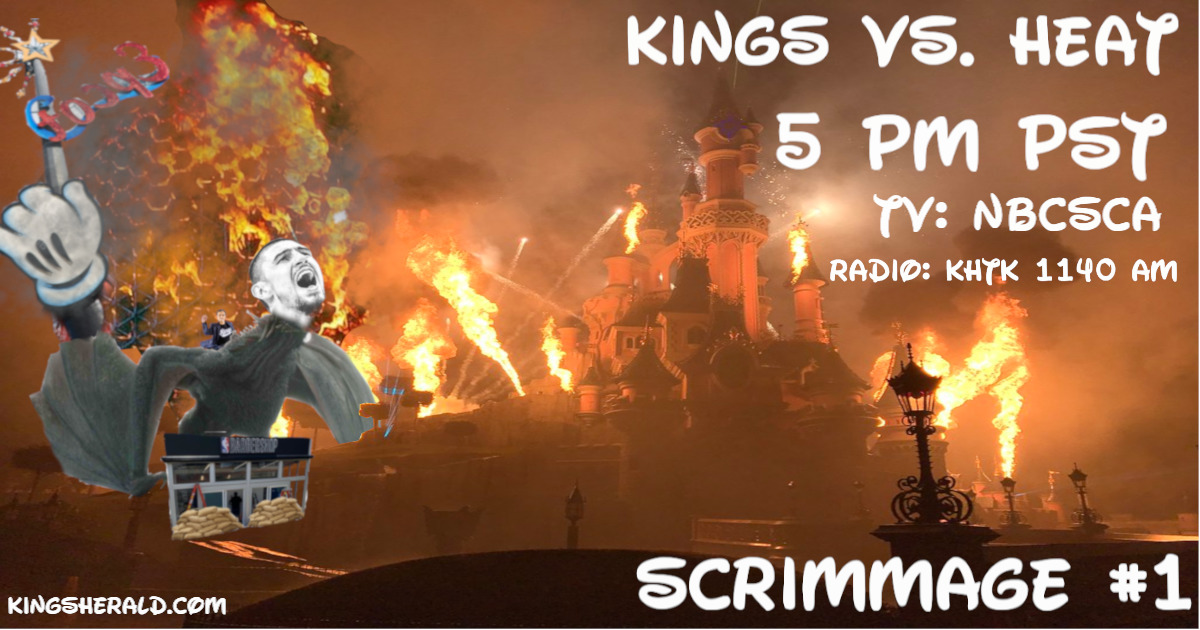 Well.... Not only did these fools not fire me, but they're allowing me to write previews for events that aren't even technically games now. Scrimmages? What next? Writing previews of funerals for players that don't believe in vaccines or masks? Putting out a MarketWatch preview of Puma's stocks once DeMarcus Cousins... No... DeAndre Ayton? Noooo. Marvin Bagley? Shit! Once... ummm.. Michael Porter Jr. suffers a leg/ankle injury in their shoes? Shoot, I might even write previews of articles to come from The Kings Herald! I heard a rumor that Tim is writing something lightly pessimistic and Twitter is going to take it way out of context! Bryant really likes some 18 year old's fit for the Kings, so expect that kid to go elsewhere and thrive, or come here and discover his body has the current bone density of my grandmother. Rest in peace, Granny.
Fact of the matter is, basketball is back, regardless of the current social unrest or VIRAL PANDEMIC that has settled across America. Tillman Fertitta needs to pay James Harden and Russell Westbrook somehow, and 4.4 billion just doesn't cut the checks like it used to, so the NBA has locked everyone but Richaun Holmes into a theme park resort hotel system, handed out a bunch of fishing poles and tried to keep Dwight Howard from any hot mic on the property until the season is over - all for the sake of that sweet, sweet TV money... and you know, entertaining the masses, of course. The Kings will have three scrimmages, eight games and fourteen healthy ankles to fight for the privilege of staying in the healthiest community in America, a parking lot away from the unhealthiest, most morally bankrupt, happiest place on Earth, in the least healthy state in a country that is dead set on balancing as many soul-crushing issues as reality will possibly allow at once.
The NBA is dancing in front of the mirror, listening to "Goodbye Horses" draped in jerseys with only the most sanitized, Caspar Milquetoast level social messages, with their James Dolan tucked between their legs and asking, "Would you watch me? I'd watch me so hard..." all while demanding that the Kings, stuck at the bottom of the well, "put the f**king ball in the basket".
The one upshot I see for the Kings is that playing in basketball hell has prepared them ever so slightly for playing basketball in actual hell, which is where they are, right now. I'd say pray for their souls, but judging by the reports out of practice, I think it's their soles that are in the most immediate danger.
Let's talk Kings basketball!
When: July 22nd - 5:00 pm PST
Where: The HP Fieldhouse, ESPN Wide World of Sports Complex, Kissimmee, FL
TV: NBCSCA
Radio: KHTK Sports 1140 AM
For Your Consideration
If you made it through the first four-hundred and so words, congratulations! Here's your preview for a scrimmage with 10 minute quarters, with limited players on both sides and whose only contribution to your day will be at worst, maybe getting to see someone you genuinely root for get injured and at best, allow you to gauge if Buddy Hield's post Coronavirus lungs crinkle like chip bags as he runs. De'Aaron Fox, Marvin Bagley and Harrison Barnes will not be available to play today due to the Kings being cursed. Kendrick Nunn and Bam Adebayo are doubtful as well for the Heat, as they haven't been with the team for most of their stay in Orlando. With these limited quarters, playoff ticket punched for one side and literally no incentive to play their starters big minutes, I'd expect both teams to take this as easy as possible, which will mean we're much more likely to see a California Classic level Kyle Guy - Tyler Herro duel than we are a Buddy Hield - Jimmy Butler shoot out.
You're a Kings fan, you understand all this. You'll tune in anyways.
The sugar rush is wearing off and I have to see if I can photoshop Alex Len's face on a dragon before this preview goes out first thing tomorrow morning, but I swear I'll be in the comments tomorrow, so answer me this: what are your expectations for the first scrimmage in four months? Do you believe the "we're going to run!" that they've been slowly pumping out of camp? Over/Under on pulled hammies by the end of the third scrimmage?
Prediction
The amount of "Well, what did you expect?" that you'll have to read online will make your eyes bleed. The Kings Herald will correct their oversight and fire me.
Kings: 67, Heat: 61