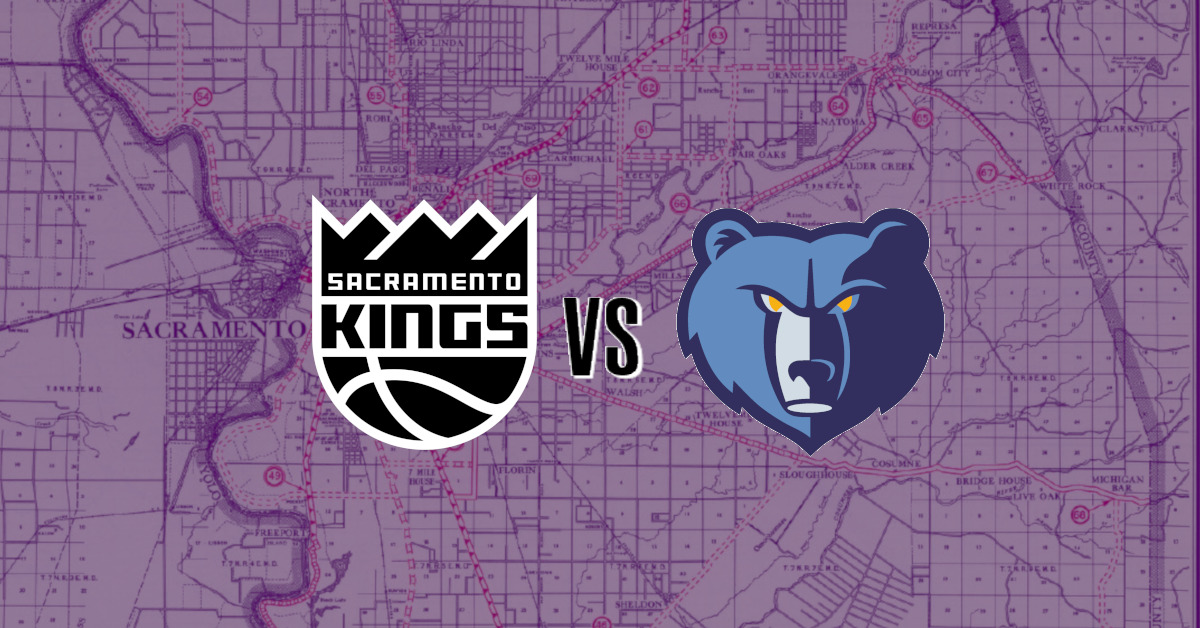 Well, well, well - if it isn't the consequences of just starting to feel hopeful for this Sacramento Kings squad! On Friday, the Kings felt it prudent to sit De'Aaron Fox as a supposed precaution after bumping a knee in practice ... and the Kings were subsequently bludgeoned into submission by a team with no point guards outside of Michael Carter-Williams and a total of ten players. It was ugly. Harrison Barnes was invisible a lot of the night, Tyrese Haliburton remembered he was a rookie. Hassan Whiteside and Nemanja Bjelica were the only ones keeping the game from getting fully out of control. Let's not delve into that any further.
The Kings are now in danger of sliding after their 7-1 kick in the pants. They have a very capable Grizzlies team today, a Nets team that is out for blood tomorrow and later on in the week there's a Miami Heat team looking for a second chance to pummel the Kings. This week could get real rough. Let's talk Kings Basketball!
When: Sunday, February 14th, 7:00 PM PST
Where: Golden 1 Center, Sacramento, CA
TV: NBCSCA - Mark Jones on the call.
Radio: KHTK Sports 1140 AM
For Your Consideration
Your Guy's a Morant: Gonna get this out of the way so no one can misconstrue what I say: Ja Morant is the bomb. The guy is a ton of fun. Any media figures trying to pit guys like Fox and Morant against each other can be entirely ruled out all together. There's one in particular that I'm thinking of - he's obsessed with stuffing himself in a locker over and over again then going on any podcast or radio show that will have him to brag about how cool he is for spending recess trapped in the dark with his dirty PE shorts. He's a dweeb and isn't worth the time. End of that conversation.
So, this Memphis Grizzlies squad is young, a ton of fun to watch and are absolutely smacked with injuries right now. Outside of the devastating injury to Jaren Jackson Jr., Memphis is also likely to be down the hot shooting rookie Desmond Bane, Brandon Clarke, De'Anthony Melton, Killian Tillie and Sean McDermott. They've lost 5 of their last 6 games and in a fashion that hasn't been particularly pleasing to the eye - those five losses are at an average of 15.4 points a contest. This isn't in anyway trying to say they're garbage. Those losses were to Indiana, Houston, New Orleans, Toronto and the Los Angeles Lakers, each of those teams having been problems for the Kings this season, as well. The Grizzlies are playing respectable basketball for the troubles they've been given and this isn't a game where Sacramento can afford to get silly and rest star players.
Let's jump in a little bit to how the Grizzlies have been able to keep afloat during these rough seas. For one, these dudes are unselfish as hell. Ja Morant and Tyus Jones are both naturally unselfish players, Morant averaging just a hair under eight assists a game and Jones coming off the bench averaging over five and a half. Expanding it out even further, this team is always looking for the open man: they're league leaders in team assists. The Grizz get a lot of their offense from inside the arc, as well. While they're the exact middle-of-the-pack in terms of three point percentage, they take the sixth least. They're third in two point attempts, though they're also right outside the bottom ten in terms of percentage there. They also are worst in the league at getting themselves to the free throw line, unless a guy like Richaun Holmes has one of those games, you can reasonably expect... wait, no. This is the Kings. Don't reasonably expect anything. I'm not sliding into that level of confidence in the Kings.
On the defensive end of things, Memphis is best in the league at steals, 12th in blocks and 13 in total rebounds. Overall, the Grizz are in the bottom ten in points scored per game, just out of the top ten in opponents points per game and run at just above a league average pace. Just like every other average team in the NBA they can get hot and no team in the world enjoys helping a hot team get hotter than the Kings. This is going to be fun one, if De'Aaron Fox can play. If he can't well, just try to close your eyes and think of the countryside for awhile.
Also, last thing: if these season is about to go down the tubes for the Kings based on a silly injury - tonight is going to be the night it happens. Grayson Allen, an absolute turd of a human being and a constant burden of conscience for well-meaning organizations and coaches, seems to be healthy and active tonight. His underhanded and dirty style of defense is meant to frustrate players and take their heads out of the game - one day he's going to truly hurt someone. Kangz luck says that could be during a game like tonight. Also, this counts as a reverse jinx. Rest assured of our Sacramento Kings health.
For the other side of things, I say go run on over to our old friends at SBNation, Grizzly Bear Blues. They've got a very talented team of writers over there and deserve more eyes for the great work they do.
Prediction
De'Aaron Fox plays. Your significant other loves that thing you did for them. If you don't have one, I'm your significant other today and I can't believe how thoughtful you are! (You'll find a better love than I... someday.)
Kings:119, Grizzlies: 111