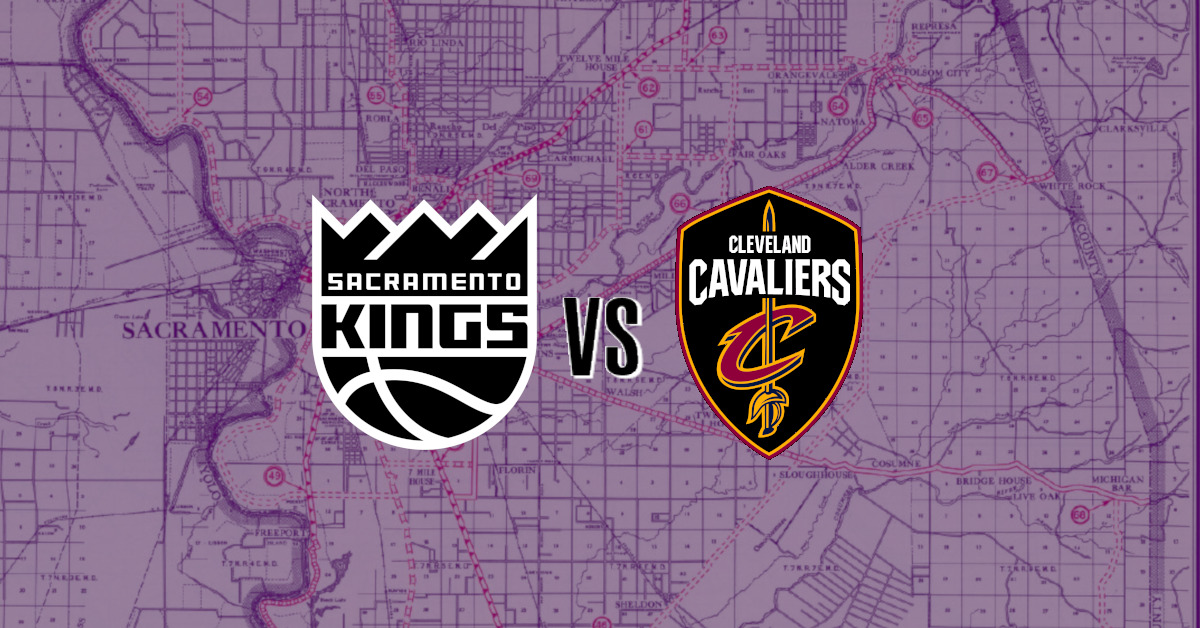 Welp, the Sacramento Kings are back in the sweet shelter of home after splitting a four game road trip in the most frustrating way one could imagine - both losses coming at the expense (and consumption) of two very nice whistles by those games respective referees. Sure, the Kings allowed Tyler Herro to go off for 13 points on 6-7 shooting in the 4th quarter of the first game and Andrew Wiggins/Steph Curry to score 30 points on 11-13 shooting in the final frame of the second game but, hey, I'm always down for a good lambasting of the referees!
This season's Memphis Grizzlies are in town tonight to show the doubters just how quick a tanking team can turn things around! The young and hungry Cavs are sitting pretty at second in the East, with a first-ten-games-MVP-candidate in Donovan Mitchell, an insanely talented frontcourt in Jarrett Allen and Evan Mobley and, oh yeah, their All-Star point guard Darius Garland!
Can the Kings bounce back against a nightmare match-up of a team like Cleveland? Can Harrison Barnes' get hot from deep and start push his three point percentage up closer towards the Mendoza Line? Will Kings fans continue to deny the existence of beautiful gold-accented jerseys with the Cavs playing right in front of their very EYES?!
Let's talk Kings basketball!
When: Wednesday, November 9th, 2022, 7:00 PM PT
Where: Golden 1 Center, Sacramento, CA
TV: NBC Sports California
Radio: Sactown Sports 1140
For Your Consideration
Golden Boys: Personally, I feel I've been lagging a bit on these previews. I love you all and I'm committed to giving you another year's worth of rambling, tangentially-related basketball thoughts, but between long hours at work, a few weeks of family weddings and family sicknesses, and just general life stuff, I feel like the oomph really hasn't been there for me. Only showing up half the time, forcing my teammates to pick up the slack, doing the bare minimum while my mind is elsewhere...You could say I'm in my Harrison Barnes phase. Enter a young, tank-to-the-top, golden clad Cleveland Cavaliers squad - a team built entirely by the basketball gods to put me back on my bullshit.
The Cavs are a team that doesn't take a lot of squinting to see a young powerhouse, packed with supreme, youthful talents, a good head coach, and a front office that has done a good-to-great job at drafting, signing free agents and trading for players all the same. In their first ten games this season, they've played both sides of the floor with great proficiency - they're top five in offensive and defensive rating (4th and 2nd, respectively), they're in the top ten in points per game at 116.3 a contest and hold their opponents to the third least points per game at just 105.4 a game. Coach JB Bickerstaff has his team rolling early on this season and had they not given up a 22-4 run in the final five minutes or so against the Clippers the other night, the Cavs could have been walking into Golden 1 Center with a nine game winning streak.
So what's got them rolling? Where's the change from playoff hopeful to leaders out East? Enter newly acquired, former future Knick and All-Star Donovan Mitchell. The man that cost the Cavs a potential five first round picks (and Lauri Markkanen/Collin Sexton) has been worth the swap 10 games into his tenure in The Land - averaging 31.2 points, 4.1 rebounds, 6 assists while shooting 50% plus from the field and 45% from deep. A team that was, at many times last year, a score-by-committee brand team, the Cavs have their go-to guy and go to them they do.
Don't discount the rest of the pack: Darius Garland has followed his All-Star campaign with 19 point, 8.5 assists per game in the four games he's been able to play in around a nasty eye injury that left him prepared for surgery. The Bash Brothers front court of Evan Mobley and Jarrett Allen do their part on the offensive end as well, averaging 15.2 and 13.5 points per game on 55.4% and 53.3% from the field respectively. This team isn't top heavy by any means.
On the defensive end, the Cavs are successful while being in the bottom three in steals, nineteenth in blocks and right smack center of the road in player fouls. They're a fantastic rebounding team, third in defensive rebounding and seventh overall and allow the second fewest second chance points in the league. The Kings are the second worst offensive rebounding team in the league so I wasn't expecting that to be much of a secret path to victory.
On the other side of things, the Kings are still very much figuring things out. Fox has been superb, Red Velvet has been everyone's flavor of the month, Malik Monk has seemed to come out of his funk to start the season. Honestly, if you'd have shown me how terrible Barnes, Mitchell and Holmes have played to start the season this season, I'd figure the Kings would be dead in the water, which, for a team that's currently 3-6 and with the third worst record in the West, they absolutely are not. Have they had some bad breaks? Yes. Refs are going to ref. Are they expected to go through the first few months still learning what the coaching staff wants from them? Sure. But the Kings are competing in a way they weren't last season, they're a few blown calls mixed with collapses from having more actual victories than moral ones and... outside of the support players being hit or miss, the core pieces of the team are starting to gel. Get Keegan right from what he's going through, find a playable version of Harrison Barnes and the Kings still have plenty of time to make things work.
Prediction
I spend all day annoyed that I didn't write a few paragraphs expounding wistfully on the rebuild that Cleveland's completed or on the piping of their damn jerseys. Someone at work mentions that Cleveland's jerseys "look ugly with that gold crap on it". A few days later you all read that I've been arrested for assault and won't be writing previews for awhile.
A basketball god on basketball Olympus looks down upon the scene and washes his hands of the situation, having given his pet writer a team built to his wishes with players and jerseys he'd love and still yet he remained with a team who fought against the writer's wishes. He remarks that humans make no sense, then embues Fox and Sabonis with the fate of dual triple doubles in a blowout win.
Kings: 119, Cavs: 102