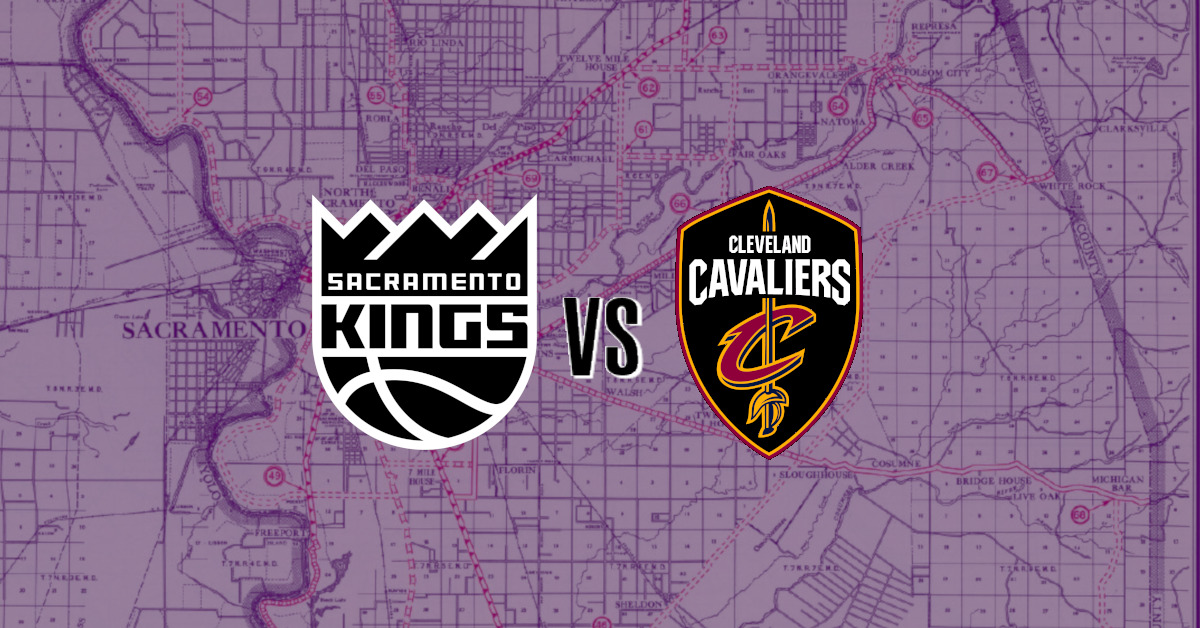 Hello. Kings Fans. There is a game tonight. An injury plagued but young and hungry Cavaliers squad is in town. Reasons to watch are as follows: Darius Garland, very good. Evan Mobley, very good. Jarrett Allen, very good. RJ Nembhard Jr., mysterious. Thus concludes the discussion.
Let's talk anything but Kings basketball!
When: Monday, January 10th, 7:00 PM PT
Where: Golden 1 Center, Sacramento, CA
TV: NBCSCA - Mark Jones (play-by-play)
Radio: KHTK Sports 1140 AM
For Your Consideration
A Season of Change: Don't take this as a threat, but this section is going to get considerably smaller if the Kings continue to do nothing off-the-court and lose on it. You all have far too little free time and I'm not going to sit here a hype up games that I'm already planning Oculus Quest workout sessions for if they're down more than 10 headed into the 4th. This community has survived relocation, survived 15 years plus of bullshit and it'll survive whatever comes next but in the meantime, we'll have a chance to talk about better, more worthy ways to spend time in the section below. If the Kings don't like it, play better baby.
Tonight's game is watchable because of the Cavaliers. Evan Mobley is the future of big men in the NBA. He's amazing and watching him do all the little things right makes him a joy to watch. Darius Garland should be an All-Star this year. Jarrett Allen coming to the Cavs as a throw away piece continues to baffle me and frustrate me that the Kings don't prioritize pulling rabbits out of hats like that. Yes, there's a lot more nuance to that conversation, I'm just brushing over it generally because again, I really don't want to talk about anything in too much depth in regards to this game.
Today's exactly one month till the trade deadline. Do you think Monte McNair pulls anything significant of in the next 30 days or are we just treading water until he's fired? Also, I'm starting to develop a theory that Vivek believes he has to fire every GM stereotype in order to finally get the guy to take Sacramento to the Promised Land. So far he's already shoved aside "Best in Franchise History" (Petrie), "Aggressive Lawyer" (Petey D), "Former Player" (Vlade) and he's headed for "Ivy League Advanced Stat Nerd". How many does he have left?
That's it. Happy Monday, and start cutting those eyeholes into your paperbags!
A Thing To Read, Watch, or Do
Read "Hoop Roots" by John Edgar Wideman: One of the most beautiful books I've ever read that just coincidentally is also about the sport I love. I tend to avoid books surrounding basketball - there's something tough for me to read about the triumphs of yesteryear and great teams of the past or the lives of players now retired or gone. As a former player, playing the "remember when" game makes me itch for two good achilles tendons or to return to a time when my favorite team was decent or to play "what-if" about my broken face and hopes for junior college ball. Hoop Roots is a memoir wrapped around Wideman's love for the game, it's history in his community and his culture and how time has finally caught up with his abilities to play. It's contemplative - sliding seamlessly through Wideman's pickup basketball days as a young man living in Pittsburg while weaving in African American history, discussion of his pending divorce and commentary about the professional game as he saw it. Everything I've read of Wideman has ended up with me wiping tears at one point or another and this is no exception.
Excerpt:
"Playground basketball only a game. Why, given my constant struggling and juggling to fit a busy schedule into days without enough hours, does basketball sit there, above the fray, a true and unblemished exception to the rules, the countless hours committed to it unregretted. Why was basketball untouchable over the years as I devised and revised blueprints for make the most profitable use of my time. Why am I missing the playground game, yearning for it now even before it quite slips away. Why when I know good and well it's time to stop playing hoop, time to reconcile myself to the idea of moving on, why do I continue to treat these ideas as unacceptable. Why can't I shake the thought that this break from the game can't be final. If I'm patient, hang around, give myself a little time to heal, to get right, I'll be back out on the court again, won't I. "
Prediction
Neemias Queta tips in a put back game winner at the buzzer after injuries force him into the rotation.
Kings: 111, Cavs: 110