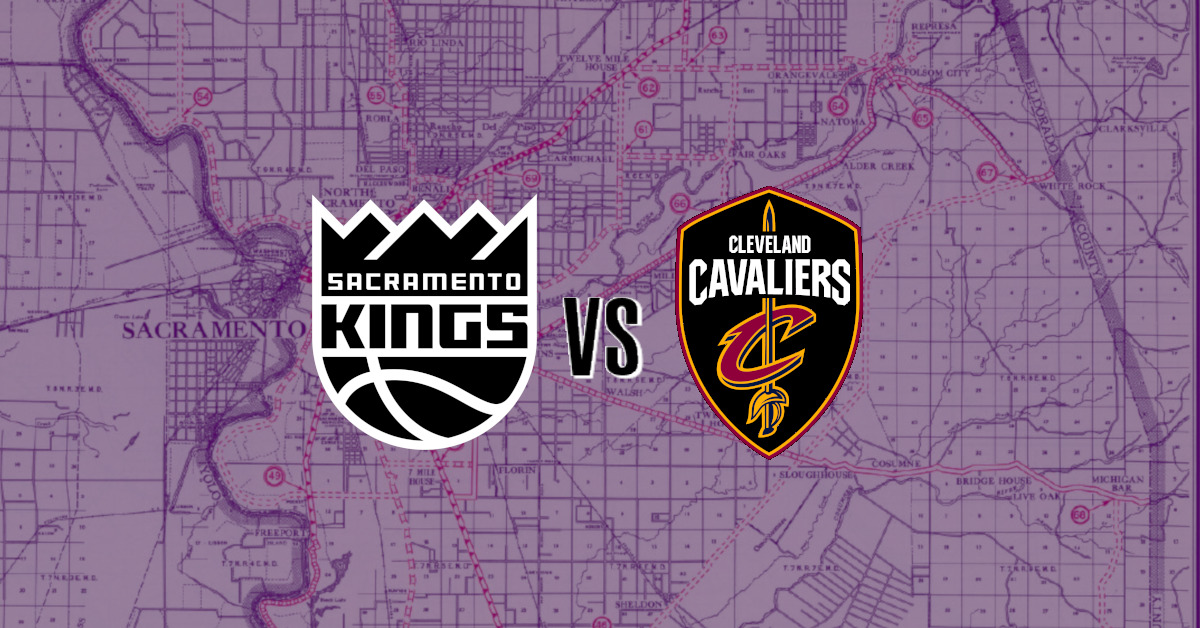 It's another day of Sacramento Kings basketball and our cowbell clad boys are in Cleveland to take on a team that tanked their way to the third seed in the East this season and rock some great gold-accented jerseys - yes, it's one of my favorite pet teams, the Cavaliers! It's a game of push vs. shove tonight as the second best scoring team in the league takes on the best defense in the league... you heard that right! A team that starts Donovan Mitchell is currently the best defense in the entire NBA!
Can De'Aaron Fox continue to play through his bruised foot? Can Keegan Murray continue his climb back towards his efficient start-of-season self? Can I legally wear gold Cavs gear as still be considered a Kings fans?? It's just to support the designer I swear!
Let's talk Kings basketball!
When: Friday, December 9th, 4:00 PM PT
Where: Rocket Mortgage Field House, Cleveland, OH
TV: NBC Sports California
Radio: Sactown Sports 1140
For Your Consideration
Christmas Garland and Holiday Love: Think back to the the doozy of a game that was the first match-up against the Cavs in early November. Yes, the game that started the Kings seven game win streak, that also featured the Kings giving up a nice lead in the third and holding on for dear life in the fourth as Donovan Mitchell went on an absolute second half heater. The guy put up 38 points of 57% shooting and somehow that felt a bit low when it was all said and done. Darius Garland went 1-9 as he was still getting used to playing with two working, non-damaged eyes, the twin towers of Evan Mobley and Jarrett Allen went 7-10 and 7-11 because perfect symmetry in nature rarely exists. Seven Kings players scored between 14 and 21 points in a "whose got the next bucket" affair. That was one of those beautiful Sacramento Kings games where the crowd at the Golden 1 Center absolutely had a hand in rallying the team to a victory, almost willing turnovers to happen and threes to drop at opportune moments.
And now the Cavs get their chance at vengeance.
As I previously mentioned up top, the Cavs are the best defense in the league right now, showing up on the board as first in both defensive rating and opponent points per game, and doing so despite being 25th in blocks, 27th in steals and 16th in rebounds per game. They don't foul either, bringing in the 4th lowest amount of whistles per game, and play slow, methodical basketball while forcing their opponents to do the same. They're limiting opponents to the 4th lowest number of field goal attempts per game, 4th lowest field goal percentage and the 10th lowest number of free throws. They're not pit vipers on that end of the floor, they're boa constrictors.
On the offensive end of things, the Cavs again, want to slow this game way, way down. The Kings are one of the preeminent teams in the league in picking up the pace right now, running at the 6th fastest in the league, and the Cavs are sitting pretty right there at 30th. With guards like Darius Garland and Donovan Mitchell, and mobile bigs like Mobley and Allen they certainly CAN attack in transition, but as a team they're score the 8th least amount of points in transition. For all of you wondering at home, the Kings are 4th in the NBA in that one. This isn't to say that the Cavs aren't also a good offensive team, because, they absolutely get it done on that end as well. They're 8th in offensive rating, score a little under the average NBA team (18th) at 111.5 points per game and feature at Top-7 scorer in the NBA in Donovan Mitchell. Now, at the time of writing this, Mitchell has just been slapped with the ol' questionable availability with a minor lower leg issue - without him this team becomes a tad easier to defend. Not easy, mind you, guys like Garland, Caris LeVert and even someone off the bench like Cedi Osman could go off for a game 10-15 points above their average. I'm sure they see De'Aaron Fox's nagging foot injury and say the same thing about Mitchell, Huerter and Monk.
This is a fun, young team that will be a presence in the Eastern Conference for a very long time. They're still learning to gel, to find their spots in this league and how to win consistently night-in and night-out. They're more beatable tonight than they will be this time next year and they're the exact type of a team a playoff-bound squad like the Kings want to be should stick with, regardless of which arena they're playing in and what stars and banged up.
Prediction
A team employing Luke Walton shall not prosper against us. Sabonis continues to pick up the slack for his hobbled co-star and goes for 30-17-12 against two of the best young bigs in the league, Malik Monk and Kevin Huerter combine for 14 three pointers and Davion Mitchell forces a late turnover on Donovan Mitchell to seal the game.
Kings: 117, Cavs: 115