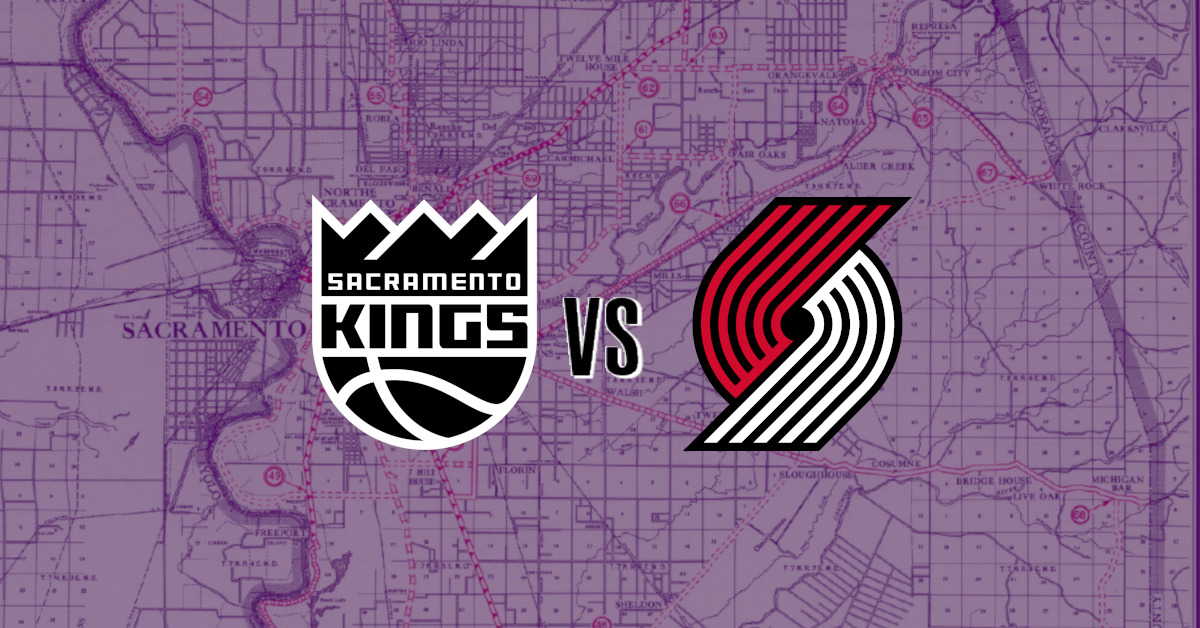 The Kings did what Kings do on Friday night. They took a fantastic first eighteen minutes of basketball and then proceeded to slowly squeeze every positive feeling you got from their start over the course of the rest of the game, turning a first half rout of the Raptors into an embarrassing 21 point blowout, in which they allowed Toronto to score a franchise best 144 points (without overtime). It was like wistfully pushing your kid from the curb, helmet and elbow pads on as they balance themselves on their bicycle for the very first time, little legs churning end over end as they yell out in triumph that they're doing it! They're riding their bike! And then just as they stretch that internal fortitude to real courage, to speed up towards a future unknown, they look back in nervous delight at you and ride themselves right into a running woodchipper.
Speaking of kids who were gone too soon, the Blazers are in town and that means that fan favorite Harry Giles has come to destroy all he once held dear. Oh, and those guys Damian Lillard and CJ McCollum are here and pretty solid ball players as well. Let's talk Kings basketball!
When: Saturday, January 9th, 7:00 PM PST
Where: Golden 1 Center, Sacramento, CA
TV: NBCSCA -  Mark Jones on the call.
Radio: KHTK Sports 1140 AM
For Your Consideration
Back of the Pack: Friday's game against the Raptors was just one of those games that you could feel would slip through the Kings grasp, partially because the Raptors weren't really at a 1-6 level of bad and because the Kings, well, have done that at nearly every turn of the last 14 years. Tonight's game against the Blazers is going to be a statement game as to where the Kings truly are in their hunt for respectability. Kings teams of old would take the disappointing upper-cut from the Raptors and convert it into a full-on knockout for the Blazers, wallowing in their feelings just long enough to truly start their regression to the mean, beginning that long slide of the season back to their comfortable spot in the basement. The Blazers aren't a bad team and they're much better than they've been playing. Much more than even the Raptors, they have the firepower from their stars to mount a 19 point comeback. If the Kings want a statement win off of the back of a disappointing loss, it's going to take 48 minutes of wire to wire basketball to earn it.
While Damian Lillard is the undoubted heart and soul of this Blazers team, the first eight games of Portland's season belongs to his backcourt running mate, CJ McCollum. Currently churning through the best start to a season in his career, there's a case to be made that  it's CJ that has been the Blazers strongest starter so far. Currently averaging 26.8 points, 5.3 assists, 4 rebounds, CJ is tossing up 11 three pointers a game while hitting them at an ungodly 43.2% clip, he's leading the league in three pointers made per game at 4.8.  I think it's also worth pointing out that CJ's also averaging over a steal and a half per contest all while giving the ball up less than 1.3 times a game. The man has been playing out of his mind early in this season and it's good to see him establish himself again as one of the premiere shooting guards in the NBA after some criticism of his play last season. This isn't to say that Dame has fallen off. He still leads his team in points at 27.6 points per game, assists at 6.6 per game and is also grabbing 4.8 boards a game. He remains that man for the Blazers.
So what do the Kings have to look forward to tonight? First, the Blazers score a lot and they give up a lot, 4th in the NBA in points per game at 117 points per game and 26th in opponents points at 118 per game. They're 8th in the league in pace so the game is going to start rolling down hill from the very start, but don't expect a high turnover affair - Portland is second best in the league in terms of taking care of the ball, giving it up only 12.1 a game.  The Blazers take the second most three pointers in the entire league and they're 8th in percentage at 38.2% a contest, so if the Kings are going to play defense like they did in the second half against the Raptors, the Blazers are going to score approximately 180 points. All in all, the Kings have their work cut out for them.
And lets not forget about Harry Giles himself, as he is a storyline in all this. While the man absolutely feasted on the Kings in the preseason, Harry still hasn't seen much time in the regular season - playing in only 5 of the 8 games and averaging 8.4 minutes a contest. Here's to getting some run tonight Harry, but only after the Kings have secured a 45 point lead or so.
Prediction
I keep trying to wish Buddy Hield out of his slump, but knowing the Kangz I have to reverse jinx him. Which would mean I go against the guiding principle of my predictions and be overly negative. Which I just can't do. So Buddy Hield is going to do decent!! He's going to hit an average amount of threes!! His percentages and shooting splits tonight will be perfectly mundane!! Think that will do anything?
Tyrese Haliburton continues his breakout with the first rookie 5x5 game of the season! 14 points, 5 rebounds, 5 assists, 5 steals and 5 blocks, all on CJ McCollum and all in subsequent possessions! (Sidenote, up until the blocks, that statline feels EXTREMELY doable for Haliburton. God, I love that kid.).
Kings: 131, Blazers: 129