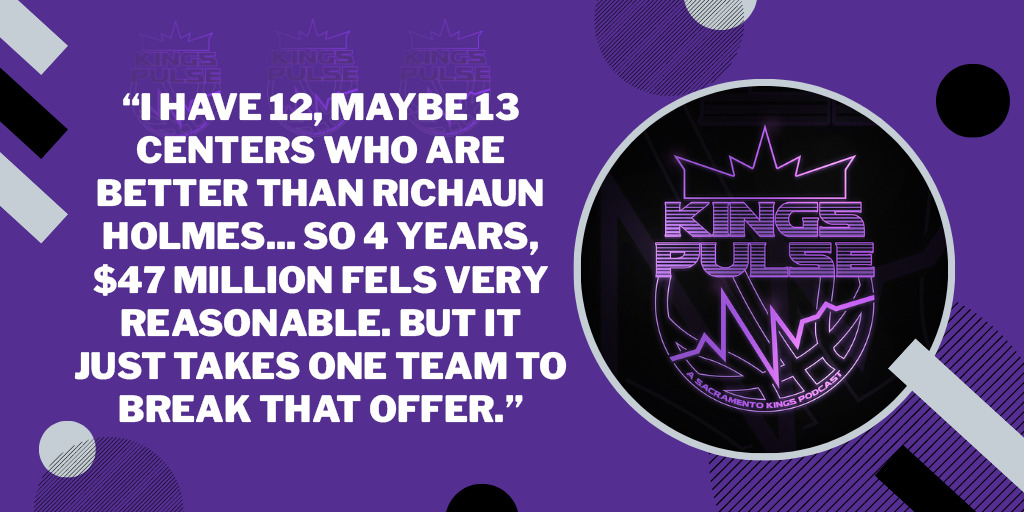 Richaun Holmes had a career year in the 2020-21 season, finishing with 14.2 points, 8.3 rebounds, 1.7 assists, and 1.6 blocks per game on 63.7% shooting and 79.4% from the line. He was one of the Kings few successful defensive players and arguably the lone consistent big man on the roster. And one of General Manager Monte McNair's biggest offseason puzzles is to figure out how to retain Holmes—or, at least avoid seeing another starter level player walk for nothing.
Our deep dive into Holmes this episode covered:
His 2020-21 season, both the good and the bad
His ranking among all NBA starting centers
His value in free agency - and how many centers in free agency might command more money than he will
What teams with cap space might be interest in Holmes
How McNair might be able to clear more capspace - or sign and trade Holmes for some value
What happens if Holmes leaves for nothing?
McNair's decision to stand relatively pat at the trade deadline—or his inability to find an acceptable deal—has tied his hands with arguably one of his most important players. If Holmes leaves Sacramento this summer, the Kings big man core is reduced to Marvin Bagley, Robert Woodard, Damian Jones, and Chimezie Metu; not exactly a playoff caliber starting front-court or rotation.
The Kings Pulse podcast is available on all major listening platforms.