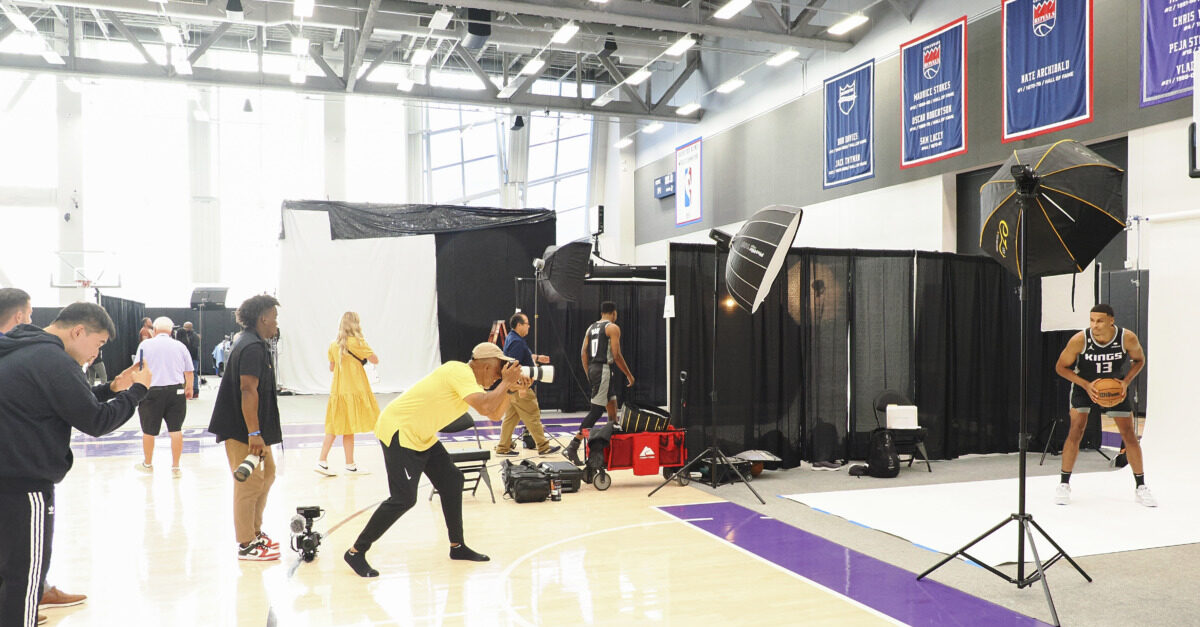 The vibes were immaculate at the Sacramento Kings 2022-23 Media Day. That's typical of most media days (sorry Lakers and Suns), but this seemed different. The players who had been around for a few years agreed, as did the long-tenured staff members and just about everyone else in the building.
The most apparent difference may have been with the first person that spoke with the media, general manager Monte McNair. He was the life of the party telling great Dad jokes such as when he was asked what he was most curious about and he responded with, "In general? I don't know, my son was talking about black holes the other day..."
Or when he was asked about going into the final year of his contract, to which he replied, "Is my deal like on the internet or something?" McNair continued, "For me and my group, we're excited about what we've done, we're excited that Coach Brown is here. I'm the GM right now and I got a bunch of work to do so I'm gonna do that until they kick me out and I hope I'm here for a long time. I think with this team we put together we're really gonna start seeing that progress."
Mike Brown had the highlight of the day when he overheard one of his players let out a yell after being told to "roar like a lion" and he responded with one of his own.
Mike Brown answering a barbaric yelp from across the room: pic.twitter.com/u5VCCxGwAV

— James Ham (@James_HamNBA) September 26, 2022
As for the more serious takeaways, McNair and Coach Brown both shared the opinion that competition going into camp was healthy and a part of the culture they are working to build.
Monte McNair: "We're gonna have some great camp battles here, it's gonna be fantastic. Competition is a huge emphasis in this training camp for me and from Coach Brown. We'll see how that shakes out, we'll see what happens around the rest of the league, we'll be prepared, but we are excited about the group we have here."
Mike Brown: "There's depth out there, and it's gonna be competitive, but at the end of the day only one person can play. So, knowing your role and embracing your role is gonna be huge for us."

"Coming from the Warriors, they were a huge hugely culture-driven organization and if the culture's right you'll have a chance to manifest some things throughout the course of the year."
Plenty of other guys echoed the importance of culture. Domantas Sabonis clearly thought that they are off to a great start.
"I feel like it's been a great summer. Coaches have been on us, they've been keeping us involved on everything; plays, system, workouts, a bit of everything so tomorrow won't be like first day and everything is new. Everyone already has a little taste of what's to come so I feel like that just helps everyone come in there and be more confident.

I think it's big, I think that's the most important thing. All the best teams that have won, haven't won if they didn't hang out or like each other. If they're like your brothers, then that means, on the court, you're gonna help them. You're gonna close out for them. If they fall on the ground, you're gonna help them up. You're gonna go the extra step to really make a difference."
Richaun Holmes, who had what might as well have been the dictionary definition of a complicated season last year, seemed to share the same excitement.
"I just think it's a different level of excitement and a different level of focus. I think this year is more tangible. We spoke a lot the last few years about trying to build culture and things of that sort and I think this year it's just a little more tangible that you can feel and touch when you step onto the floor. We just looking forward to going out there and proving it."
De'Aaron Fox said, "If your first time together is training camp, you're already behind." This is a group where a large majority of them have spent nearly a month together already. Nearly all of those who weren't around were busy playing overseas in EuroBasket or FIBA World Cup Qualifiers for their respective countries.
"Once we hired all the new guys, the communication has been top-notch. Everybody knows exactly what they have going on for the next week. So, it's something that's been different with kinda just how much attention to detail. Like how much time you're gonna be in there, how much time you're gonna be out here, let them know before 5 or 6 o'clock everybody knows what's gonna happen tomorrow so nobody's ever really surprised by what's going on."
Asked De'Aaron Fox about the seemingly increased criticism this offseason:

"I'm 24. I'd be still be considered a young guy in every way of life… if you can't get better at 24 years old, then there's a problem." pic.twitter.com/4KlbSAZGnk

— Brenden Nunes (@BrendenNunesNBA) September 27, 2022
Kevin Huerter, who is still unsure on the headband but said he "just wants to switch it up," also felt a "good energy in the building." He spoke to just how important it is to have that team chemistry going into a year.
"It's a lot easier to be on teams when everyone likes each other. It's a lot easier to win when everybody likes each other, you can be on the same page. It's been a great start so far, there's been a lot of guys in the gym over the last month or so, and guys trickling in, the guys who haven't been here and the guys playing overseas in Europe, so it's been a good start everyone has the right mindset and knows what we need to do."
As for their individual developments or projected roles, Huerter said he is "not someone who gets caught up with positions. I think that's been a strength of mine in the NBA. Just the versatility, being able to fit into a lot of different roles."
Monk and Fox clearly have a phenomenal friendship that was apparent on media day. They both acknowledged that they've seen significant growth in one another from their days at Kentucky and just how much their chemistry can manifest itself on the court.
De'Aaron Fox smugly told us to ask the other guys, primarily Malik Monk, how his defense has been.

So, I asked Malik Monk. pic.twitter.com/7pv9R4Cmcr

— Brenden Nunes (@BrendenNunesNBA) September 27, 2022
Monk was also questioned about his preference when it comes to starting or coming off the bench.
"You can't focus on one thing, man, 'cause it's not your job to pick the lineups. So, I just go out there and do what I can as best as I can. Of course I want to start, but I don't mind coming off the bench either. All I can do is go out there and be the best version of myself that I can be and doing everything I can for Mike Brown, so we can win."
Davion Mitchell has a better understanding of how to approach the grind of an 82-game season including prioritizing sleeping. Kevin Huerter called Mitchell someone who, "picks people up full-court at 8 A.M. on a Saturday." Mitchell shared what he's been working on this summer to help complement Sacramento's stars.
"This offseason, just working on a lot of catch-and-shoot, knowing that De'Aaron can get in the lane past anyone with the best of them, he's also a really good guy to pass the ball so just me catching and shooting makes his life easier for me and I can do the same thing. He's been working hard off his catch-and-shoot too so we can kinda just play off each other like that. And especially defensively because he can guard a lot of 1-5 and he's a really aggressive guard."
Domantas Sabonis and Richaun Holmes both said they can see them playing alongside one another.
"I see that fitting perfectly,' Holmes said. "We're basketball players man, put us out there, we'll make it work."
"I think it's great. I think we have the coaching staff to put us in the right position," Sabonis said. "It might not be the whole game, it might be a couple spurts depending on how coach wants to play us. We'll found out more tomorrow with how the offense goes and the defensive schemes."
It's as cliche as it gets, but the energy around the Sacramento Kings headed into the 2022-23 season feels different. This group clearly is comfortable and confident in one another but, as Kings' fans know better than anyone, things can change quickly.
We'll have to see how things progress headed into training camp, which kicks off on Tuesday, September 27th.