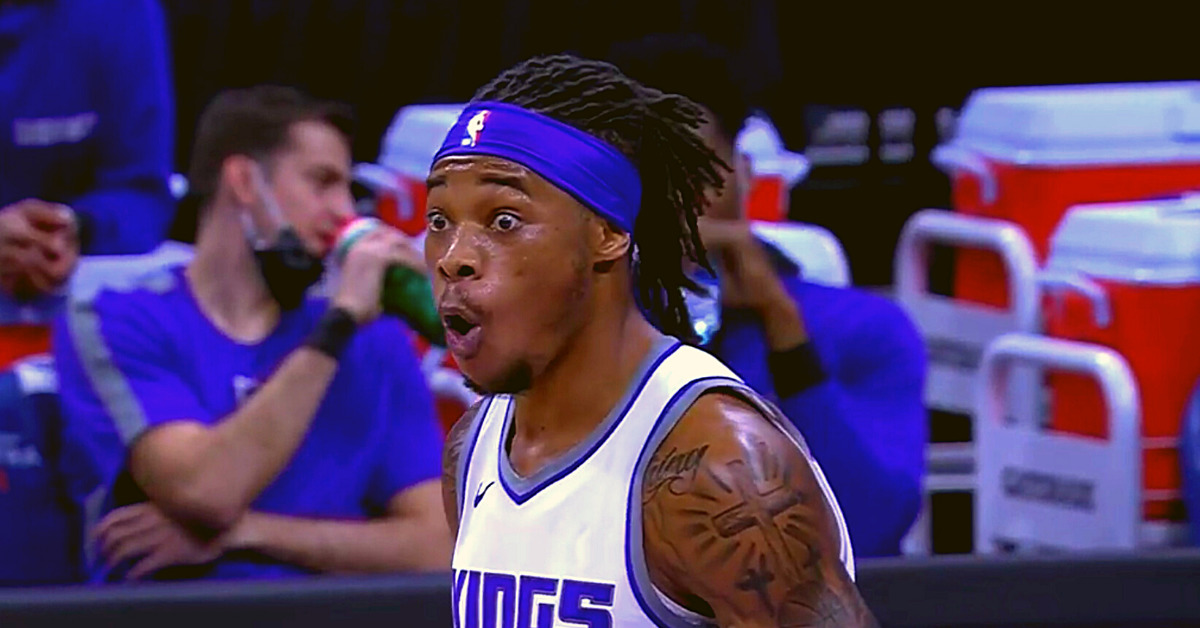 Tyrese Haliburton returned to the Sacramento Kings lineup after a two-game absence, and it was no coincidence that the Kings regained their footing in the process, defeating the Chicago Bulls 128-124 to get to 4-4 on the season.  Haliburton finished with 17 points, 7 rebounds, 6 assists, 3 steals and a block, with most of that coming in the crucial fourth quarter.
TYRESE HALIBURTON. GAME. pic.twitter.com/aMuUUIVQuY

— Tyrese Haliwobon (@WorldWideWob) January 7, 2021
De'Aaron Fox left the game after just five minutes after tweaking his hamstring and did not return to action.  In his stead, the Kings relied on steady doses from Haliburton, Richaun Holmes, Harrison Barnes and Marvin Bagley III.  Holmes finished with a team-high 24 points on 10-11 shooting to go with 8 rebounds and 5 assists.  Holmes also had a couple of huge defensive plays towards the end of the game when he was switched onto Bulls star Zach LaVine.
Harrison Barnes continued his strong season by chipping in 20 points of his own on 7 of 10 from the field and also dished out 5 assists.  The Kings as a whole were very unselfish with the basketball, dishing out 30 assists to just 7 turnovers, a stark contrast from their last two games.  Part of that definitely has to be attributed to Haliburton's return, as the rookie continually moved the ball and did a great job running the offense in Fox's absence.
Marvin Bagley III had his best game of the young season, scoring 21 points to go with 12 rebounds, 2 steals and 2 blocks.  Bagley was also showcasing his outside range, making 3 of 5 from beyond the arc.  It was a good bounce back game after a few duds, and hopefully a sign of more to come.
Neither the Bulls or the Kings should be proud of their defensive effort.  Both teams shot over 50% from the field and at times the game looked like a layup line on either end of the floor.  Coby White and Zach LaVine led the way for the Bulls with 36 and 32 points respectively, both gashing the Kings interior defense seemingly at will for most of the night.
Buddy Hield shot just 3-15 from the field and 2-9 from three as his shooting struggles continued, but he also hit perhaps the biggest shot of the game when he hit a three and was fouled with 38.3 seconds left to put the Kings up 124-119.
Big time shot by Buddy Hield! 🎯 pic.twitter.com/LCqKNBbKP9

— Kings on NBCS (@NBCSKings) January 7, 2021
For the Kings, the victory showed that the team still had a lot to work on, particularly defensively, but it also showed that the team can still win when they play for each other and not just for themselves.  The Kings will be back in action on Friday as they take on the Toronto Raptors.
Random Observations:
Have any of you seen Ted Lasso?  If so, Tyrese Haliburton is our Dani Rojas.  He's got such a love for the game and it shows in how he plays.  I also loved how he was the first one over to congratulate Buddy after his big shot.
Glenn Robinson III played some really solid bench minutes for the Kings tonight.  It seems he has supplanted Hassan Whiteside in the rotation.  It feels nice actually having some depth on the wing for once.
At some point you have to start considering Richaun Holmes a core piece right?  The guy is so efficient and lays it all out on the floor every night.  He's also just turned 27 years old and entering his prime.