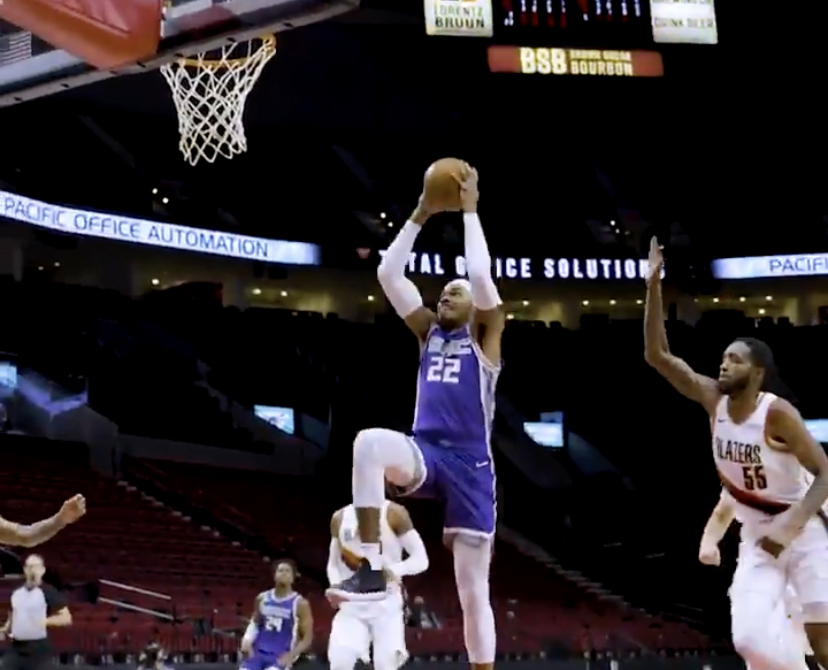 After falling to the Portland Trail Blazers 127-102 on Friday, the Sacramento Kings faced off Portland again Sunday evening. This time, however, the Kings prevailed, winning 121-106 in a game where the youngsters shined.
The Kings came out running and gunning, similar to their approach on Friday, in the first quarter. Buddy Hield assisted De'Aaron Fox for a corner three; Tyrese Haliburton fed Richaun Holmes in transition for a thunderous slam; Sacramento was rolling, going on a 15-0 run in the quarter to take a double-digit advantage. Kyle Guy and Frank Kaminsky also received playing time because Cory Joseph (back soreness) and Jabari Parker (back soreness) were ruled out prior to tipoff. The two connected after Guy fed a pocket pass to Kaminsky for a tough layup. Sacramento led 30-21 after one.
The second quarter contained some interesting tidbits for Sacramento's lineup. Guy featured alongside Fox, and the Kings ran multiple pindowns for Guy to get him looks. Guy looked pretty solid with those minutes. There was also a play where Fox and Holmes reversed roles; Fox set the screen, and Holmes attacked the rim #Monteball. After attempting 50 threes in the previous game, Sacramento was on pace to pass that mark, attempting 26 threes in the first half. Portland cut the lead to 58-51 at halftime, knocking down some much-needed threes. Buddy Hield racked up the points in game one, but only shot 1-8 from the field in the first half. However, he looked to set up others often, which is what you want to see when the shot isn't dropping.
Sacramento opened the second half with the same starting lineup; Portland mixed it up, bringing in backups like Harry Giles and CJ Elleby. The Kings generated multiple good looks from deep, but they couldn't get any to fall. Portland slowly reversed the course of the game in a comeback led by Gary Trent Jr. and Giles. Some Enes Kanter baskets in the low block gave Portland the lead, and Sacramento failed to respond on the other end. Holmes, who the Kings used in the high post to make passes, fouled out in the quarter. Two free throws by Justin James and a steal and flush from Haliburton in the final seconds gave the Kings a lead entering the fourth quarter.
The fourth quarter featured many of the youngsters for the Kings, with guys like Guy, Haliburton, Chimezie Metu, Robert Woodard II, and Jahmi'us Ramsey all entering the floor. Haliburton showcased his passing ability on multiple occasions; Woodard made an impressive up-and-under layup for his first points; Metu finished some tough shots down and converted a triple. Sacramento's youngsters outscored Portland's rotational guys (Trent, Derrick Jones Jr., Robert Covington, etc) 34-22 to win with a final score of 121-106.
Game Notes
Tyrese Haliburton. That's it. That's the article. Haliburton played 30 minutes and seemingly made an impact play in every single minute. The rookie finished with 11 points (5-10 overall, 1-3 3P), seven assists, six rebounds, one steal, and one block. It was a very encouraging second game for him.
With Joseph out due to injury, Luke Walton called on Guy for those minutes, and Guy seized them. Guy finished with 14 points (4-8 overall, 3-7 3P), five rebounds and three assists. He's undersized, and the athleticism he displays in the G-League hasn't translated to the NBA, but with the Kings short on playmaking, maybe Guy could provide that. However, he'd likely need to share the court with another initiating guard.
Metu stood out in the final quarter as well. He ended the game with 11 points (3-5 overall, 1-2 3P) in 12 minutes, along with four rebounds, one block and an assist. The Kings have a two-way spot alongside Guy open, so Metu could earn that spot at this rate.
Notable Stats
The Kings shot 14-49 from deep (28.6%). They are absolutely letting it fly, but not converting at an ideal rate. You'd hope the attempts go down and the makes go up sooner rather than later.
Sacramento won the rebound battle, 50-42. They also assisted more at 27-19. The youngsters had no problem moving the ball around to their fellow teammates.
Sacramento put up 27 fast-break points to Portland's 14. That's what you want to see.
Next Game
The Kings will return to Golden 1 Center to host the Golden State Warriors on Tuesday at 7:00 p.m. PST.