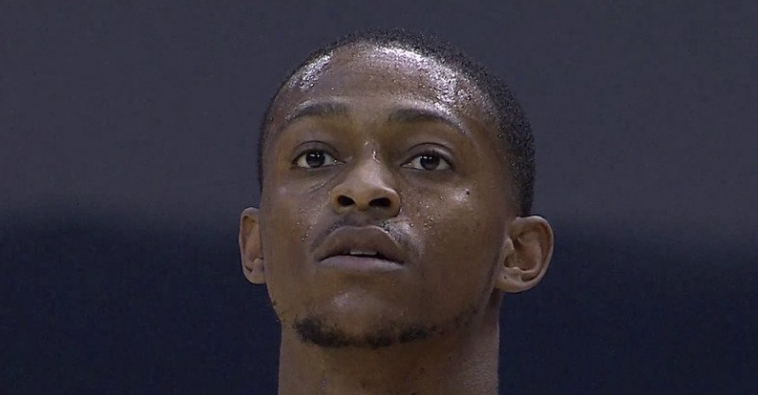 In their final game of 2020, the Sacramento Kings were forced to take on a winless Houston Rockets squad that finally had their full squad ready to run. In their first regular season game playing together, James Harden scored 33 points, had 8 assists and 6 rebounds, John Wall had 22 points, with 9 assists and 6 rebounds and former Kings DeMarcus Cousins had 8 points, 3 assists, 1 rebounds in limited minutes. For the Kings, their high point man tonight was Harrison Barnes, with 24 points to go along with 1 assists and 8 rebounds. Rookie Tyrese Haliburton had a rough first half but ended up with 11 points, 1 assists, 2 rebounds and 2 steals.
The first quarter saw the Kings and Rockets each with 14 points on 5/10 shooting with neither team shooting well to separate themselves. If anything stood out from the early minutes of the game, it was Marvin Bagley running a fast break and dishing it to Richaun Holmes for a big time slam to put break a tie. Six of the Kings first nine shots tonight were three pointers, with only two makes. DeMarcus Cousins checked into the game with 2:45 left in the quarter and immediately stroked his first Houston Rockets three pointer. Kings ended the quarter up on the Rockets, 33-32 with Hield scoring 7 points and Fox, Holmes and Barnes each scoring 6.
How Many Times Did Will See Luke Walton's Exposed Nose: 3 times
The second quarter started with the first real egregious Tyrese Haliburton turnover of his career as he risked a skip pass from his corner position to a shooter on the opposite wing that was immediately picked off. For the Rockets, DeMarcus Cousins made his presence known early in the quarter with a patented Boogie spin and pump fake into a layup and then threading a gorgeous bounce pass to a cutting guard a possession or two later. Corey Joseph came in late in the first and man did he look rough early, picking up three fouls in his first 8 minutes. This whole first five minutes of the second was rough, with turnovers and misguided passes and bad misses really mucking up any flow that these teams were each trying to establish. This wasn't just the Kings either. At one point James Harden was 0-5, Wall 3-9 and Eric Gordon 1-4 just before halfway through the second. Richaun Holmes had himself a very nice first half, culminating in a rushed and leaning long range jumper to beat the shot clock. Overall he was a perfect 5-5 from the field for 12 points and 7 boards. With less than three minutes in the half, John Wall had taken 14 shots before James Harden made his first field goal of the game. That's a fun fact that means nothing at all but made me blink a few times very quickly. Harden then, of course hit his next three shots and finished the half with 10 points on 4-11 shooting. At halftime, the Kings found themselves down 59-63.
How Many Times Did Will See Luke Walton's Exposed Nose: 4 times
Fun Halftime Stats:
The Kings shot 19 three pointers, hitting only 6 for 31.6%.
Kings shot 55.6% from inside the arc, Rockets shot 64.3%. Woof.
The third quarter again started sloppy, with missed alley-oops and errant passes galore. There was a stretch of like four straight possessions where Bagley got stripped, Buddy threw the ball away and then Bagley waved off Buddy for an iso and proceeded to get stripped again, then De'Aaron Fox drove and was stripped in the lane. At least three of these turnovers led to easy oops on the other end. Even after a frustration timeout, the Kings nearly turned the ball over again and then allowed an easy entry pass to James Harden pinning his man in the post. The eye test tells me the wheel on the defense wagon fell completely off tonight. Houston hit 6-8 of their twos to start this quarter and 5 were oops to wide open guys. Alas, somehow the Kings were still only down 4 points at the half way mark. The turnovers and sloppy play continued and I don't want to talk about them anymore. Just know every other Kings possession was like watching a dog trying to fully express its own stinky gland. The last few minutes of the third saw Fox and Haliburton getting tips and deflections on what seemed like every possession. Tyrese finally caught himself a steal which led to a break and a Fox three pointer, which cut the lead to just one point. Through three quarters: Kings: 86, Rockets: 87.
How Many Times Did Will See Luke Walton's Exposed Nose: 1 time
The fourth quarter started with a Tyrese bucket followed by a Tyrese steal, followed by a Corey Joseph steal and Tyrese went up for a dunk and came down HARD on his right hip and shaking his right wrist a bit. He ended up staying in the game and the Kings quickly went up by 4, using a 17-3 run between the end of the 3rd and start of the 4th to jump into the lead. With six minutes to play the Kings stretched their lead to seven with their bench unit, shooting 9-13 from the field in the quarter. Christian Wood smoked the Kings all night and cut the lead to just two with 4:45 left in the game on an and-1 drawing layup. With 3 minutes left in the game, James Harden stepped into a deep three and splashed it, putting the Rockets up 1 at 111-110. After some back and forth missing, PJ Tucker ripped a missed rebound out of Buddy Hield's hands and got it to Harden, who drew a foul to extend the lead to three with just 2:20 remaining. Buddy Hield missed a three on the other end and Harden found an unguarded Christian Wood on the subsequent play to push the lead to 5. Out of a timeout, Fox found Barnes for a wide open oop and their ensuing play would have tied it, and found Hield for an open three which he airballed. James Harden then quickly came back down on the other end and hit a three of his own, pushing the lead to 6. A Fox jumper and a Harden travel gave the Kings some hope down 4 with 30 seconds left and a Holmes kick to the corner found Haliburton open for 3, which the young star subsequently splashed. 22.4 seconds left, the Rockets remained up 1 with possession and the Kings quickly fouled James Harden, who knocked down both, pushing the Rocket's lead to 3. Out of their last timeout, the Kings had a broken play result in a dunk for Richaun Holmes, who then immediately fouled Harden with 15.6 seconds remaining. Harden hit both. Buddy and Fox then both missed contested threes to tie the game before the buzzer sounded.
Final Score: Kings: 119, Rockets: 122
How Many Times Did Will See Luke Walton's Exposed Nose: 8 times
Player of the Game
Richaun Holmes: It was a toss up between Holmes and Barnes who also had himself a great game. Coming into this game, there had been a lot of hype around the Rocket's acquisition of Christian Wood, who had an outstanding 21-12-3 stat line tonight. Holmes kept pace with Wood tonight scoring 22 points, grabbing 13 boards and 2 assists on 10-13 shooting. Holmes used up all 5 of his free fouls but his offense was the difference maker in this one. Whenever the Kings struggled to get a bucket or the guards had themselves trapped, Holmes movement in the paint saved their hide.
Game Notes
4500 fans were let into see this game in Houston and hot damn did that make me itchy thinking about it.
The first half was rough for the youngins. Marvin Bagley's touch was off and Haliburton had his worst half as a Sacramento Kings. That being said, they both made positive impacts in other ways. Bagley with 6 rebounds and Haliburton with his offensive presence, finding a ton of guys for open shots that they either missed or got fouled attempting. Bagley ended up shooting 1-9 tonight, which is to be expected from the young man still trying to knock off the rust.
There's a Pizza Guy commercial in which a man tries to deliver another brand's pizza to a hotel room. You know the one. Something about it is unsettling and creepy in a way that makes the hair on my neck stand up. It feels like a secret message to a group of lizard people or a 30 second ad equivalent to the Denver airport.
I saw Walton's mask yanked down 16 separate times this game and while, yes, I'm being petty, it's a pretty dumb look for the league to mandate this look if they also aren't enforcing it in some way.
HAPPY NEW YEAR
KINGS HERALD FAMILY!