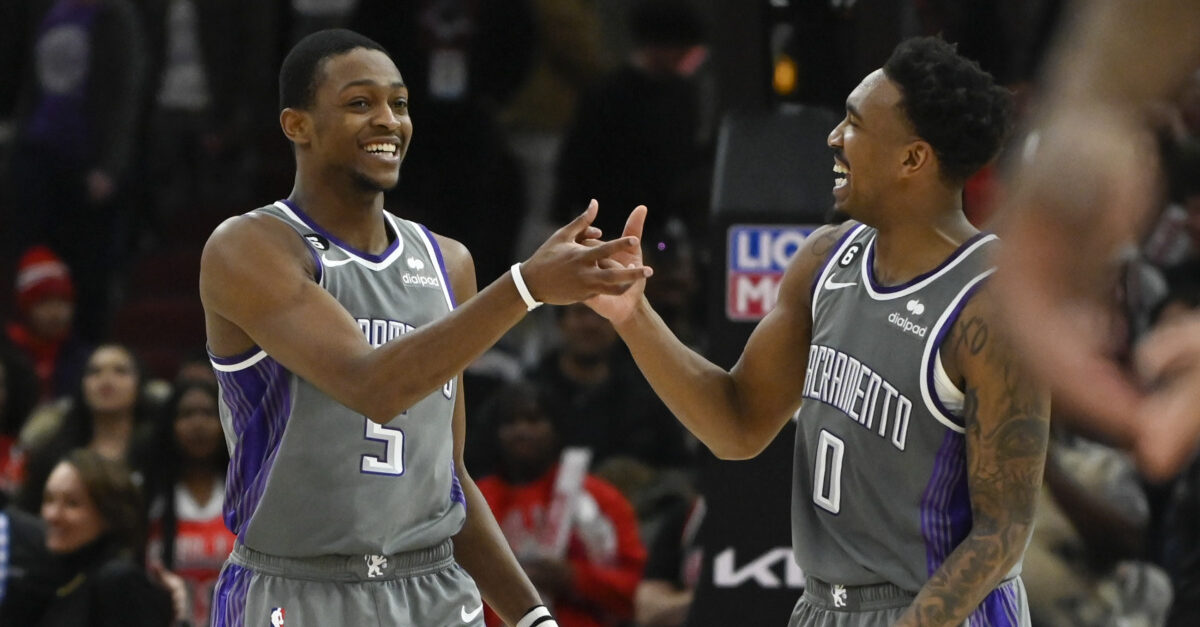 The Kings have embarked on their final long road trip of the season. The first stop of four: the Windy City. On the momentum of winning their last two, including a 21-point victory over the Denver Nuggets, the Chicago Bulls hosted the Kings with fresh legs, having not played since Saturday. Meanwhile, the Kings looked to bounce back from a physical fight they put up against the Milwaukee Bucks just two days ago. Let's see how they did:
Quick Stats
Outcome: Kings win, 117-114
Sacramento Kings: 117 pts, 48.7% fg, 42.9% 3 pt, 79.3% ft, 26 ast, 45 reb, 20 to
Chicago Bulls: 114 pts, 39.2% fg, 38.1% 3 pt, 88.0% ft, 28 ast, 48 reb, 15 to
It's the Cardiac Kings, baby. After a rough 1st half performance by the Kangz, the Kings decided to finally show up in the 3rd quarter, but not without putting on a dramatic ending. Leading by five points with 20 seconds remaining, I started to hear the distant echoes of "Light the Beam" chants from the Twitterverse. But missed free throws and an insane and-one 3-point make by DeMar DeRozan tied the game up with 12 seconds left. How did the Kings come out with the win? I'll give you three guesses, but you'll probably only need one: the Clutch King happened. In an eerily similar play to his game winner in Orlando earlier this season, De'Aaron Fox pulled up for a nothing but net 3-pointer to lift the Kings to a secured .500 on the season.
The Good, The Bad, & The Ugly
The Good
3rd Quarter Jets: The Kings trailed by 10 at the half after only scoring 48 points and committing 10 turnovers. It felt like the setting of a Kings' loss that would be racked up to a combination of fatigue, complacency, and just a general off night. But the difference with this Beam Team is that, even when they trailed by as many as 16 points, I still had a strong belief that they could easily turn things around and win this game. And after what I am assuming was a very passionate halftime speech from Mike Brown, they did just that. The 3rd quarter was their best of the night, outscoring the Bulls 37-22. The defense got turned up and the offense finally found its rhythm. The Kings shot 6-10 from deep and a perfect 11-11 from the line. It was this 3rd quarter effort that put the Kings in a position to be successful. Malik Monk found success in this offense, finishing with 19 points on 5-8 from deep.
Domas Triple Double: Because it's so consistent, it's easy to take for granted the production of Domantas Sabonis. But not tonight. Tonight we celebrate another triple double from our dominant big man. Sabonis finished with 14 points, 17 rebounds, and 10 assists. On offense, Sabonis helped Kevin Huerter find a handful of open looks on their lethal dribble hand off action, helping Huerter finish with 15 points on 4-7 from the 3-point line. His playmaking on the offensive end and defensive rebounding gave the Kings the push they needed to re-center and find their best play again.
Keegan on the Boards: Keegan Murray got to play in front of his father tonight and I'm sure he made him proud. Where he lacked in his offensive production tonight, he made up for in his defensive rebounding. Murray just missed a double double with nine points and 10 rebounds. It's great to see him continue to rise up to the challenge of getting physical and being more than an offensive threat.
The Bad
Dull Start: The 1st half was rough. The Kings looked like a completely different team. Their defense resembled that of a slice of Swiss cheese, filled with holes and open pockets that the Bulls took advantage of. DeMar DeRozan enjoyed finding open spots in the midrange and scored 17 of his 33 points in the 1st half, while Nikola Vucevic enjoyed more open shots and scored 11 of his 20 points. Sacramento's offense was especially worrisome, as it lacked all the movement and quick decision making that we are used to seeing. There was a lot of one on one actions, pull up 3-pointers, and one and done possessions. During their rough stretches, Harrison Barnes kept them afloat with his extra efforts to get to the line. Barnes finished with 17 points on 9-10 from the stripe.
The Ugly
Turnovers: The Kings committed 20 turnovers tonight, all evenly distributed throughout the four quarters. Early on, they stood out as especially egregious since many of them occurred on the Bulls' offensive half - on an outlet pass or an inbound on a made basket. A handful of them were from poor decision making, where guards would get caught in the air and make a panic pass into the stands or into the hands of a Chicago player. Others included telegraphed lateral passes that the Bulls easily read and intercepted for layups. So, to sum it up, the Kings committed just about every type of turnover possible, and it was ugly to watch.
The King of Kings
It couldn't be anyone else. I knew in my bones that De'Aaron Fox was going to win this game when he had the ball in his hands with 12 seconds remaining. I wasn't sure exactly how - he could have gotten all the way to the rim to finish or possibly get fouled, he could have blown by and pumped the brakes for a pull up middy, or he could have done exactly what he did tonight, which was pull up for a 3-pointer, just to make the win a little bit more dramatic. No matter how he chose to do it, I knew he was going to do it. That's how good he is. Scoring 15 of his 32 points in the 4th quarter, Fox added yet another tally on his candidacy for Clutch Player of the Year.
Up Next
Thursday, March 16th @ Brooklyn Nets - 4:30 P.M. (PT)