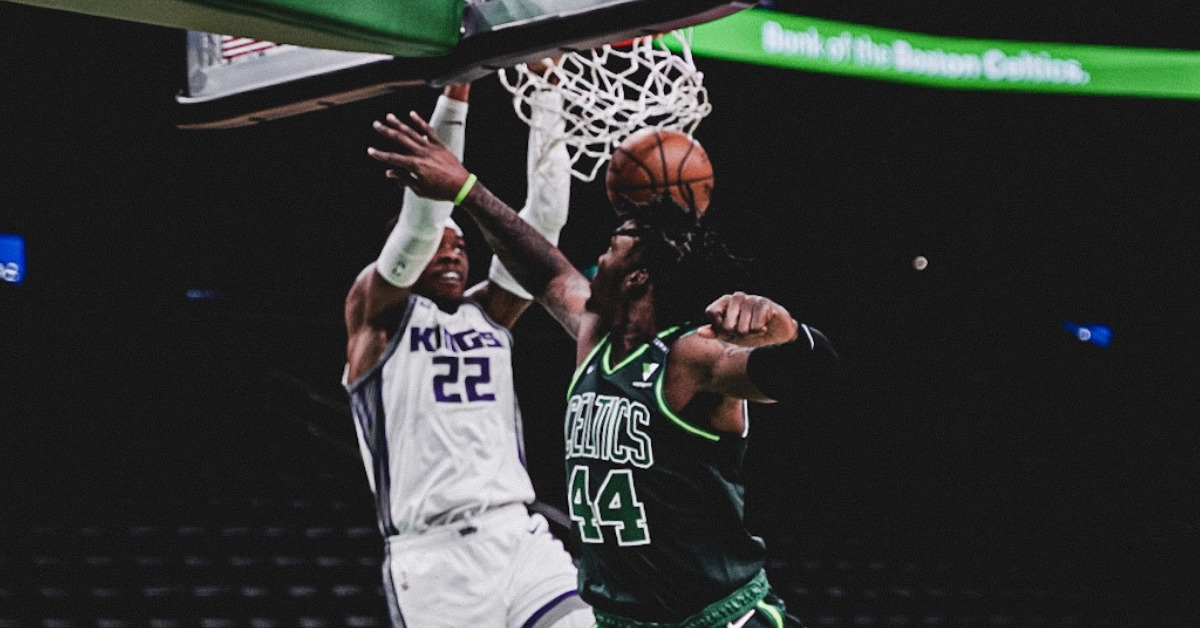 Happy Friday, Kings fans! I hope you all had a productive week and weren't completely WRECKED by the time change like I was. I know, I know, it's just an hour. But as you already know, I'm dramatic as hell, so I'm going to complain about it until Greg threatens to fire me. Speaking of job insecurity, let's see how Luke Walton and the Kings did tonight:
Quick Stats
Outcome: Kings win, 107-96
Sacramento Kings: 107 PTS, 45.7% FG, 40.0% 3 PT, 80.8% FT, 22 AST, 14 TO
Boston Celtics: 96 PTS, 42.9% FG, 38.7% 3 PT, 85.7% FT, 22 AST, 14 TO
What started out as a re-run of the classic Kangz story (Kings gain double-digit lead, Kings lose double-digit lead, Cardiac Kings emerge, Kings lose, and scene) eventually developed into a huge plot twist as the Kings held the Celtics to just 15 points in the fourth quarter and WON.
The Good, The Bad, & Hassan Whiteside
The Good:
Defense, maybe?: The Kings held the Celtics to just 22 points in the first quarter and 23 points in the second for a total of 45 points in the first half. For some context, the Kings allow an average of 61.8 points in their first half battles, so this is obviously a huge improvement. Some of this discrepancy can be attributed to Boston's scoring struggles - they embodied their own version of the Kangz and looked a lot like the Kelticz for a good stretch there. A lot of missed easy buckets, paired with the slow pace they're used to playing at (24th in the league), kept Boston from gaining any substantial traction in the first half. But we can also give the Kings some credit here as well. Team defense and some individual overtime by Richaun Holmes and Tyrese Haliburton kept the Kings active and honest. The Celtics shot only four free throws in the first half and shot just 5-14 from the 3-point line.
Fourth Quarter Fox & Richaun Holmes Blocks: Not only is this my favorite combination of Kings basketball, but it has a rhyming ring to it that makes my shoulders get busy. Right on time, De'Aaron Fox found his extra gear and came in clutch in the fourth quarter where he scored 10 points. Tonight's performance included an and one jumper from the same spot as his game-winner from Wednesday night to give the Kings a 10-point lead with a little over a minute remaining. Prior to this huge play, Richaun Holmes added to the fun with back-to-back blocks on the two Jays. Both Jaylen Brown and Jayson Tatum were rejected in their efforts to be tonight's hero as Richaun emphatically donned the cape for his team.
The Bad:
Adjustment Response: Celtics' coach Brad Stevens is one of the best brains in the business, well known for his in-game recognition and adjustments. Tonight was no different as the Celtics used the third quarter to turn the Kings' 10-point advantage to just a 1-point lead and later took their first lead with 7:30 left in the fourth quarter. Immediately out of the halftime break, the Celtics looked to play bully ball through their bigger guards with Jaylen Brown and Marcus Smart. After getting some easy looks inside, the Celtics then took advantage of the extra space to nail down 5 3-pointers in the third quarter. The Kings' response to these punches was to say, "ow, that hurt" and spend the third quarter on their heels as the Celtics kept chipping away at their hard-earned lead. Instead of finding a way back to what got them their lead in the first place - fast pace, transition scoring, and tough defense - the Kings fell into the Celtics' trap of a slower game and ultimately gave up their lead for it.
The Ugly:
Hassan Whiteside: In his just 15 minutes tonight, it appeared that Hassan Whiteside was adamant about breaking Wilt Chamberlain's scoring record, as he looked to score the basketball every time he touched it. Going 3-10 from the field and adding in some super slow motion movement on defense, Hassan looked disconnected from what the rest of the team was trying to do.
The King of Kings
We know De'Aaron Fox & Richaun Holmes could both easily be crowned as tonight's King of Kings. But because that race is too tight, I've decided to give tonight's crown to Justin James. As Justin is still getting used to the pace and strength of the NBA, we see him have moments of doubt and hesitance. So it was great to see him have a big HAMMER tonight to give his confidence a boost and hopefully give him some more productive minutes in the future.
Up Next
Saturday, March 20th @ Philadelphia 76ers - 5:00 P.M. (PT)