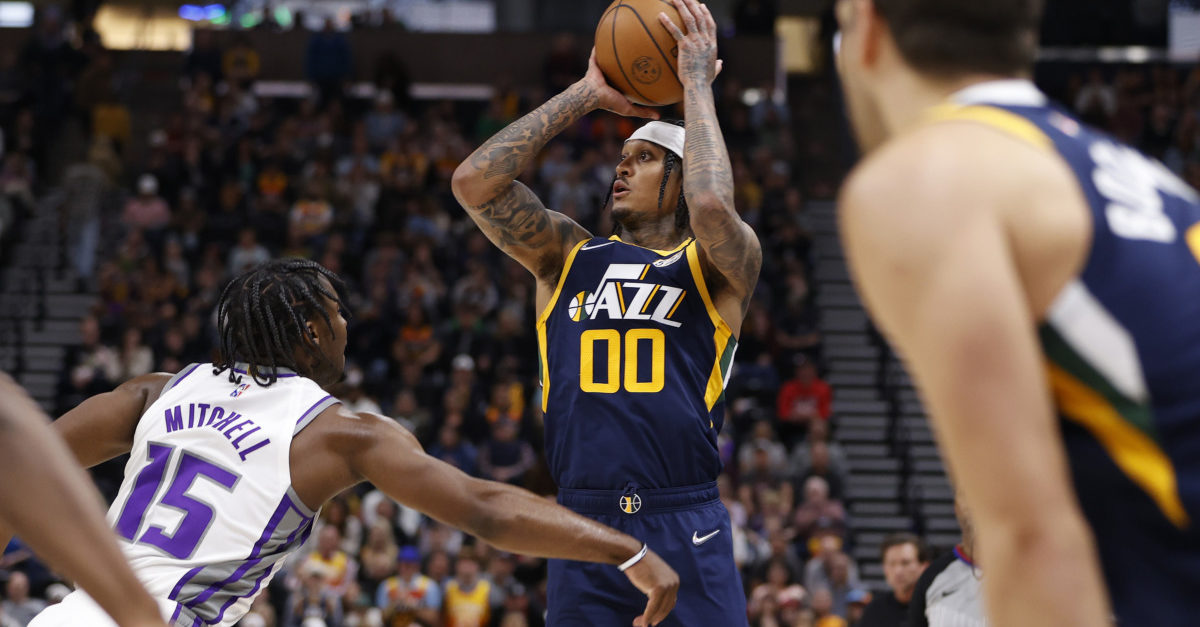 The Kings entered this lovely Saturday night on a three loss streak after: 1) giving up a 19-point lead to Dallas, 2) giving up a 20-point lead to New York, and 3) fighting back from an 18-point deficit only to still fall to Denver. So, yeah, it's been a long week. But don't worry, things only get harder from here because the Kings had to face the 4-seeded Utah Jazz tonight. Luckily, we're in the home stretch here where expectations have reached an all-season low. Effort? Well, of course. Chemistry? Always preferred, but we're also used to not seeing it. Defense? I mean, if you even can, we'll take it. Winning? Eh, actually, it would probably be better if you didn't. Exciting stuff, right? Now that I've got you amped up and on the edge of your seat, let's see how they did:
Quick Stats
Outcome: Kings lose, 134-125
Sacramento Kings: 125 pts, 50.0% fg, 39.4% 3 pt, 85.7% ft, 27 ast, 33 reb, 10 to
Utah Jazz: 134 pts, 55.8% fg, 39.0% 3 pt, 71.0% ft, 21 ast, 44 reb, 7 to
The effort was acceptable, the chemistry showed up in spurts, the defense was nowhere to be found, and the Kings got another loss closer to the Indiana Pacers in the lottery odds. So, overall, what was expected. Another incredible performance from De'Aaron Fox, bested only by an equally spectacular showing from Jordan Clarkson at least made this a fun game to watch.
The Good, The Bad, & The Ugly
The Good
Fox Unlocked: De'Aaron Fox came out on a mission, scoring 20 points in the first quarter on 4-5 from the 3-point line. This early production unlocked more space and lanes for the Kings' offense to utilize. With the defense reacting to Fox's heater and focusing on him with the ball, he was able to find teammates in open space as he also totaled 11 assists. Fox's early distance shooting also enhanced his own game, as he was then able to use the extra ball pressure to his advantage by turning on his speed to get to the rim. The Kings were able to put together a 42-point first quarter due to Fox's scoring ability and its ripple effects into the rest of the offense.
The Bad
Fox Dependency: De'Aaron Fox made it clear early on that he meant business tonight but, unfortunately, it wasn't contagious. As soon as Fox got his first three minutes of rest in the second quarter, the Kings struggled to score without him, and the five-point advantage they had built in the first quarter was quickly erased by the Jazz. After trailing by double digits for most of the second half, the Kings did a better job in finding rhythm without Fox, led by Chimezie Metu's efforts on both ends of the floor. Metu provided a spark off the bench that brought the Kings back within five points for a fourth quarter run, as he finished with 12 points and five rebounds, but it just came a little too late. The Kings needed more help, more often throughout the game to give them a chance down the stretch against this seasoned playoff team.
The Ugly
Defense: Even after putting together a spectacular 42-point quarter to start, the Kings still managed to only lead by a few points as they allowed the Jazz to score 37 of their own. It was apparent from the jump that defense wasn't really going to be a priority tonight. This game had big 24 Hour Fitness vibes. The defensive intensity was low, which led to the overall pace of the game being slower than usual, and it was mostly a back and forth spectacle between De'Aaron Fox and Jordan Clarkson. Off the bench, Clarkson finished with 45 points on 15-21 from the field and seven made 3-pointers. Clarkson made a lot of tough shots, no matter who the Kings put on him, but the Kings also didn't show any double coverage or extra efforts to get the ball out of his hands.
The King of Kings
De'Aaron Fox finished with 41 points, 11 assists, and five made 3-pointers. There were also a handful of beautiful passes he made on deep drives to open shooters that weren't converted, so I'm convinced that this could have easily been a 15 assists night for him. Please, don't take this man for granted.
Operation: M.C.N.A.I.R. Watch
Tonight's chosen charity is Department of Sound, a Sacramento non-profit organization that empowers youth through music and podcasting education. Donate here and be sure to notify Will via Twitter (@WillofThaPeople) or e-mail ([email protected]) so he can continue to keep track of donation totals.
Up Next
Monday, March 14th vs. Chicago Bulls - 7:00 P.M. (PT)