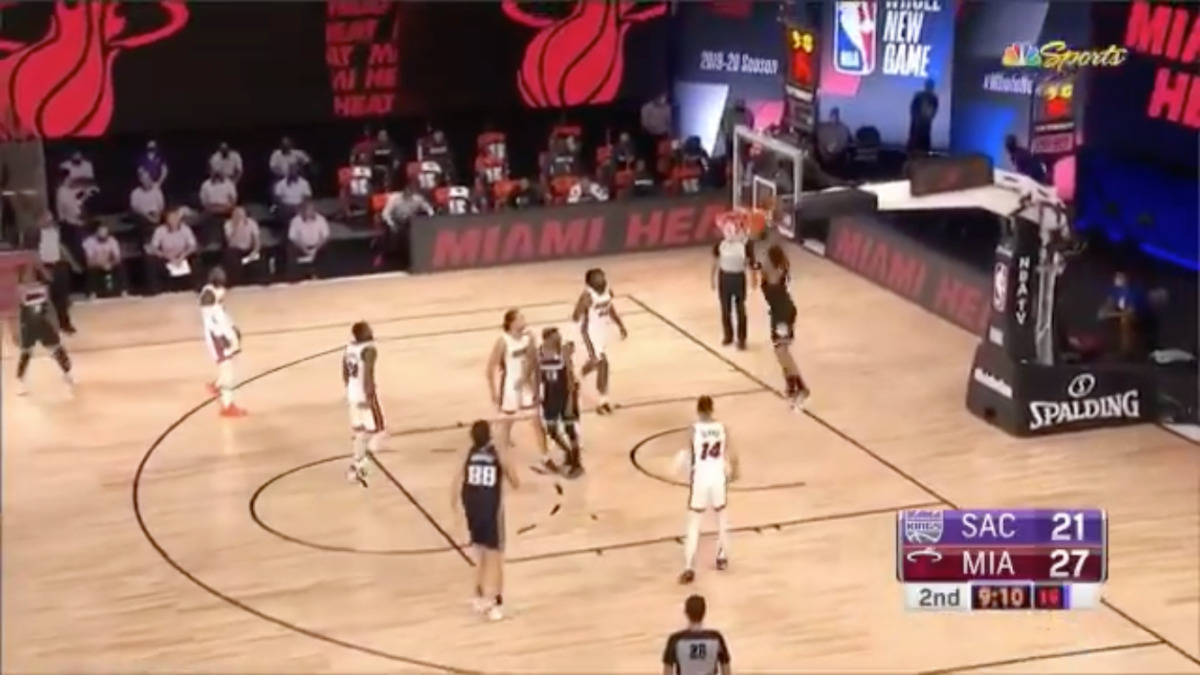 Sacramento Kings basketball returned today after months off due to the coronavirus pandemic. The Kings faced the Miami Heat today in the first of three scrimmage games the team will play before the season officially resumes.
The game felt like a preseason match from opening tip-off. There were multiple miscommunications on both ends, open shooters on defense and lack of off-ball movement on offense among other things.
As the game progressed, the Kings got promising minutes from DaQuan Jeffries and the fourth quarter saw rookies Kyle Guy and Justin James get playing time.
You can't take too much away from the first scrimmage game in four months while missing four key players, but let's go into what we saw from today.
First Quarter:
Miami led 21-8 with three minutes to go. All of Miami's points came off open three point looks with Duncan Robinson on fire.
Kent Bazemore brought much-needed intensity on defense and made some deflections. Bazemore would also hit the Kings first three of the game.
Corey Brewer made his return to the court getting minutes at the four with Bjelica as the five. Brewer knocked down a corner three on his first attempt.
Defensive coverage improved towards the end of the quarter, which allowed the Kings to cut into the lead to only trail 27-21.
Second Quarter:
DaQuan Jeffries threw down a big one-handed lob on pass from Yogi Ferrell. On the next play, Jeffries got open in the right corner for a three.
The Kings went to a 2-3 zone on defense to make it harder for Miami to find openings and it was working.
Buddy Hield still struggled with the simple passes. He needs to pass it stronger rather than having lazy releases. Hield couldn't buy a bucket either until a minute left in the second quarter when he drilled a three.
Harry Giles saw two high post opportunities and he attempted a shot on one of them when nobody moved off-ball. It went in-and-out but that's something we need to see more of from him.
Miami extended their lead to 49-36 again. The Kings allowed easy points in the paint and couldn't get any good looks of their own.
Sacramento trailed 56-44 at halftime, with Jeffries and Bjelica leading the way with seven points each. Without De'Aaron Fox, Harrison Barnes, Alex Len and Richaun Holmes, that first half could've been much worse.
Third Quarter:
The Kings stepped out of bounds too often. They're going to need to have better court awareness moving forward as they adjust to the wide sidelines.
Bazemore continued to look good, finding his spots on offense and playing with aggression on defense. He wasn't giving any Miami players anything easy.
Cory Joseph penetrated the defense to get into the paint multiple times. Sometimes he'd make good reads once an opportunity came but sometimes nothing would be there and he'd keep dribbling.
Hield made three straight baskets towards the end of the quarter that took him to 14 points and cut the lead to three. That's the Hield the Kings were missing in the first half.
Fourth Quarter:
So, uh, Jeffries huh? He can definitely carve out more minutes for himself if he keeps this up.
Hield continued on his end-of-third-quarter form to bring the Kings closer into this game. He had 19 points on 8/16 shooting with six minutes left in the quarter.
Kyle Guy and Justin James made their scrimmage debuts. I'd like to see if James can show some wing versatility if Barnes is unavailable for longer. Guy would later knock down a pull-up three while off-balance.
The Kings were scoring, but failed to stop the Heat from doing the same. Jabari Parker wasn't providing much rim protection either.
***
Its tough to take much away from a scrimmage when the team was missing most of its best players, but it was fun to see Kings players in action again.