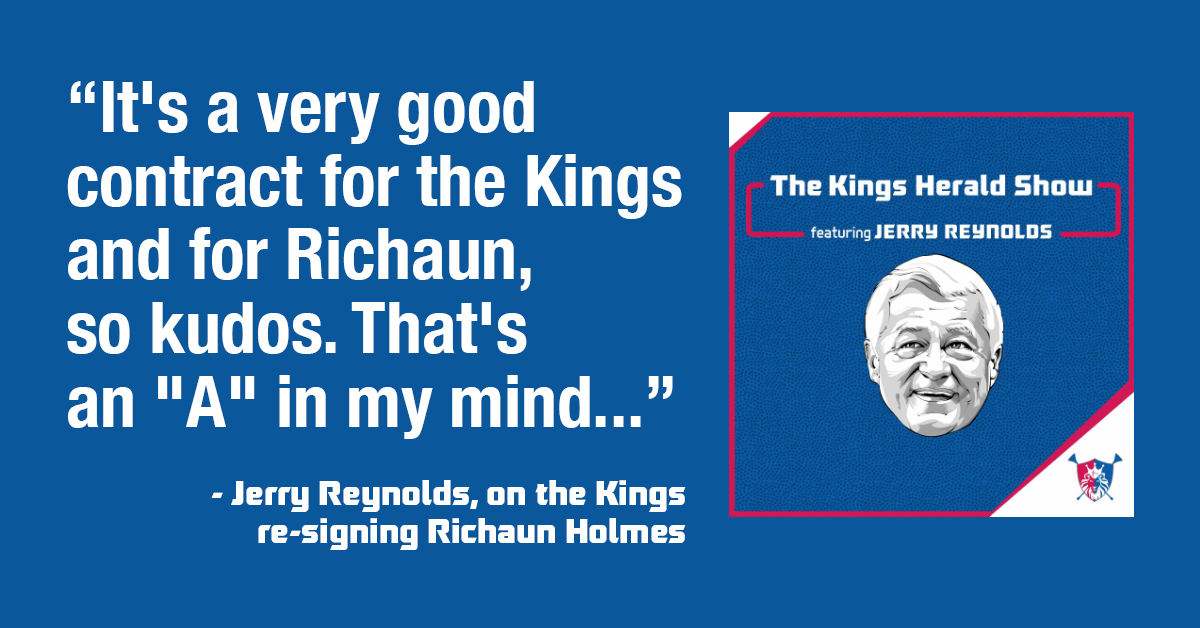 The Kings Herald Show is back for another episode, and the old basketball team in Sacramento gave Jerry Reynolds, Will Griffith, and Tony Xypteras plenty to talk about this week. We've got the NBA Draft, free agency, trades, summer league, and more coming up on the pod, and you can check it out in your browser by clicking the play button below, or find it wherever you listen to podcasts.
Timestamps:
(1:08) On Davion Mitchell and the 2021 NBA Draft.
(9:05) On Neemias Queta and where he fits on the Kings.
(21:55) Richaun Holmes re-signs with the Kings.
(24:05) Breaking down the Tristan Thompson trade.
(35:30) Moe Harkless, Terence Davis, and Alex Len return to Sacramento.
(39:00) Will Buddy Hield and Marvin Bagley be traded before the season starts?
(47:22) Pascal Siakam vs. Ben Simmons, who you got?
(106:40) Breaking down the California Classic.
You can find The Kings Herald Show wherever you listen to podcasts, but if we're missing a platform of your choosing, leave us a note in the comments and we'll get to work. If you can subscribe, rate, and review the podcast on any and all platforms, that would be greatly appreciated, too. It's the easiest way you can support the show!
Apple.
Spotify.
Google.
Stitcher.
In addition to our bi-weekly podcast with Jerry Reynolds, we also record a Patreon exclusive Q+A once a month where Patrons at any level can Ask Jerry Anything. We recorded our Patreon Q+A for July on the draft with Bryant and Brenden from Kings Pulse, and you can find that here.
You can submit questions for Jerry on Patreon, or write your questions in the comments below this post! Or you can just yell questions to Tony or Will on Twitter.
And finally, you can sign up for our Patreon here.
Thanks for listening!