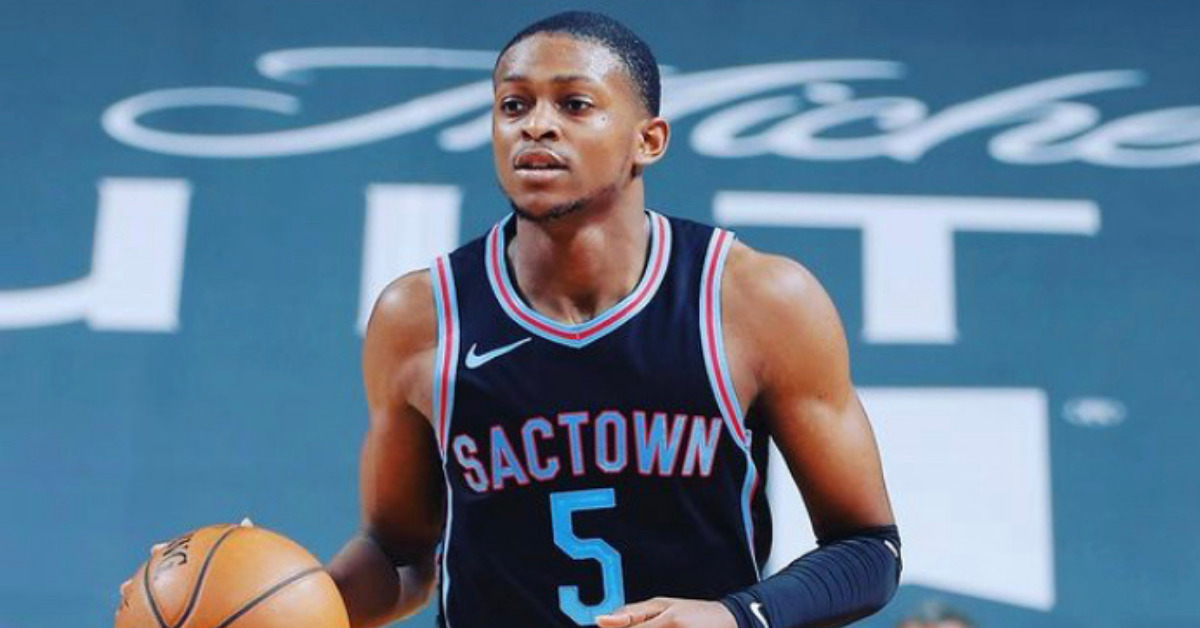 Confidence can be hard to come by, but if a team is willing to value you at $163 million, I'd bet that makes it easier to find.
There is a lack of pressure on Sacramento's franchise point guard this season. He has secured the bag and can now turn his focus to unlocking all aspects of his game to reach the most ideal version of himself as a player. While there likely is an internal drive to make the playoffs this season, most of the outside world understands that is an unrealistic expectation for the current Kings' roster.
The freedom that the former 5th overall pick displays on the floor night in and night out is apparent, as is the work that he continues to put in every offseason to continuously expand his game. Confidence is taking nine threes in a game despite shooting under 30 percent from distance the season prior.
Everyone on the floor, including Fox himself, knows that the fastest player in the association can blow by his matchup at any given moment. Developments in creativity and patience have resulted in Sacramento's franchise point guard manipulating defenses with his eyes and newfound fakes, putting pressure on the officials to capitalize on contact, and still maintaining the ability to get downhill whenever he so pleases.
The modern NBA is played from the outside in, and there have been concerns throughout De'Aaron Fox's career about his ceiling if he never develops into a threat from beyond the arc.
Some players are able to get by with subpar percentages as long as the volume is substantial (I will forever refer to this as the Jae Crowder effect, as throughout the last three seasons Crowder has shot 33 percent from three on 6.4 attempts per showing but garners respect). Creating gravity and earning respect from opposing defenses to keep them honest therefore opens up the floor for both Fox and his teammates. Without a decent jumper, defenders can negate Fox's speed to an extent by sagging off of him, which allows them more time to react to his movements coming downhill.
Every season so far, the opposition's gameplan has been to go under screens with Fox. The Kentucky product surely had recognized this before but seemed hesitant to let it fly and take the shots that defenses were serving him on a silver platter - a pull-up jumper from beyond the arc.
That no longer seems to be the case.
No matter, this is still the ideal defense to play against the fastest player in the league, and it likely will remain that way for the entirety of his career. He is not currently hitting these off-the-dribble threes at a good rate, just 27.5 percent, but the willingness to take them regularly is the first step.
He is confident in that shot, likely from countless hours and attempts in various gyms that the public will never witness - maybe with some influence from Rico Hines. The form seems more effortless this season, yet it is difficult to pinpoint any exact variation from years prior. Perhaps an increase in strength, more utilization of his legs, or a modification to his shooting elbow or guide hand.
The one apparent difference is the confidence he has in himself to make that shot. Throughout his entire career, there had not been one month where Fox managed more than 48 attempts. With two games still to be played in January (which lacks two postponed games) Fox has attempted 52 threes and converted at a promising 36.5 percent rate.
Specifically, after the Indiana game, there seems to be an emphasis on letting those shots fly. In the first 10 games of the 2020-21 season, he attempted 3.2 threes per game (28.1 percent) - including six games of three or fewer attempts. In the latter seven showings, he has surpassed three attempts from deep in all but one game and rounds out to six attempts on 40.5 percent.
Per NBA stats, Fox attempted 101 pull-up threes last season and already has shot 51 this season - on pace for 216 in this shortened 72 game campaign. That would blow his previous season-high of 142 (in 2018-19 over 81 games) out of the water. I'd call that progress.
In Fox's first three seasons' in the NBA, there were only six total instances where he attempted seven or more shots from range. After just 17 games this year, he already has five cases that meet the mark. Confident and comfortable.
52.2 percent on 23 total catch-and-shoot threes this season is also going to be a very useful skill when Tyrese Haliburton and (fingers crossed) Cade Cunningham are both setting him up for the next decade-plus.
Fox also has begun to create shots with new methods and what seem to be recent additions to his bag of tricks.
The left-footed step-back on a dime is a new favorite of De'Aaron Fox and with the threat of his speed, opponents are constantly on their heels. A move that allows him to create space against some of the best defenders in the league at any moment.
Again, the conversion rate will need to come around - just 27 percent from three and 40 percent from inside the arc on these step-backs - but the space creation and willingness is a step(back) in the right direction.
As evident in the above clips, there is just a calmness to the way that Fox goes about his business this year. You always hear players talk about how the game has slowed down for them with experience, and it appears there may have been another level to that going into this season.
I struggled to find a moment that shows De'Aaron rushed by pressure. Instances where ball hounds are in his grill and attempting to fluster him seem to have little impact compared to years prior and this is likely due to a notably improved handle.
In the final clip, a crisp left to right cross leaves Mitchell Robinson in the dust as Fox slams home the dagger against the New York Knicks. Notice how low the ball stays throughout the entire possession, which enables the quick change of direction while splitting the defense.
The handle has been paired with a decisiveness that limits unneeded movements by thinking two steps ahead. Often, you see uber-athletic players rely on their physical advantages and get ahead of themselves, not having the handle or game understanding to properly utilize those talents. With time, the best of the best are able to pick their moments to use that athleticism but only play that card when needed, primarily holding it as an everlasting threat.
In the clip below, Eric Bledsoe wants to deny De'Aaron from getting to his strong hand, but Fox is now plenty comfortable attacking with his right and kicks off the best game of his career (43 points and 13 assists) by teaching Bledsoe that he is going to have to be more reactionary rather than predictive. Smooth bucket as he slithers his way through two ginormous humans with perplexing ease.
Don't blink or you'll miss this next move. Again, the defense is looking to deny the ball from the middle of the floor, and Fox slows to a walk before exploding into a right-left cross, teases rookie Haliburton with one of his own fakes, then maintains the presence of mind to float it high over one of the best rim protectors in the entire league.
At some point, oppositions will realize that Fox has no trouble going right this season but Jamal Murray was far from aware in one of the first games Sacramento played. The second he catches the ball, Fox knows that a hard jab left will crush Murray and he transitions that to an and-one finish at the rim in a blur. Another instance of attacking with his right hand.
The newfound creativeness, comfort attacking with his right, a widened arsenal of moves, and the confidence that comes with being a max player on a franchise that currently has little pressure to perform has allowed Fox to expand his game and this freedom will be crucial in reaching his apex.
As mentioned, the creation is awesome to see, but the conversion rate will need to see steady improvements as the reps continue.
The absurd foul drawing, promising playmaking, and finishing at the rim were glossed over in this because Fox has done that for a year plus at this point. Widening his arsenal drastically decreases his predictability and allows more opportunity to resort back to his aforementioned comfort zones.
Sure, there are undeniable lapses in engagement on the defensive side of the ball, but I place little stock in those currently as everyone on the roster has been guilty at various moments. I will reserve judgment on his defensive capabilities until he is surrounded by talent that doesn't result in one of the worst defenses the NBA has ever seen.
For now, confidence, creativity, calmness, and likely countless hours in the gym have been crucial as we continue to witness De'Aaron Fox's rise to one of the best young guards in the association.