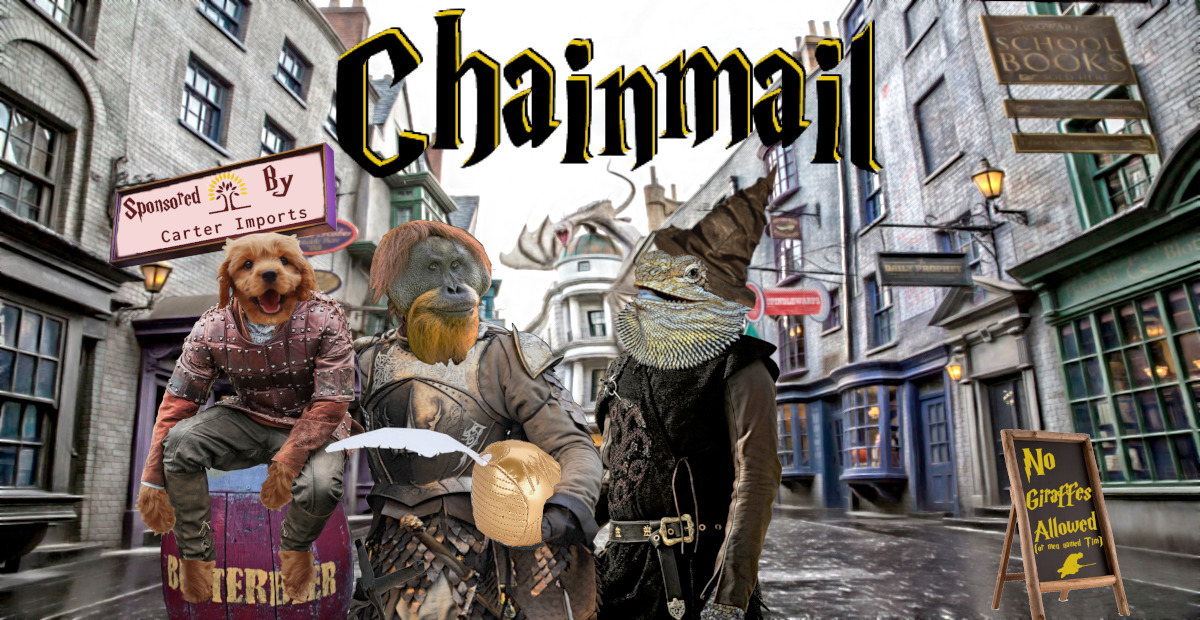 Welcome back to Chainmail! Thank you everyone for all of your wonderful questions. Richard, Sanjesh and I got to talk about our thoughts on Buddy Hield trades, what kind of coaching candidate to look for, and just where the hell we see these Kings in four years! Tim's gone so I'm allowed to say hell in the intro!
Before we get into your questions, we do want to thank our sponsor for the mailbag, Carter Imports! Carter Imports is a Sacramento-based company that imports some of the very best Extra Virgin Olive Oil and Cretan Thyme Honey available in the world today. There has never been a better time to support one of our own than right now!
From AirmaxPG:
How are the Kings going to get their #1 star on their next contending team? Will this team ever contend for titles?
Richard: To start, I think it's unlikely that De'Aaron Fox will be the best player on the next championship contending Kings team. We know this core isn't making a finals appearance or even a conference finals appearance. By the time the team could make that jump, I think the Barnes/Bogi/Buddy combo will be well into their thirties. The team will have to look very different, and I'm not sure Fox survives all the turnover. If I had to bet, I'd say the Kings get the star player of their next contending team in the draft, some time between 2021 and 2025.
Sanjesh: The best bet right now for Sacramento is hoping De'Aaron Fox takes another leap to become the solidified #1 player, which he technically already is. We don't know what Fox will be like at his best, because I doubt we've seen him hit that point. Now you're going to need a better coach to pull the best out of Fox, but that's for a different conversation. This team needs to prove they can make the playoffs first before we talk about contending for a title; this current roster isn't enough to make the playoffs in the Western Conference. 
Will: The Kings have two viable ways of getting a star to compliment De'Aaron Fox: trade for a disgruntled, injury prone or expensive star from another franchise or find one in the draft. I'd split the odds right down the middle on where the Kings are going to find the main man of their next contending team, but my guts say it will be someone the Kings nab in the draft. The Kings feel like they've hired a General Manager with common sense and anyone with common sense knows that Sacramento might take a few years to get back into the playoff hunt. Knowing that means keeping team salary lower, so that flexibility could be used in potential trades and the best way to keep that salary cap low is play lots of young, inexpensive talent. I wouldn't be surprised to see the Kings in a Top-3 draft spot next season and with next season's NBA draft shaping up to be rather deep in star potential, our FIRST shot at seeing the Kings grab a #1 guy might be right there around the corner.
As for whether or not this team ever contends? Assuming the world doesn't fall in on itself I could squint my eyes hard enough to see the Kings being contenders in the back half of this decade. That's assuming alot though and as someone who is known to doomscroll social media as a hobby, the Kings best hopes for a championship might be behind us... permanently.
From Malrock:
Likelihood of Buddy getting traded before the end of next season? Give me a %. For instance are you 75% confident he is gone next year?
Richard: 99%. I think Buddy has done everything he possibly can to ask for a trade without actually doing it and risking the fine. The 1% represents the chance that the Kings can't find anyone that wants him on his current salary. The deal wouldn't have been nearly as disastrous before COVID, but if the salary cap stays steady or even drops, that's a very rich price.
Sanjesh: Right now, I'm at about 90%. I didn't like seeing Buddy like and comment on the Instagram trade post about him going to Philadelphia. If he's going to be doing that, trade him. I don't know if McNair has held talks with Buddy to determine his future, but McNair surely values a guy like Buddy extremely high and rightfully so. We know how good Buddy is when he's in a system he can benefit from; last year exposed him in almost every single way. But if Buddy wants out, he'll be coveted by multiple teams. And I'm sure McNair won't sell low. 
Will: I'm at about 65% with Buddy being traded before All-Star Break of next season. I mentioned last week that I felt the chances of him being gone before next season are very low, with the greatest likelihood being that he is traded at the deadline and, I'm standing by that. With so much in flux for a new GM, it would be nearly impossible to expect him to get a good return for Hield in the next three or so months but waiting for a rise in value over the start of the season betters those odds for McNair. It's clear that changes need to be made but with a new GM, there's going to have to be a modicum of patience as he evaluates and determines just where those changes need to be made. It's equally likely that Walton-Hield pairing doesn't work and McNair fires Walton and then empowers his interim coach to feed Buddy in the back half of the season. Now, whether or not that's a good thing for the Kings? I can't say. It'll certain placate Buddy for a time. 
From Peja:
What is the timetable for Monte to fill out his front office staff? Around how many people will be hired and what should we expect to see as their job duties. Is Ken the #2 or is Monte looking for another person to fill that role?
Richard: I think it's pretty fluid right now. The key dates of the offseason continue to shift. They will probably add more staff to make their primary moves in the draft and free agency, but your guess is as good as mine as far as a specific timeline.
Sanjesh: This question largely depends on the financial status of Sacramento. With the amount of layoffs and furloughs we've seen since the pandemic, it's not looking great. Ideally, McNair has assembled some sort of a crew before the draft, but I don't know the budget that McNair is operating with. Ken should hold a significant role with the Kings because he's saved them tons of money and McNair was right to retain him. Ken's ability to produce good contracts is extremely beneficial during these unprecedented times. 
Will: I would assume there will be at least a couple more hirings before the season or during the first month or so of the regular season. McNair and Catanella could probably handle the free agency period themselves and maybe even the draft, but with the Kings letting go pretty much everyone in Stockton, I'd assume one position is a dual role Vice President of Player Development / GM of Stockton Kings and another in the field of analytics or a more umbrella basketball operations position. This staff will take a few years to grow into a full formed one with the pandemic still on-going and with G-League teams going through the uncertainty of next season and so I'd expect a slow trickle of staff to be hired even through the next off-season or two.
From TheBufferZone:
What is the best thing to do with this year's 2nd round picks? Keep them to stockpile young (hopeful dart throws) talent? Or trade them to either move up in the draft or in acquiring a young veteran?
Richard: I think there is a real roster crunch right now. The Kings have 8 guaranteed contracts plus the non-guaranteed Bjelica and restricted free agents Bogdanovic and Jeffries. They'll probably bring back at least one unrestricted free agent and acquire at least one more as well. I would be pretty shocked if the Kings used all four picks. It would make plenty of sense to trade picks 43 and 52 or use them for international stash players.
Sanjesh: If the Kings don't sell them because of financial reasons, then I think you keep all three and take good value picks. I don't expect McNair to reach for guys like Justin James or Vanja Marinkovic, but I'd like to see the picks be utilized efficiently. Names I've seen get ranked as second-round prospects are Des Bane, Malachi Flynn, Killian Tillie, Payton Pritchard and others that I'd take a shot with if not already selected. If McNair sees a guy he likes late in the first round that's available, he should package those picks and move up if possible. 
Will: I'd venture to guess at least one of those picks will either be used for a draft-and-stash or sold outright for cash. The best thing is always to keep your darts and acquire others if you feel confident. While this draft class isn't deep, it does seem to be fairly wide, with talent being projected from end of the lottery all the way to the second round depending on who does the evaluating. This first draft I'm just more curious to see the strategy that McNair uses. After so many seasons of Vlade, it was predictable that he would trade back for two picks, draft someone from the biggest schools in the country and or pick an unknown way, way too high. McNair is a blank slate and watching him work in free agency and the draft will be a real marker of how excited we should be about the Kings long term future.
From Kosta:
What do you imagine Joerger would have accomplished had he played out his contract here? Would the Kings have made the playoffs this past season with Joerger at the helm? Would Buddy have been playing better? Would Vlade still have his job?
Richard: Unfortunately, everything I've heard suggests Joerger was never going to work due to poor relationships with other members of team staff. It's a shame, because he is a quality coach. Still, he is not elite, so I don't think he would have brought this team to the playoffs or saved Vlade's job. Buddy didn't seem much happier with him either. He may just not be happy in Sacramento, period. The franchise doesn't look all that different if he stayed, in my opinion.
Sanjesh: I'm ready to move on from Joerger/Vlade/Luka talk. McNair is here now so let's see what he can do. 
From eurostep:
If Walton gets fired would the Kings be better served hiring a veteran coach that has built a team from the ground up (Alvin Gentry, Duane Casey, Nate McMillan) or hiring a top NBA assistant coach or a major college coach?
Richard: I would prefer to see someone get their first head coaching position in Sacramento. That route is probably cheaper too, which would clearly be a plus. Maybe McNair could catch lightning in a bottle with a young up-and-comer.
Sanjesh: I prefer the Kings to poach an assistant from a successful team, just as they did with the general manager search. I'm looking at someone like Wes Unseld Jr. from the Denver Nuggets or Becky Hammon from the San Antonio Spurs. We've seen what coaches like Gentry and Casey can do, but I'd like to try something new and fresh. 
From MiseryLovesCompany:
Looking into your magic 8-ball, Monty McNair will have the Kings in fours years: (a) perennial playoff contender; or (b) McNair fired from his job; or (c) status quo as a bottom dweller; or (d) get creative with your own mystery timeline.
Richard: I'm going with option C. It may sound harsh or even ridiculous to predict poor early results for McNair, but he is a Kings GM afterall. My concerns about the internal power structure will exist until the results change. It's not that I think the Kings will be bad in four years because of McNair, but just that they will be bad in four years because they are the Kings.
Sanjesh: Ask me this question when the season starts, as we'll have a better foundation to answer. I'd like to wait for any potential trades, signings and/or picks to be made by McNair before I judge his ability or inability to succeed in this significantly challenging position. Not because it's a GM role, but because Sacramento is the toughest place to succeed right now and McNair now has the GM role. 
Will: I don't usually find myself being the optimistic one here, but I think that McNair will get the Kings closer to Option A than any of the others. I'm not sure we'll be perennial playoff contenders quite yet, but I could definitely see the Kings as a ninth seed, with lots of young talent and a good head coach and earning their stripes as an up-and-coming young team. McNair didn't have to take this job and he's the most well respected GM since early 2000's Geoff Petrie already. He's forward thinking, well spoken without the weird vibe that Pete D'Allesandro sometimes put off and this time around the potential undoing by an advisor isn't by one that want's to be a head coach. I think he has a very good shot of slow-walking the Kings to a playoff berth or damn close by 2025.
From RikSmits:
Why are we still fans of this team?
Richard: Because I'm broken inside. There is some sick, twisted perversion in me that always roots for the most underdog of underdogs. The Patriots are playing the Chiefs this weekend (well, Monday now). Sounds like a good game, right? No thank you. Give me that Jags-Bengals game, baby.
Sanjesh: The Kings will be back in the playoffs one day. The Miami Marlins just broke its MLB playoff drought (17 years) and though I know the shortened season is a factor, Sacramento will inevitably be back, too. That likely won't happen this season, but one day it will. One. Day. And I can't wait for that moment. 
Will: This is always the corny, silly answer when it gets asked by it has never been disingenuous with me - I'm a fan of this team still because of you all. This is my gathering place, my Cheers bar and you all are very much the patrons I get to overhear talking. I read the comments and various articles and laugh along with the jokes or bad trade ideas etc. and I keep up with this team because I want to see what it's like when they're respectable and five years into a playoff run. I want to know how crazy our discussions get when we're favorites in the Western Conference. I want to see my friends happy and in the meantime, I'm happy to have people to commiserate with in this hellscape of a planet.