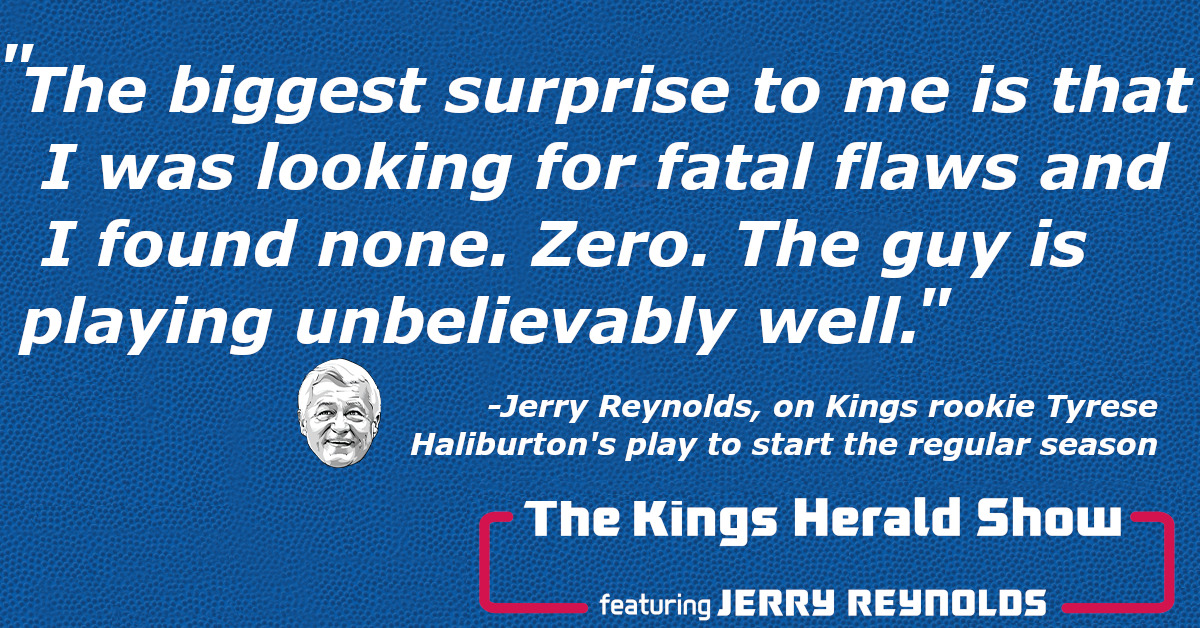 We're back with another episode of The Kings Herald Show, featuring Jerry Reynolds.
On the podcast this week, Jerry, Will, and Tony discuss the start of the 2020-21 NBA season including the emergence of Tyrese Haliburton, the struggles of Marvin Bagley, and the production of De'Aaron Fox coming off his max contract signing.
We also had Jerry answer a really good question about Game 6 of the 2002 Western Conference Finals from one of our Patrons. Jerry shared his experience that night, if he thought the game was fixed by the officials, and how he felt about the Kings' chances heading into Game 7.
Timestamps:
(1:45) What has been surprising about the start of the 2020-21 season for the Kings?
(4:20) A discussion on how the Kings are playing this season stylistically with low 3-point volume and a slow pace with emphasis on controlling the paint
(11:00) Jerry Reynold's insight on opening nights in Sacramento history, including the debut of LeBron James.
(19:30) Analysis on Tyrese Haliburton's first 5 games as an NBA player
(29:00) The positives and negatives on Marvin Bagley's start to the season, and how the Kings should handle his playing time.
(49:00) Is De'Aaron Fox playing like a max player yet?
(57:30) Patron question of the week regarding the infamous Game 6 of the 2002 Western Conference Finals
You can find The Kings Herald Show wherever you listen to podcasts, but if we're missing a platform of your choosing, leave us a note in the comments and we'll get to work. If you want to subscribe, rate, and review the podcast on any and all platforms, that would be greatly appreciated, too.
Apple.
Spotify.
Google.
Stitcher.
In addition to our bi-weekly podcast with Jerry Reynolds, we also record a Patreon exclusive Q+A once a month where Patrons at any level can Ask Jerry Anything. The 2nd Patreon Q+A with Jerry was posted last week. If you're a Patron, you can submit questions to us on Patreon, or post your questions for Jerry in the comments right here in this post. Lastly, you can sign up for our Patreon here.
As always, thanks for listening. See you back here in two weeks.