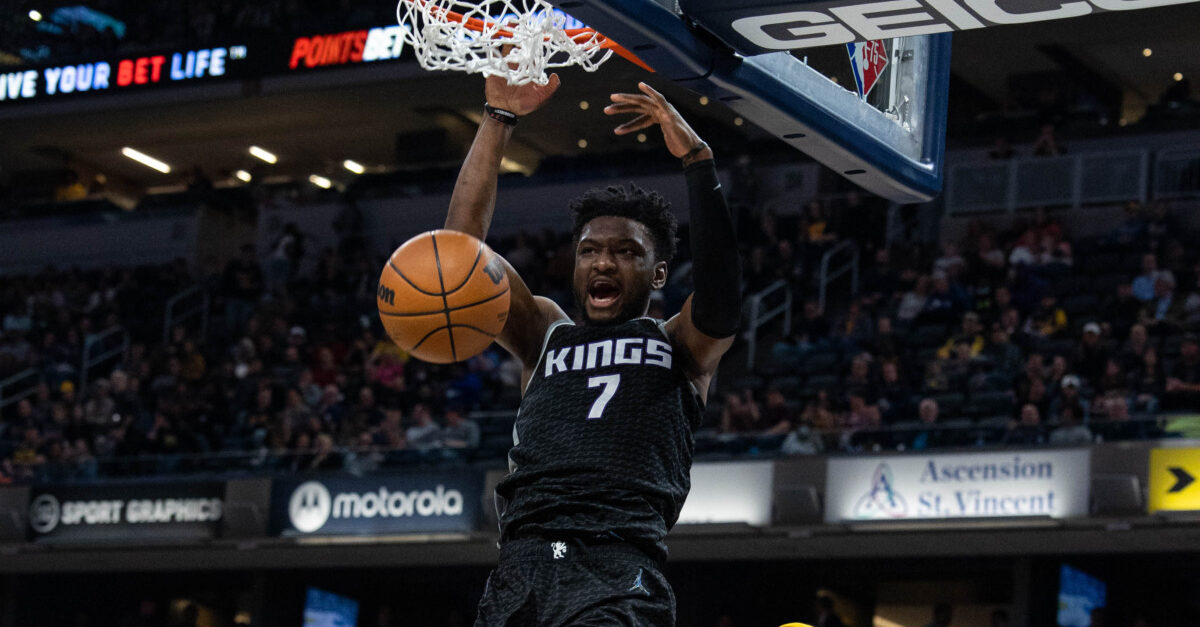 The Sacramento Kings spent far too long last season searching for an optimal solution at the starting power forward spot. Maurice Harkless had earned that label coming out of training camp, but Luke Walton decided a change was needed after just 13 games. In an attempt to minimize their rebounding struggles, the decision was made to insert Metu and re-evaluate after five games. Turns out that Luke Walton was simultaneously being re-evaluated which led to his firing and Alvin Gentry being promoted to the interim head coaching position immediately following Metu's fifth game as a starter.
Gentry clearly wasn't the biggest fan of Metu's performance throughout that stretch and elected to not play the Nigerian forward a single minute in Sacramento's next two games. Then he started another five games before sitting the next two. That was just the beginning of what would be a year-long journey of inconsistent playing time for Chimezie Metu, which seemed to frustrate him.
It's understandable why that would be the case, but there also wasn't anything substantial Metu was consistently bringing to the floor that made finding playing time for him a necessity. Their rebounding had improved, but their defense suffered, and there was not much brought from a spacing perspective either.
With former Nigerian National Team head coach Mike Brown at the helm heading into the 2022-23 NBA season, Chimzie Metu's role is uncertain but he will be playing for a familiar face – not to mention Jordi Fernandez and Luke Loucks, who were also on a Nigerian national team coaching staff that featured Metu, KZ Okpala, and Chima Moneke.
While his aforementioned coaches and teammates did not participate in Nigeria's five FIBA World Cup Qualifiers throughout the course of this summer, Metu functioned as the leading scorer of a team whose only other NBA talent was Josh Okogie.
Metu's pairing of height (6'9") and impressive athleticism and fluidity make for an intriguing hypothetical ceiling, and there were plenty of flashes to witness during his recent time with Nigeria.
Through five games, Metu averaged 16.8 points on 45 percent from the field and converted 31.4% of his seven three-point attempts per game. Elite efficiency is an often unreasonable ask from the leading scorer of any basketball team when burdened with creating their own looks more often than not.
The concern with Metu comes in the shot quality of his attempts. There is substantial value in being able to convert tough shots, but the most common path to efficiency is being able to create space and generate open looks which Metu was not able to consistently do with either Sacramento or Nigeria up to this point in 2022.
Relying on tough shot-making leads to the inconsistencies that plagued him last year. It's what causes him to follow up an 18-point first half (6/10 FG – 5/9 3P) against Cote d'Ivoire with a second half where his only offensive conversions were two free-throws in an eventual loss.
There are not many players in the NBA that make their living taking and making heavily contested jump shots and I'd imagine that's not what Mike Brown and Sacramento's recently revamped coaching staff are hoping to get out of Chimezie Metu in 2022-23.
Luckily for Metu, Domantas Sabonis could do wonders for idealizing his offensive strengths. Per Cleaning the Glass, Metu converted 68 percent of his attempts at the rim last year and 71 percent the year prior. His physical tools should allow for him to be a substantial threat as a cutter and Sabonis will surely reward any well-timed movements. Here are two examples from the first game that the two of them played together in royal purple.
Though, for that frontcourt pairing to be mutually beneficial, Metu will have to be a capable floor spacer which is an area of struggle. Metu converted 30.6 percent of his 3.1 three-point attempts with the Kings last season, and the numbers get even more ugly the deeper you dive into them. Of his 185 total attempts from beyond the arc, only seven of them came with a defender within four feet of him, per NBA.com. When the closest defender was at least six feet away from Metu, he only managed to convert triples at a 28.6 percent rate (34/119). Defenses were more than happy to help off the Nigerian forward and he struggled to punish them for doing so.
Spacing will undeniably be essential to fully optimize both De'Aaron Fox and Sabonis this coming season and it's tough to envision Chezimie Metu being given many opportunities if those numbers remain somewhat similar. Confidence played a major part in Metu's struggles there last season and a good start in that aspect could be all he needs to solidify himself as an average shooter in the NBA and therefore unlock his finishing ability when attacking closeouts.
Scoring is not the only upside that lies within Metu's game, however. He has shined as a rebounder, as Walton highlighted early last season, and there are moments of weakside rim protection as well.
It's consistency that once again remains an issue. For every promising block, there is at least one late rotation or blown coverage that leads to an easy two or trip to the line for the opposition.
At 25 years old and heading into his fifth NBA season, the time is ticking for Chemezie Metu to prove that he belongs in an NBA rotation. If he can prove to hit wide-open threes at a league-average level and be the best rim-protection on Sacramento's main roster (which is an admittedly very low bar), then it wouldn't be surprising to see the coaching staff look in his direction. It also wouldn't shock anyone if he was slated behind all of Trey Lyles and even KZ Okpala at the start of the regular season.