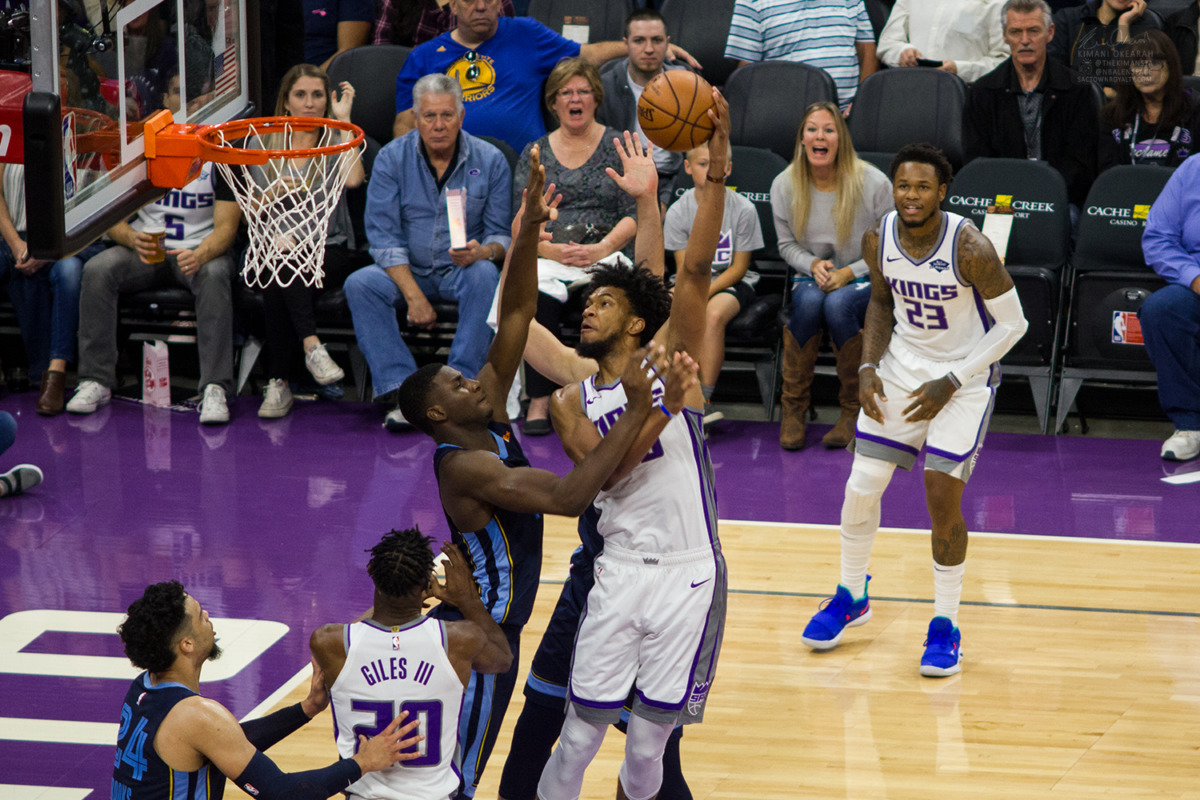 For the third season in a row, the Sacramento Kings enter the year with Marvin Bagley as the franchise's biggest question mark. This isn't so much an indictment on Marvin - who got injured on opening day in October 2019, missed all but 13 games of the regular season, and then missed the bubble games due to an extended foot injury - but it's a fact that the Kings are no closer to understanding Bagley's role on an efficient NBA team than they were when he was a rookie.
At the end of his rookie season, Bagley had quietly put up historic numbers for a teenager - he was one of only 15 players in NBA history to have scored more than 900 points in a season where they were 19 years old. Given his collegiate career and rookie season, I have little doubt that, if healthy, Bagley will be a stat sheet monster - and considering the team's lack of go-to scorers and above-average rebounders, the Kings need Marvin Bagley to produce. But the challenge for the Kings from the day they drafted Marvin is optimizing a Bagley-led team. Can Marvin Bagley be a franchise pillar for a winning, efficient basketball team? Who the hell knows, and this is the season to find out.
Of course, we have no idea who Marvin Bagley is as a basketball player right now. He's sure optimistic about the season and says this is the €œbest I've ever felt in a while.€ But he's also spent so much time out of sight from Kings fans. We have no real idea how his shot will translate in a meaningful game, if his defensive instincts have continued to improve, and if he'll ever become a playmaker for others. It's unlikely that Bagley will immediately and seamlessly fit in with the rest of the squad, because he's never been an immediate, seamless fit before. Indeed, I expect that the first month or so will be rough for Marvin€¦ pray the basketball gods help every young, unproven player who has to rely on Luke Walton to optimize them on the basketball floor. But being tough to optimize should not take away from Bagley's gifts - his scoring drive, ability to get to the free throw line, determination on the offensive glass, and promise as a small-ball center. If he can stay healthy, there's still plenty of opportunity for Bagley to prove he belongs as a long-term key piece of this team. But the clock is ticking.
Last season, when Bagley suffered his wrist injury and sat on the bench to start the year, I wrote an article for a site that shall not be named about how the Kings desperately needed Marvin Bagley back. Forgive me for quoting myself, but everything I wrote then is still true today.
As he's sat on the bench the last month, Marvin has become underrated €" partly because of his complex offensive game, partly because of his clear and visible weaknesses as a 20 year old, and partly because of the basketball demigod erupting in Dallas. But Luka Dončić's future-MVP career arc, no matter how brilliant or absurd, doesn't limit Bagley's own All-Star potential. Marvin is a 95th percentile athlete with an undeniable basketball motor and dynamic scoring instincts for his age. The growth Bagley showed from his time at Duke through his rookie year with the Kings should have everyone excited for the future.
Here's hoping Marvin can re-spark that excitement for Kings fans.