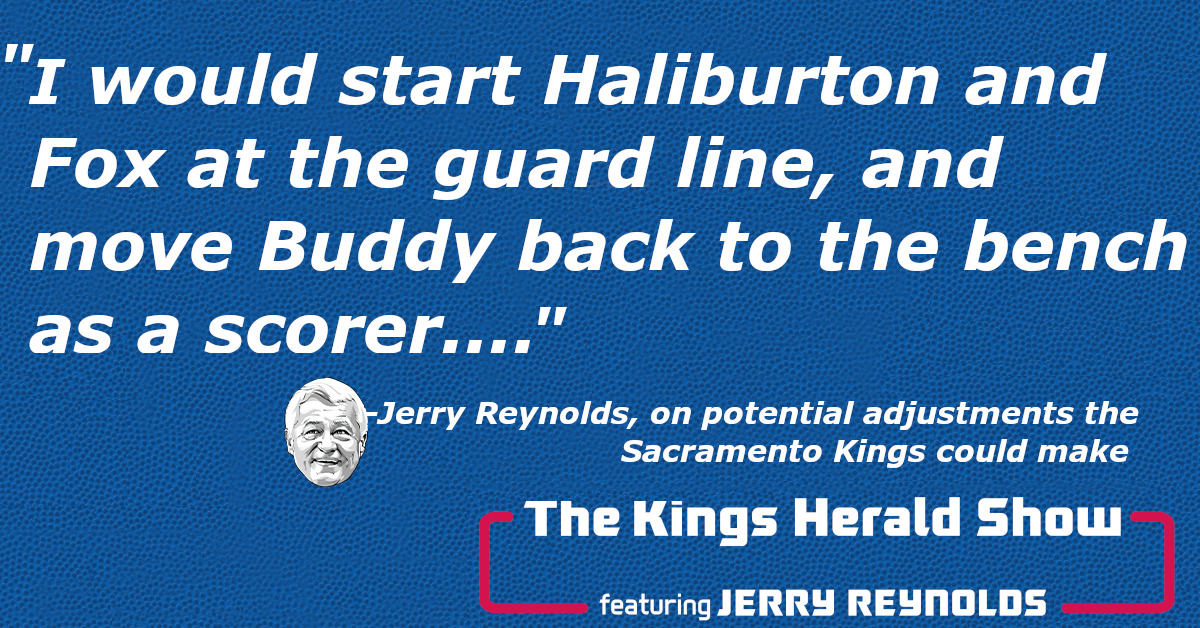 Episode 6 of The Kings Herald Show featuring Jerry Reynolds has arrived! On this episode of the podcast, Jerry Reynolds, Will Griffith, and Tony Xypteras give their impressions on the first month of the 2020-21 NBA season, and break down a historically bad stretch of defense from your 5-8 Sacramento Kings.
Timestamps:
(2:00) The 2020-21 Kings are a historically bad defensive team
(7:30) What changes should Luke Walton make in the starting lineup or rotation?
(11:05) Richaun Holmes appreciation
(13:30) Mavin Bagley progress report
(24:00) How can the Kings fix their defensive issues?
(31:00) At what point should the Kings bench veterans and play the kids?
(33:45) Harrison Barnes is having the best season of his career
(45:00) Should the Kings expect more out of De'Aaron Fox?
(50:20) Do the Kings have a toughness problem?
(102:00) Patreon Question of the Week
You can find The Kings Herald Show wherever you listen to podcasts, but if we're missing a platform of your choosing, leave us a note in the comments and we'll get to work. If you want to subscribe, rate, and review the podcast on any and all platforms, that would be greatly appreciated, too. It's the best way you can support the show!
Apple.
Spotify.
Google.
Stitcher.
In addition to our bi-weekly podcast with Jerry Reynolds, we also record a Patreon exclusive Q+A once a month where Patrons at any level can Ask Jerry Anything. The 2nd Patreon Q+A with Jerry was posted last week. If you're a Patron, you can submit questions to us on Patreon, or post your questions for Jerry in the comments right here in this post. We may even have a special guest joining us on the podcast next week, so stay tuned for that, and get those questions in!
Lastly, you can sign up for our Patreon here.
As always, thanks for listening. See you back here soon.