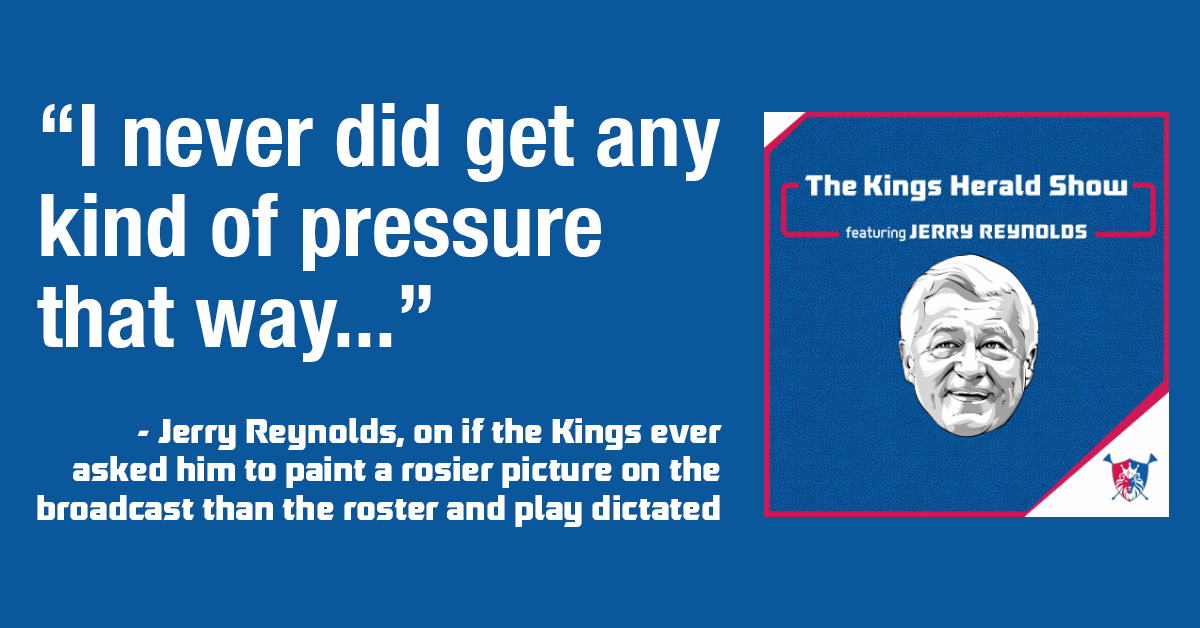 The Kings Herald Show is back with a bonus special Ask Jerry Anything episode of the podcast. The real NBA offseason is finally here, and with no games, draft, or free agency to discuss, we opened up the podcast to members of the online Kings community so they could ask Jerry Reynolds whatever their heart desires.
Hear Jerry Reynolds tell the story behind the catchphrase "Holy Moley Jimbob Boley", if cereal is a soup, what makes a good color commentator, his relationship with Ricky Berry, latest thoughts on a potential Ben Simmons trade, if "Hoosiers" did a good job depicting small-town Indiana in the 1950s, if the Kings ever asked him to paint a rosier picture of the franchise than the roster and play dictated, and a whole lot more. This was a fun one.
You can find The Kings Herald Show wherever you listen to podcasts, but if we're missing a platform of your choosing, leave us a note in the comments and we'll get to work. If you can subscribe, rate, and review the podcast on any and all platforms, that would be greatly appreciated, too. It's the easiest way you can support the show!
Apple.
Spotify.
Google.
Stitcher.
In addition to our bi-weekly podcast with Jerry Reynolds, we also record a Patreon exclusive Q+A once a month where Patrons at any level can Ask Jerry Anything. You can listen to our Patreon exclusive Q+A for August right here.
You can submit questions for Jerry on Patreon, or write your questions in the comments below this post! Or you can just yell questions to Tony or Will on Twitter.
And finally, you can sign up for our Patreon here.
Thanks for listening!