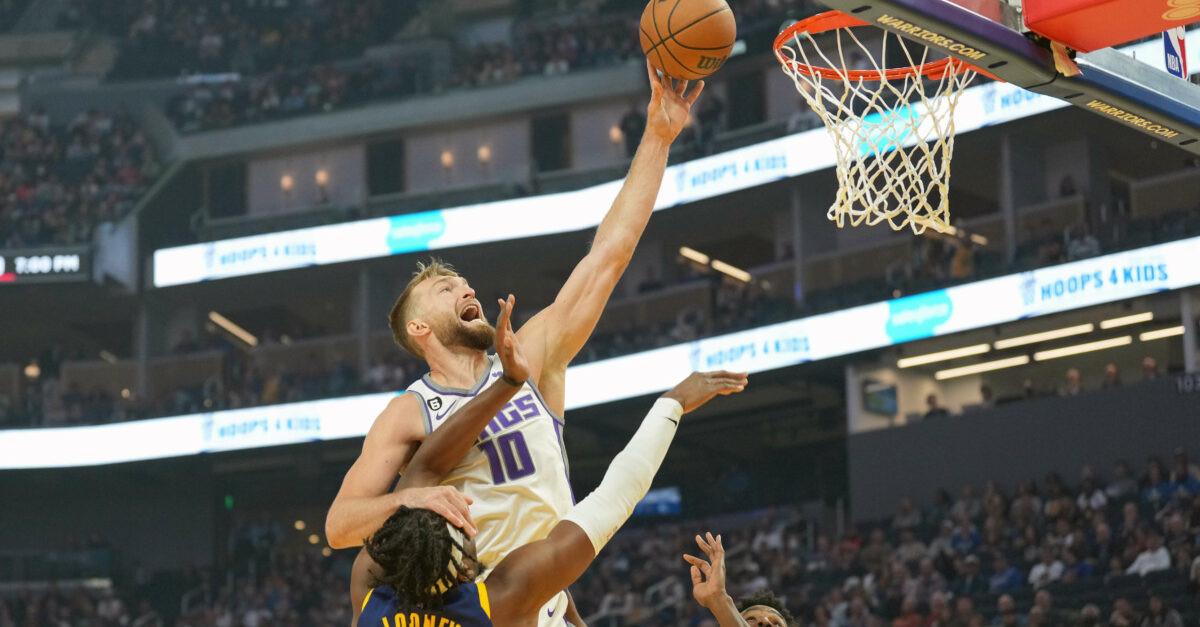 Sacramento's first two games were disappointing losses to be sure, but it wasn't until Sunday's game against the Warriors that we've seen our first embarrassing performance from the Kings. Despite what the final score may indicate, this was not a close back and forth game. The Kings gave up a franchise record 89 points in the first half (yes, you read that right) with 50 of those coming in the 2nd quarter alone.
Yes, the Kings were able to put up a lot of points themselves, but it didn't matter when Golden State was able to get anything and everything they wanted. Sacramento made a bit of a run in the 4th quarter when they went to a small ball lineup against the Warriors bench, but it was too little, too late.
Stephen Curry led the way for Golden State with 33 points in 31 minutes, including 7-12 from beyond the arc. Jordan Poole and Andrew Wiggins had 24 points each as well. The Warriors as a team shot 51.7% from the field and 42.4% from three.
The Kings were once again led by De'Aaron Fox, who scored 26 points to go with 10 assists and 5 rebounds. However the hot outside shooting from both him and Kevin Huerter from the first two games cooled off a ton, as both players combined to shoot just 2-14 from three. The Kings as a team were very disappointing from distance, making just 11 of their 43 attempts. Only Keegan Murray and Malik Monk (both 4-10) were able to find any success.
Speaking of Keegan Murray, he had another solid game, scoring 16 points on 6-14 from the field, and played a game-high 38 minutes. K.Z. Okpala, the starting Small Forward, played just 4 minutes for the entire game and was a -10 in that time. It would not surprise me if this was the last time we saw Keegan Murray come off the bench.
Domantas Sabonis had a better scoring night tonight with 19 points, 14 rebounds and 4 assists in just 22 minutes, but he struggled defensively dealing with Golden State's smaller lineups as Mike Brown ended up relying more on Richaun Holmes and Chimezie Metu down the stretch. Harrison Barnes had his third poor game in a row, this time scoring just 4 points and only attempting one shot in his 21 minutes. The Kings need a lot more from both Sabonis and Barnes than we've seen so far if they hope to be playoff contenders.
This was the most discouraging performance yet, but the season is still early and the Kings have plenty of time to turn the ship around. They've got a few days to rest, watch film and practice before their next game on Thursday, back at home to face the Memphis Grizzlies.
Random Observations
It was nice to see Richaun Holmes get some offense going for once. Holmes scored 15 points on 6-8 from the field and looked far more like his old self tonight. We even got a few of his push shots.
Better free throw performance tonight, going 20-25 overall. Sabonis particularly improved in that regard, hitting 7-8.
It's very annoying that the Warriors got to be bad for like one and a half years because of injuries and all these good young players like Wiseman, Poole, Kuminga and Moody as a result.
I do like the resolve the Kings showed in getting back into the game down the stretch. I just wish they hadn't dug such a large deficit in the first place.