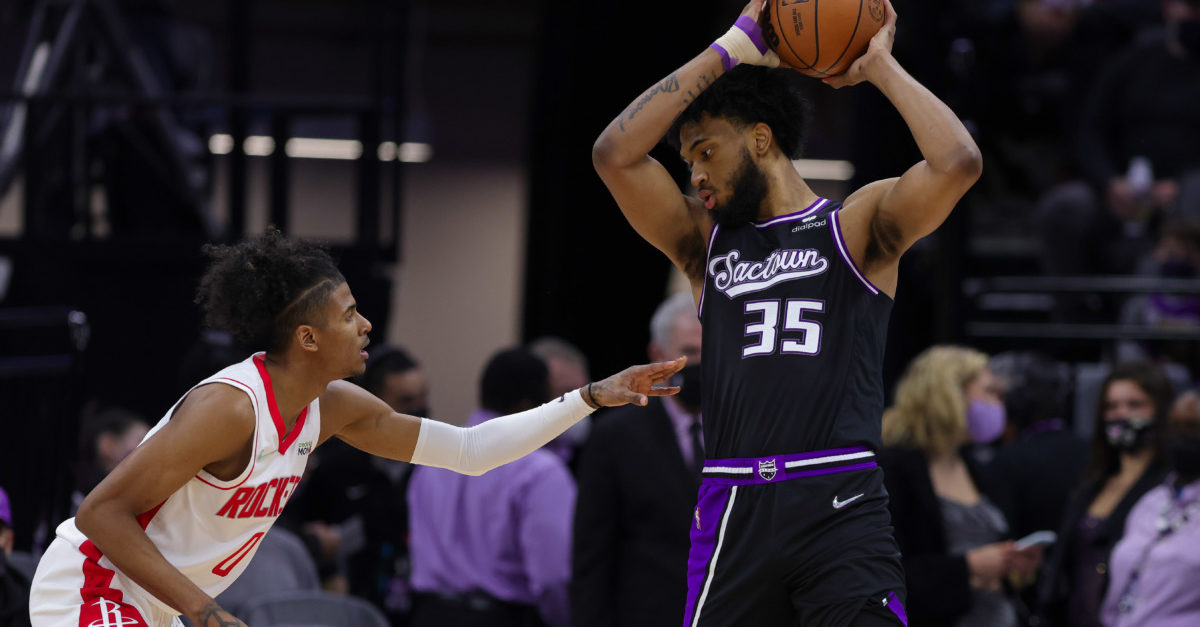 It wasn't particularly pretty, but the Sacramento Kings took care of business Friday night, beating the Houston Rockets 126 to 114. De'Aaron Fox led the way with a game-high 27 points as well as 8 assists, 6 rebounds and 2 steals. Marvin Bagley III chipped in a season-high 26 points to go with 13 rebounds.
The Kings got off to a slow start, and were particularly abysmal offensively. The Rockets were pushing the pace and getting to their spots at will, particularly Christian Wood, who scored 15 of his 26 points in the first quarter alone as Houston jumped out to a 40-31 lead after the first period. It was fortunate for the Kings that on the other end, Houston had no answer for De'Aaron Fox, who also scored 15 points in the same period.
Wood picked up his third foul with 4 minutes to go in the first period and wouldn't come back in until the start of the second half. Terence Davis came in and provided an immediate spark, scoring 9 of Sacramento's first 14 points of the period to help the Kings regain the lead. The Rockets would end up pushing that lead back to 8 points before De'Aaron Fox came back in with 4:51 left in the half, and the Kings would go on to outscore Houston 17-5 to end the period.
The Kings came out with better defensive energy in the second half than they started the game with and were able to keep the Rockets at bay for most of the period, although they weren't able to extend the lead too much. Buddy Hield scored a nice bucket attacking the rim to end the quarter and push Sacramento's lead to 9.
The Rockets would score first in the 4th quarter, but wouldn't score again until Jae'Sean Tate made a three-pointer with 7:31 left in the game. By that point the Kings had extended the lead to 19 points and were firmly in control.
Of course, this being the Kings, the Rockets wouldn't go away. Houston went on a 12-0 run of their own and cut Sacramento's lead to just 7 with 5:30 left after two made threes in a row by Eric Gordon. Christian Wood also started to get going again and the Rockets remained within 7 with 2:05 left in the game. On the other end, Harrison Barnes made a tough shot in the paint to put the Kings up by 9 and while Houston would get a couple chances to cut the lead down even more, Jalen Green and Eric Gordon would both miss back to back three point attempts, and the Kings would hold on to win.
There aren't many opponents you can point to and say that the Kings should be able to handle their own, but the Rockets are one of them. The Kings will face this same Rockets squad on Sunday, and anything less than another victory would be disappointing.
Random Observations:
The Kings as a team had a season-high 33 assists and just 14 turnovers. Tyrese Haliburton led the way with 12 and had just 1 turnover. Haliburton has firmly taken the primary playmaking reins ever since De'Aaron Fox missed some time due to Covid protocols, and hasn't let up even since Fox has come back. In his last 17 games, he's averaging 9.4 assists a game, and most of those games are with Fox as his backcourt mate. He's still a bit too unselfish at times though, and I'd like to see him get a better sense of when he should take the ball himself. There were a couple opportunities tonight where he had open lanes to the rim and opted out of them for a pass, and oftentimes we'll see him pass up open three-pointers to pass to another open player (who isn't nearly as good at shooting three-pointers as Tyrese is). But overall, love what I'm seeing from Tyrese in year 2.
Marvin Bagley had his best game in a long time. He was hustling on both ends, grabbing rebounds and showing some nice touch around the rim. Playing like he did tonight is how he will be able to carve out a spot for himself in the league for years to come.
Harrison Barnes has been more aggressive in looking for his own offense the last two games and I think the fact that Sacramento won both games is correlated. The Kings can't afford to have Barnes disappear, and as one of their better players, he needs to keep letting it fly.
Speaking of letting it fly, Davion Mitchell is not without confidence on the offensive end, although the execution leaves much to be desired. Mitchell missed his first 8 attempts and finished just 2-11 from the field. This was a concern coming into the season, but hopefully something he'll be able to work on. It seems like he can get whatever shot he wants with his excellent handle, but right now those shots aren't falling.