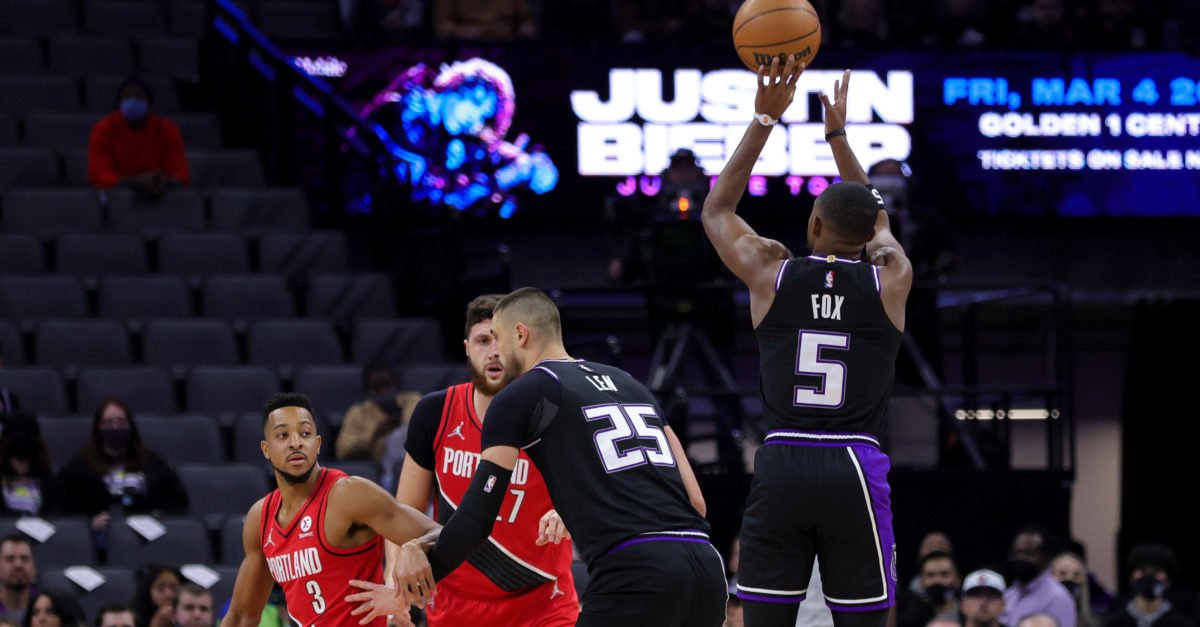 The Kings won.
*Phew*
Thanksgiving dinner will hopefully go down a little easier after the Kings managed to top the Portland Trail Blazers 125 to 121 to end their losing streak and finish their homestand on a high notes. Buddy Hield led the way with 22 points off the bench, but some unsung heroes also chipped in to help the Kings get Alvin Gentry his first win as the Kings head coach.
There wasn't a whole lot of defense in this game, unsurprising given both Sacramento and Portland's struggles on that end of the floor. The Kings ended up shooting 52.3% from the field while Portland was at 46.8%. The Kings ended up shooting 9 more free throws than Portland, but only made two more.
Richaun Holmes was a late scratch to the rotation as he is still dealing with the after effects of being poked in the eye in Monday's game against Philadelphia, so Alex Len started in his place. Len played just 17 minutes but managed to put up 12 points and finished a team-high +14. He and the other Kings bigs were given the unenviable task of trying to stop Jusuf Nurkic, but the only one who was able to stop Nurkic in the end was Nurkic himself, as he fouled out after putting up 28 points, 17 rebounds and 5 assists in 32 minutes.
The Kings also got good minutes from their other back up big men, particularly Damian Jones and Marvin Bagley III. Jones played nearly the entire second half and finished with 9 points, 5 rebounds and 2 assists in 18 minutes. Marvin Bagley had his best game of the season so far, putting up 10 points and 8 rebounds in just 19 minutes, as well as hitting two of his three attempts from beyond the arc. Bagley's corner 3-pointer with 30.3 seconds left in the game put the Kings up 121 to 114 and essentially iced the game.
What a moment for Marvin Bagley III. The Kings don't win that game without him.pic.twitter.com/M4vwJ6tO4A

— Franklin Cartoscelli (@FCartoscelli3) November 25, 2021
De'Aaron Fox scored 21 points on an efficient 8-13 from the field but was ejected from the game with 6 minutes to go after arguing with the official about an offensive foul. Fox didn't let up after his first technical and was soon after ejected. In his absence, Davion Mitchell took the reins of the offense and had some big plays, scoring 5 of his 16 points in the final five minutes while also handling primary defensive responsibilities against Damian Lillard.
Lillard finished with 32 points, but shot an inefficient 7-18 from the field and just 3-12 from three. Most of his damage came from getting to the line where he went 15-16. C.J. McCollum also had an "off night", scoring just 13 points and shooting just 6-20 from the field.
The Kings were without Harrison Barnes for the fourth quarter after he sustained a foot injury. The severity of the injury is unknown but thankfully there doesn't appear to be a fracture.
Alvin Gentry says Harrison Barnes' X-Ray came back negative and that the team doctors are "pretty optimistic".

— Brenden Nunes (@BrendenNunesNBA) November 25, 2021
The Kings will be back in action on Friday when they head to Los Angeles to take on LeBron James and the Lakers. Hopefully they can keep up the offensive intensity and pace they displayed tonight, even if the defense still needs a lot of work.
Happy Thanksgiving to everyone celebrating tomorrow!