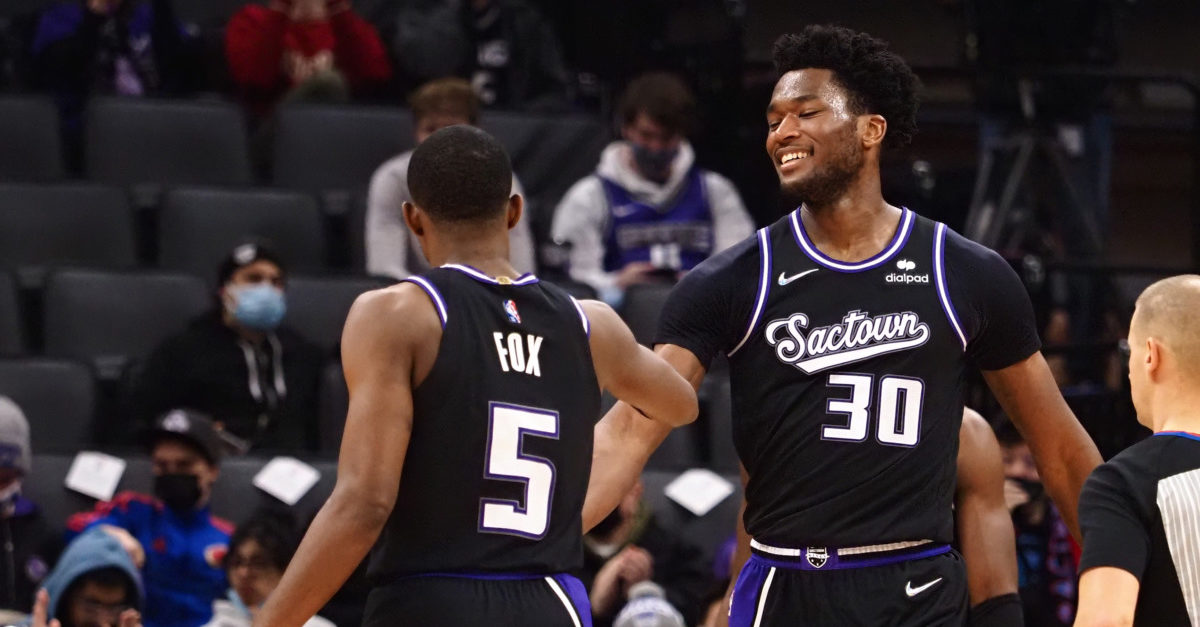 2022 is off to a good start as the Sacramento Kings managed to outlast the Miami Heat in a hard-fought game on Sunday afternoon, winning 115-113.
De'Aaron Fox was the savior for Sacramento, scoring 13 of his 24 points in the fourth quarter, including the final two free throws that sealed the game with 6.2 seconds left. The Miami Heat had one chance to tie or take the lead, but Jimmy Butler's turnaround floater was off target and the Kings walked away with the victory.
The Heat were missing 12(!) players due to various injuries and Covid protocols, and as such had to rely on big minutes from guys like Omer Yurtseven, as well as former Kings Nik Stauskas and Kyle Guy. Yurtseven ended up having a career night, scoring 22 points to go with 16 rebounds, six of which were on the offensive glass. The Heat as a team feasted on the boards, outrebounding the Kings 55 to 47 but with an 18 to 7 differential on the offensive glass. As a result, Miami ended up shooting 27 more FGA than the Kings, but thankfully didn't convert enough at a high rate to make a difference.
One area where the Kings dominated was in getting to the line, and that was mainly because of De'Aaron Fox. The Heat were 12-12 from the line and Fox was 14-15 by himself. It was a career-high in attempts for De'Aaron, and he made the most of his opportunities, which is very nice to see for someone we've seen struggle at times with his free throws. After tonight, De'Aaron is now shooting 75.1% from the line for the season, a career-high and trending upwards.
The Kings have been getting healthier lately but were without Richaun Holmes and Terence Davis. Damian Jones got his first start with the Kings and did relatively well, scoring 18 points to go with 10 rebounds and 3 assists. Jones also had some nice moments defensively late in the game where he was continually getting switched onto smaller players like Kyle Lowry, Jimmy Butler or Tyler Herro but managed to stay in front of them for good contests. He has definitely solidified his spot in the rotation with his play of late.
Tyrese Haliburton continues to be on a passing tear. He finished with a game-high 12 assists tonight with just 2 turnovers. Over his last 9 games, he's averaging 10.44 assists a game. If he is on the Kings for the foreseeable future, I'm fairly confident he's going to wind up on top of the Sac-era assist leaderboards (currently held by Mike Bibby at 2,580 h/t Will Zimmerle on Twitter)
Buddy Hield led the Kings and the game in scoring with 26 points, making 7 of his 14 three point attempts. Hield's shooting was particularly important late in the 3rd quarter when the Heat started to build up a decent lead, going up by 8 points with 2:35 remaining. Between Hield and Davion Mitchell (12 points on 5-7 shooting), the Kings managed to enter the final period tied at 90.
Miami would go on a 7-0 run to start the quarter, but Buddy managed to keep it close, scoring 8 of Sacramento's first 9 points, including a three to tie the game at 99. From there on out, it was the De'Aaron Fox show, with Fox getting into the paint at will and either making shots or getting to the line.
The Kings had a couple of chances late to really seal the deal as Fox found Buddy Hield and Harrison Barnes wide open on back to back possessions for open threes, but they clanged off the iron and Miami was able to hang in there. Omer Yurtseven hit a mid-range jumper to cut the lead to 2, and on the ensuing possession, Buddy Hield was trapped in the corner and forced up a very tough fadeaway three that clanged off the top of the backboard
With 26.6 seconds left, Jimmy Butler bullied his way into the paint and hit a tough floater over the hands of Damian Jones to tie the game up at 115.
After a timeout, Harrison Barnes inbounded the ball to De'Aaron Fox in the backcourt, and after killing some time, began his drive towards the rim with about 10 seconds left on the clock. Fox spun on Tyler Herro, who quickly fouled him to avoid what would have been an easy layup. Fox stayed on form and Butler couldn't repeat on the other end.
The Kings next play in Los Angeles on Tuesday against another sub-.500 team.